This is a continuation of a series of posts on the Fuji GFX 50S.   You should be able to find all the posts about that camera in the Category List on the right sidebar, below the Articles widget. There's a drop-down menu there that you can use to get to all the posts in this series; just look for "GFX 50S". This is the third post in a series on the Fuji 250 mm f/4 lens for the GFX.
The target is a backlit razor blade (seen here with a different camera and lens):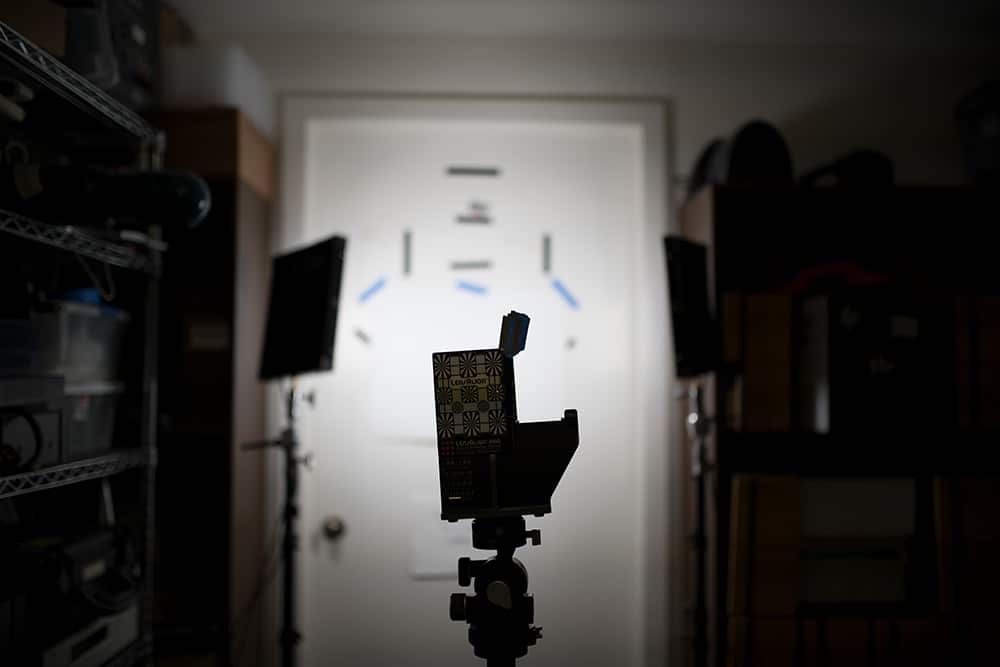 The protocol:
ISO 100
Focus bracketing, both EFCS and ES options
50 steps
Minimum step size (1)
Delay set to 0
Target distance, 2.5 and 5 meters
Aperture exposure mode
Wescott LED panels set to 5500 K.
Gitzo legs
Arca Swiss C1 head
Vinyl tile flooring over 6 inches of concrete on grade
Fast Raw Viewer to discard the really out of focus images
dcraw in document mode to get raw planes
MTF Mapper to compute MTF50
Matlab to automate the above
Excel to graphs the results
I'll show you the results at 5 meters with the electronic shutter (ES) first. This is wide open: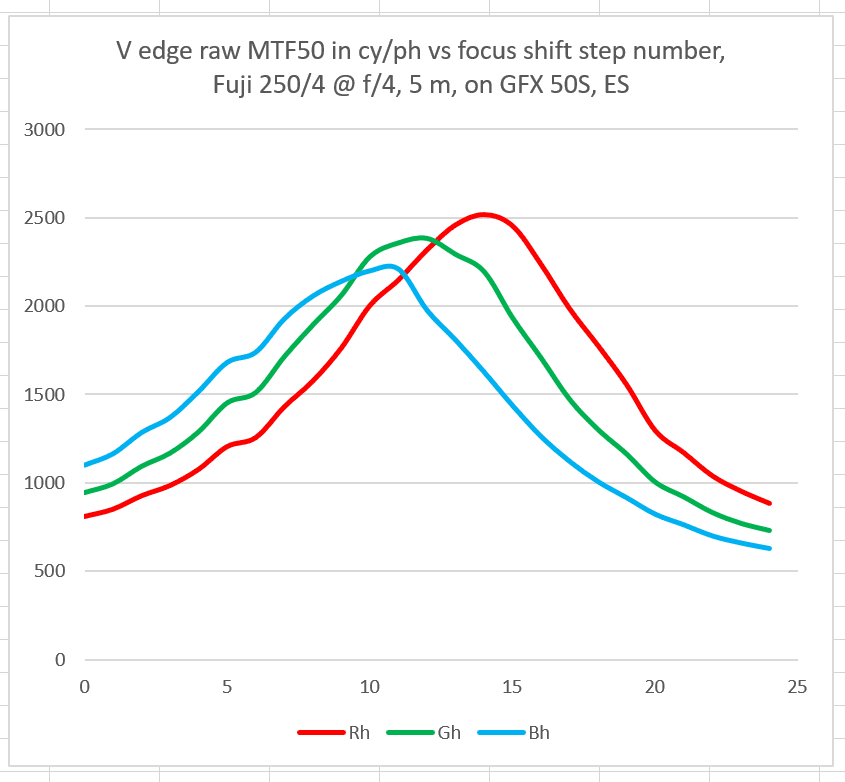 The vertical axis is MTF50, measured in cycles per picture height (cy/ph). The shot taken with the lens focused to the closest position is on the left. There are 25 exposures plotted. There is no way to know the focused distance for these exposures. I used the minimum step size for the Focus Bracketing feature, which is about 2 micrometers CoC at the sensor plane (8 um sensor plane shift at f/4, and 22 um at f/11). If there were no longititudinal chromatic aberration (LoCA) all the curves would peak at the same place. As you can see, when the green channel peaks, the red channel is focused a little further away, and the blue channel a little closer. This amount of LoCA, while easily visible in the lab, is not likely to be bothersome in actual use.
Stopping down: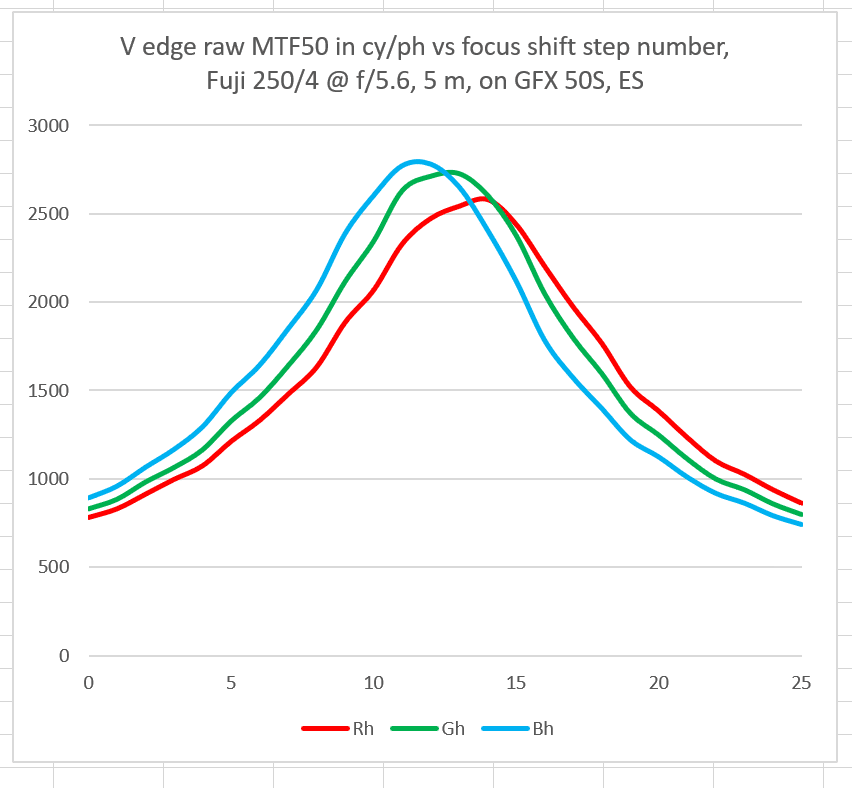 F/5.6 is the sharpest on-axis aperture.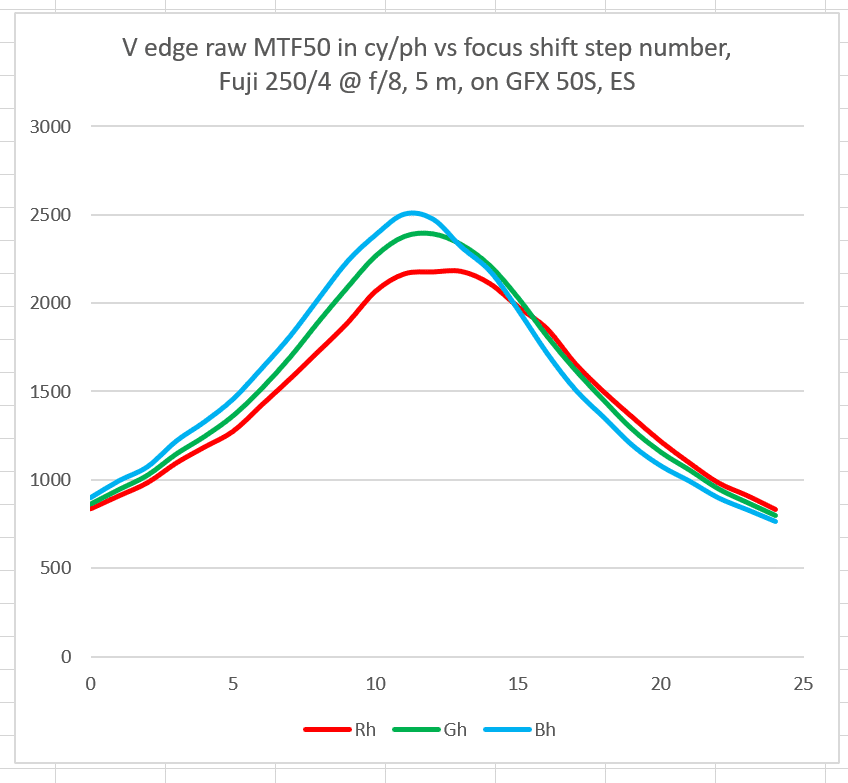 At f/8, the depth of field is sufficient to cover up the LoCA.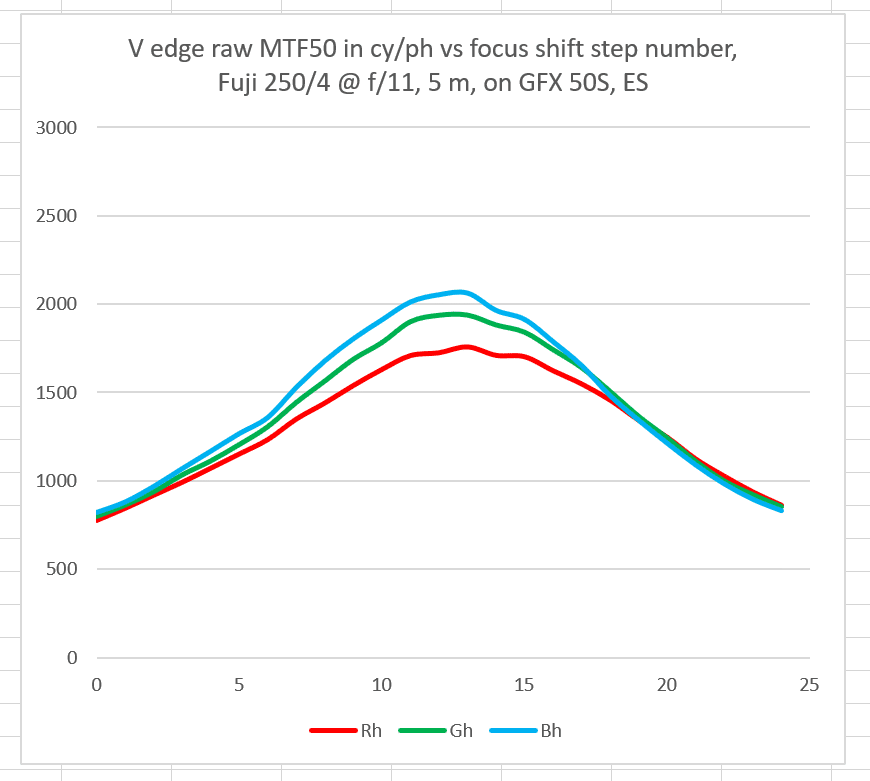 This is excellent performance.
Using EFCS: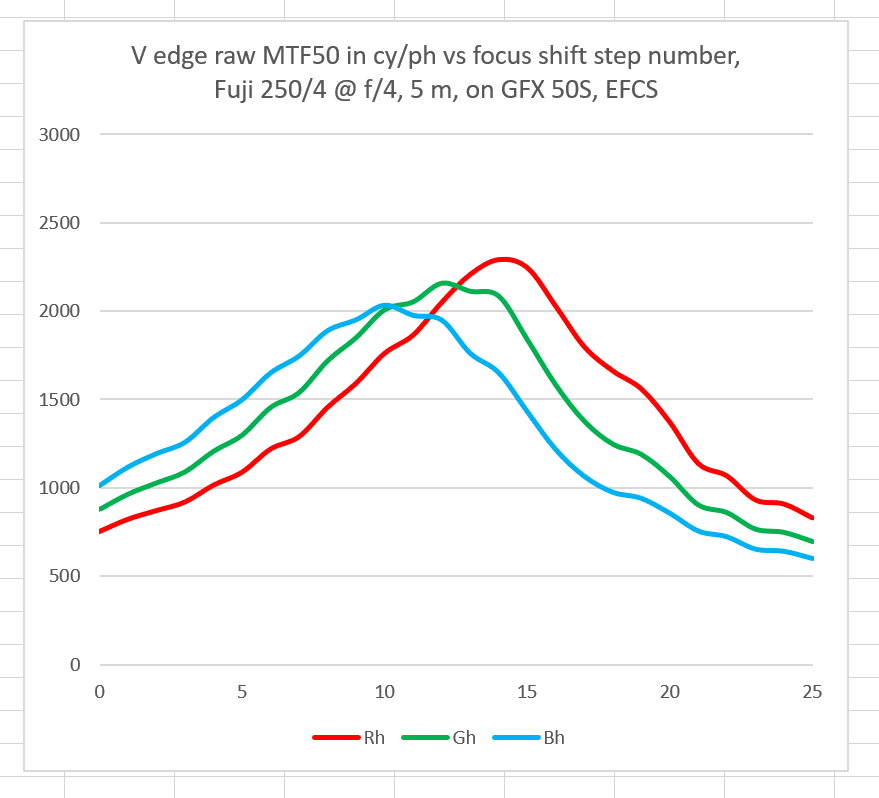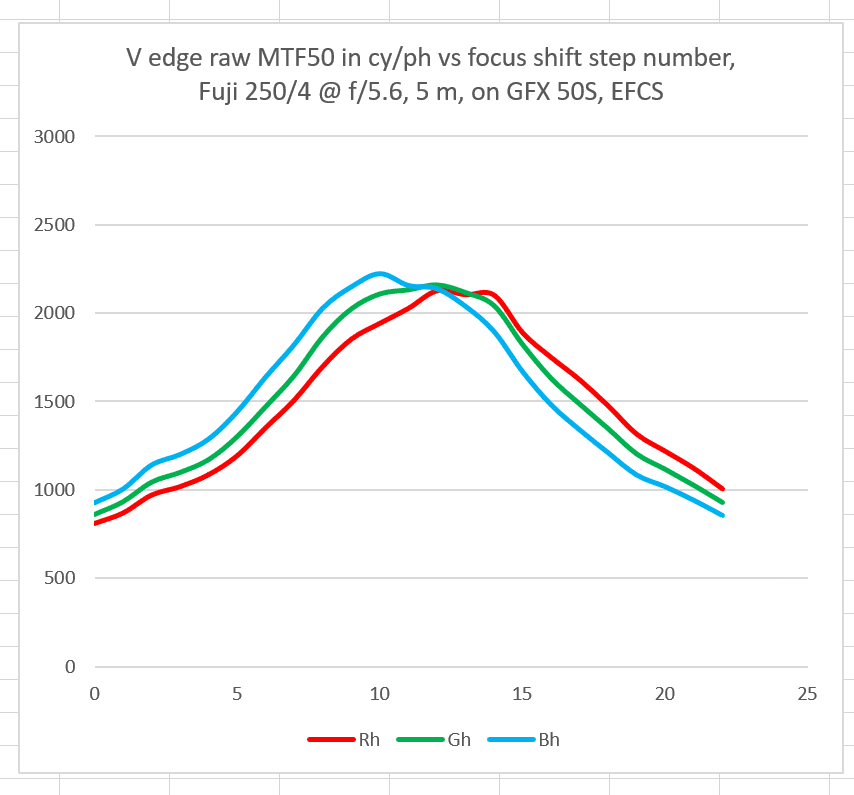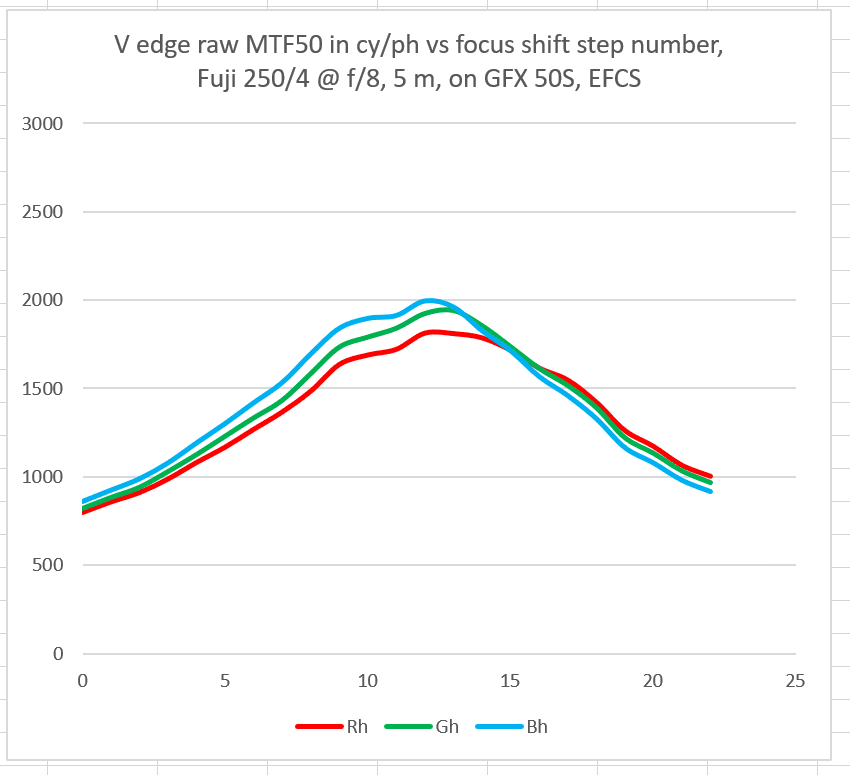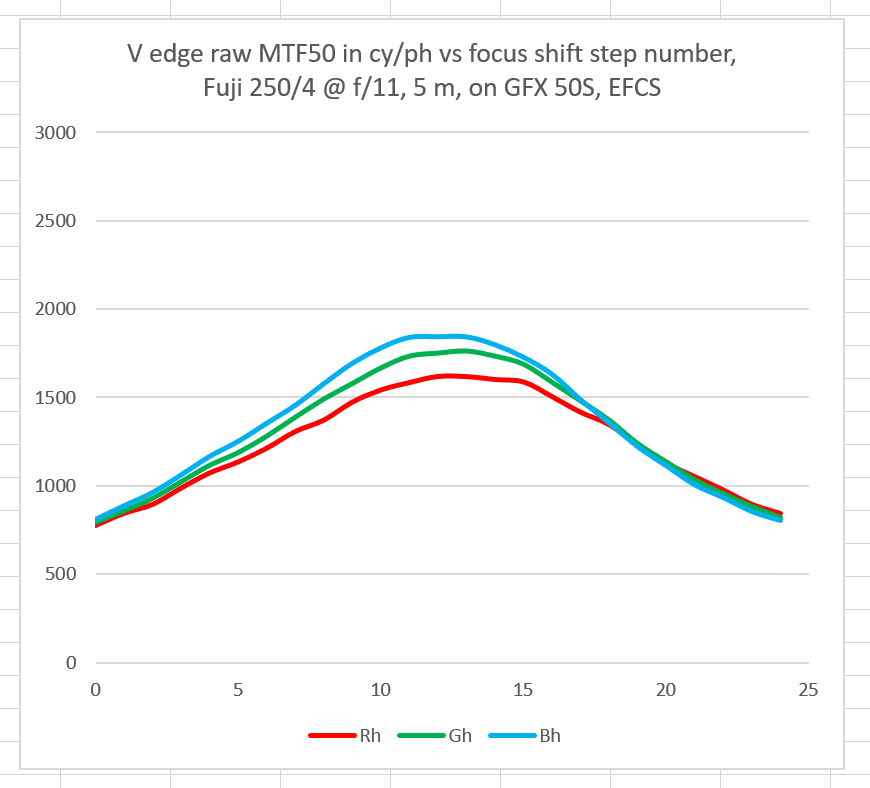 The results with EFCS are not as sharp as with the electronic shutter. I think they'd be closer if I set the delay to 3 or 4 seconds.
At 2.5m, with the electronic shutter on: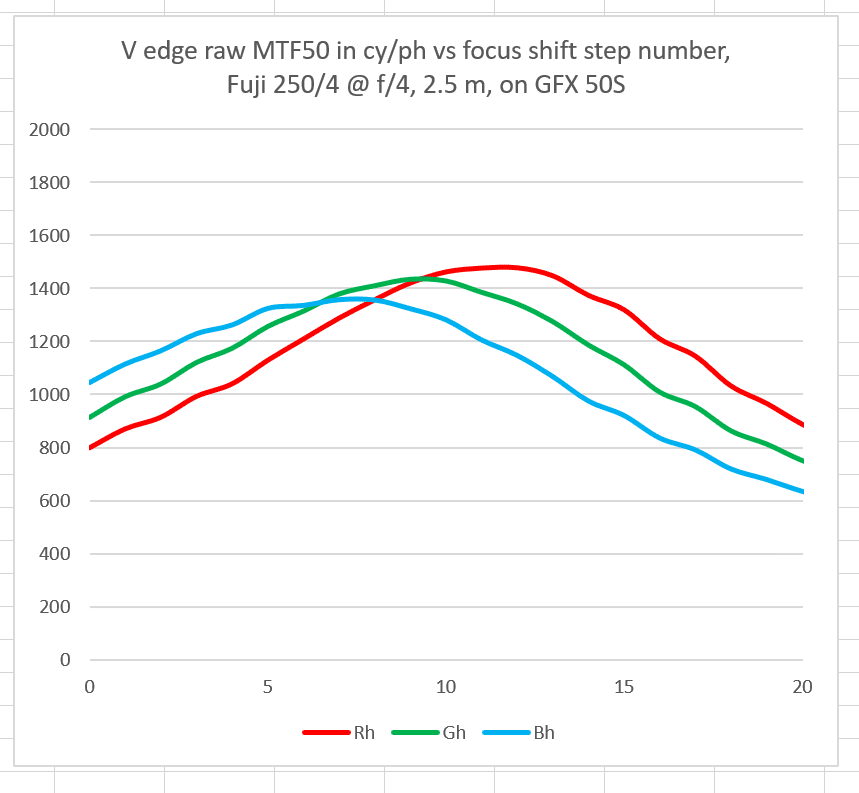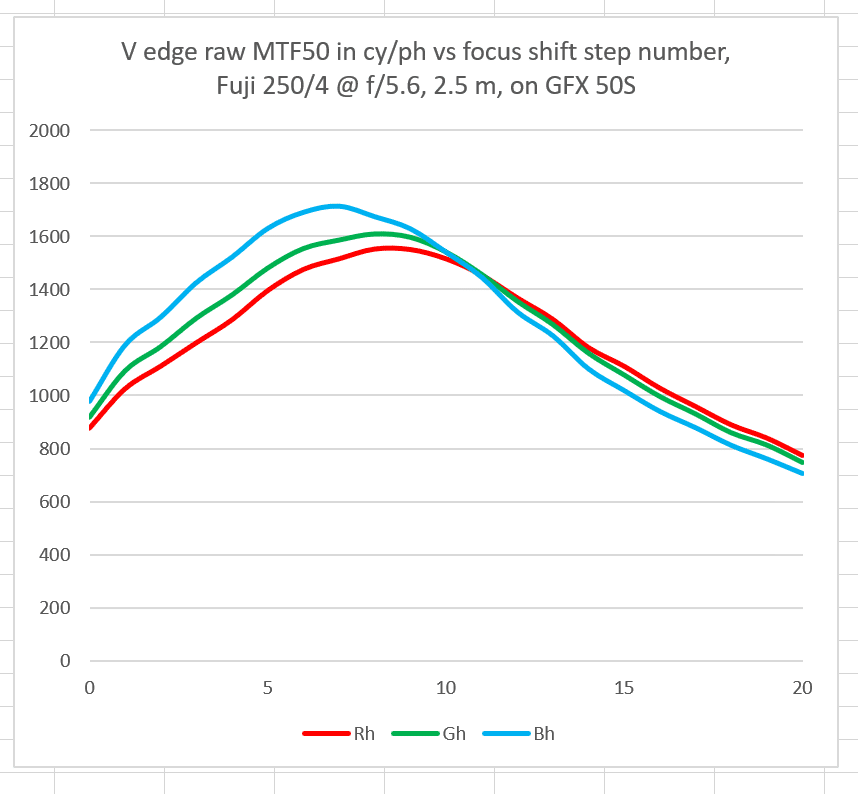 At f/5.6, the depth of field (DOF) is covering up the effects of the LoCA.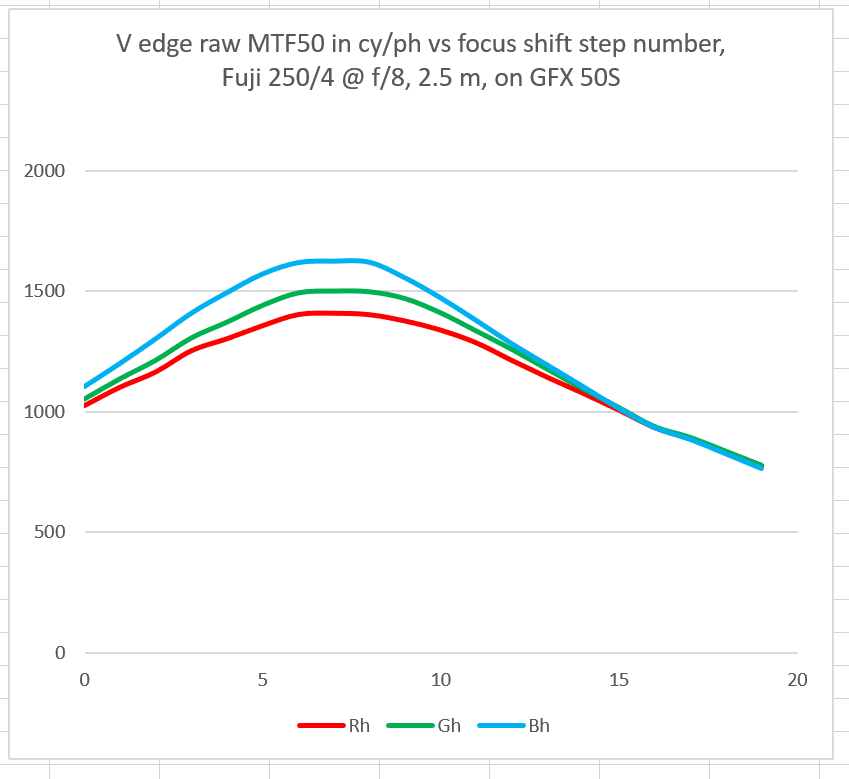 The performance at the closer distance is subtantially worse.