In my last post, I did a quick-and-dirty calculation of the focal length of the Fuji 45-100 mm f/4 G-mount lens when the nominal focal length was set to 100 mm. I got about 80 mm at 3 feet. There is an accurate method of measuring the focal length of lenses that was, if not invented by, at least popularized by Bill Claff. He tells you how to do it here. All you need is two extension tubes of different lengths and a ruler. I used the Fuji 45mm and 18mm tubes. With those tubes, the focal length is given by the formula:
f = 27 / (m1 – m2)
where m1 is the measured magnification with the 45 mm tube, and m2 is the measured magnification with the 18 mm tube, and the focal length is measured in mm.
Here's what I got: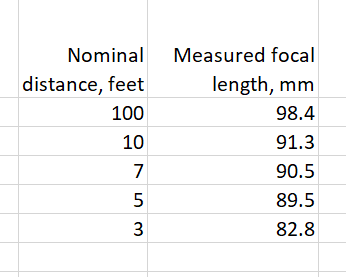 In graphical form, that looks like: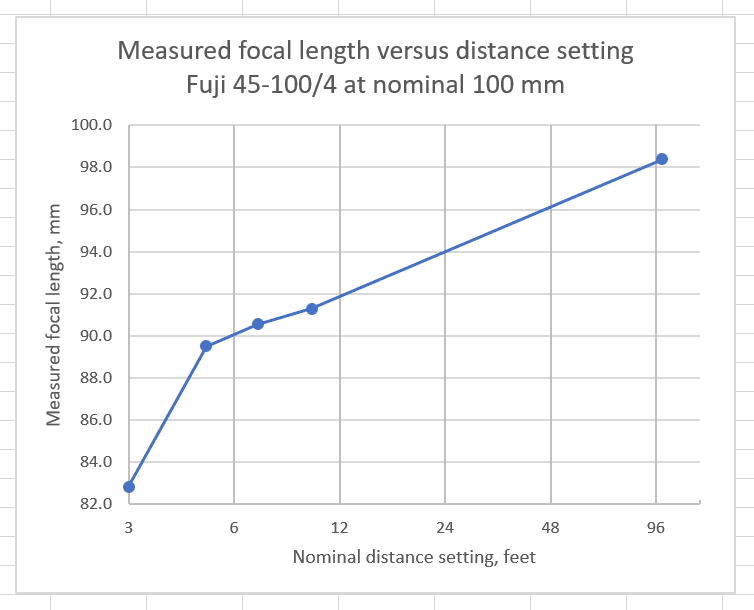 So I wasn't that far off. Some of you have asked about the focal length at portrait distances. You can see those in the above table and graph.