This is a continuation of a test of the following lenses on the Sony a7RII:
Zeiss 85mm f/1.8 Batis.
Zeiss 85mm f/1.4 Otus.
Leica 90mm f/2 Apo Summicron-M ASPH.
AF-S Nikkor 85mm f/1.4 G.
Sony 90mm f/2.8 FE Macro.
The test starts here.
Yesterday, I showed you the results of on-axis LoCA testing of the Batis and the Summicron. Today, I'll present the results of the same tests as performed on the Otus and the Nikon 85mm lenses. I'll present the results together so you can see the differences clearly.
To prepare you for what you are about to see, remember that the Nikon is a perfectly good lens. When I comes to on-axis LoCA, however, the Otus is a great one.
I lit the target with two Westcott LED panels, and set the color temperature to 5000K. I mounted a Sony a7RII to the Cognisys computer-driven focusing rail. I set the controller up to use 192mm of travel and make 49 exposures 4mm apart. I set the assembly 3.3 meters from the on-axis target, mounted the lenses in turn, focused about mid-rail using manual focusing , and exposed at 49-shot series from f/2 through f/8.  I used Jack Hogan's Matlab program, MTF Mapper, and DCRAW to pick the horizontal edges and calculate the MTF50s for the raw color planes, imported the data into Excel, and plotted the results in cycles per picture height vs image distance change.
At f/1.4: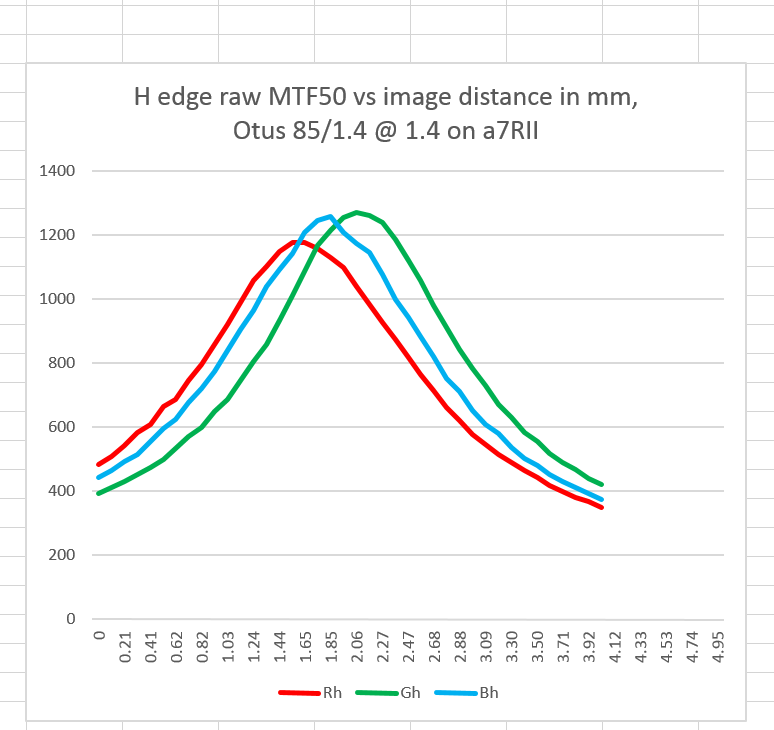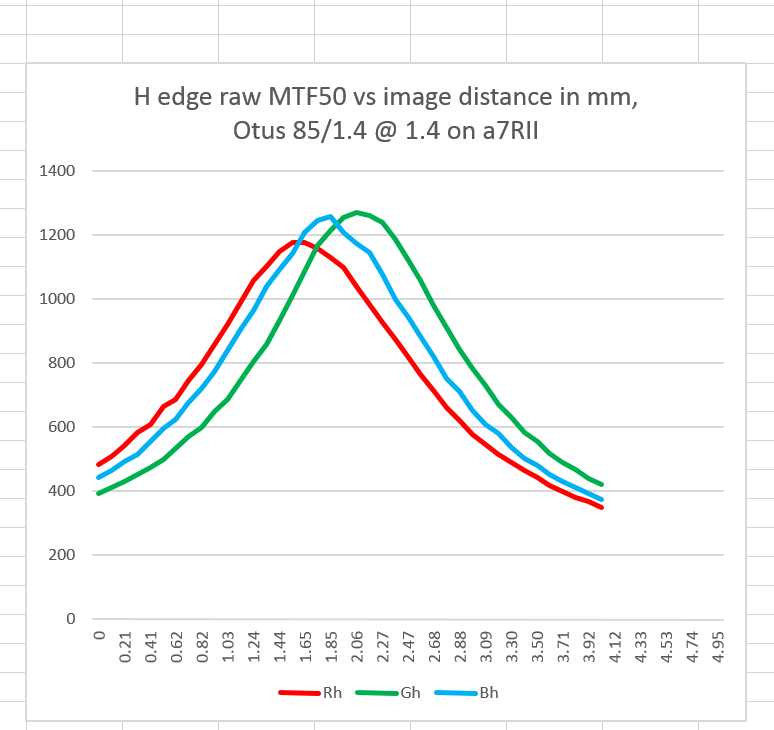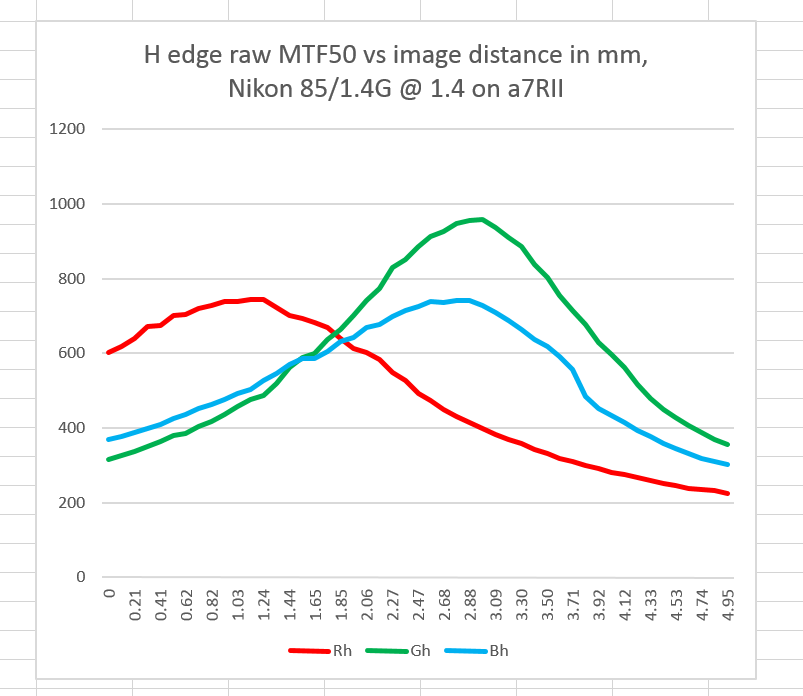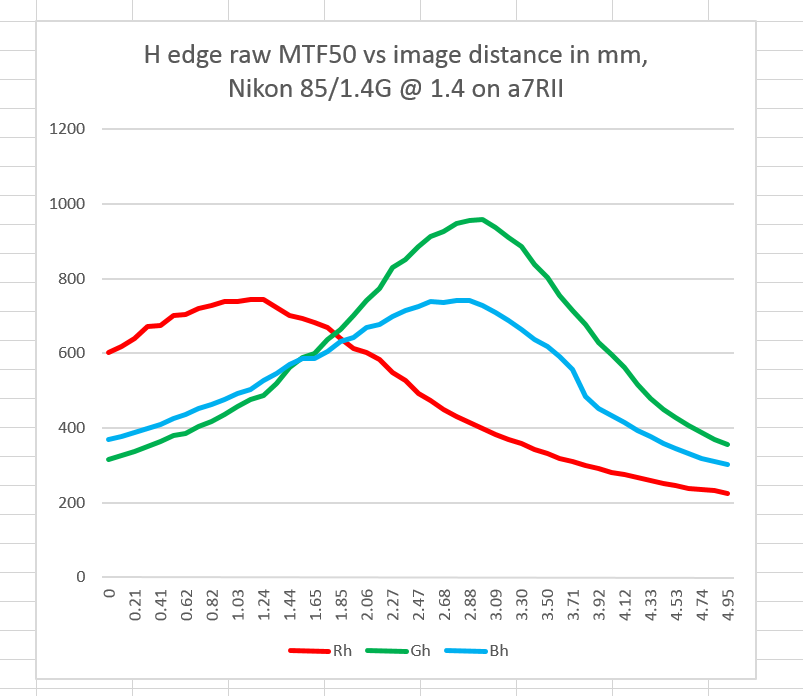 You can see that the Nikon isn't as sharp. You can also seen that the LoCA, as evidenced by the differences among the curves for the three color planes, aren't in the same area code. You can also see by the way the Nikon curves spread more than the Otus, that the Nikon has more effective depth of field relative to peak sharpness, even though the apertures are the same.
At f/2: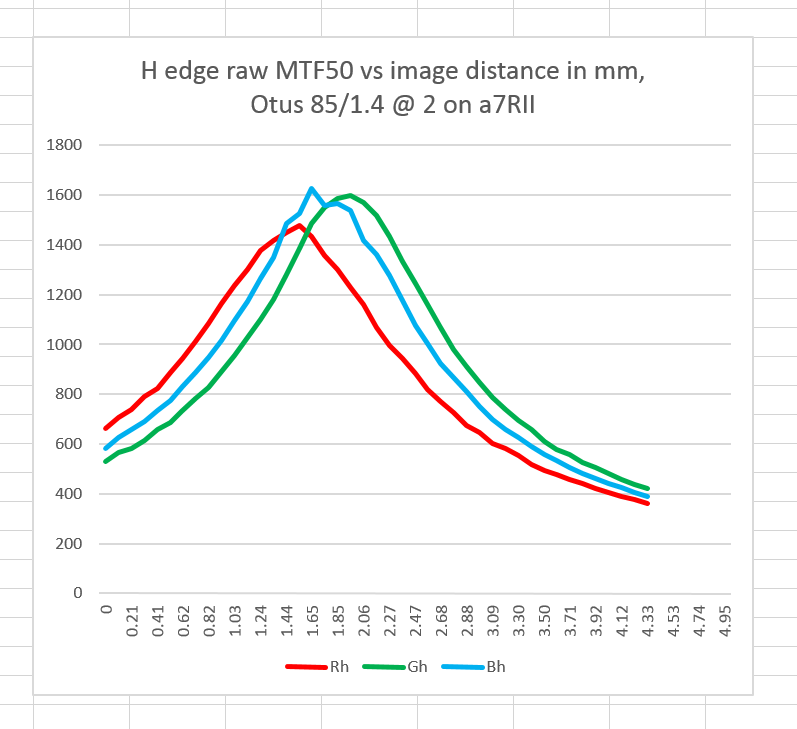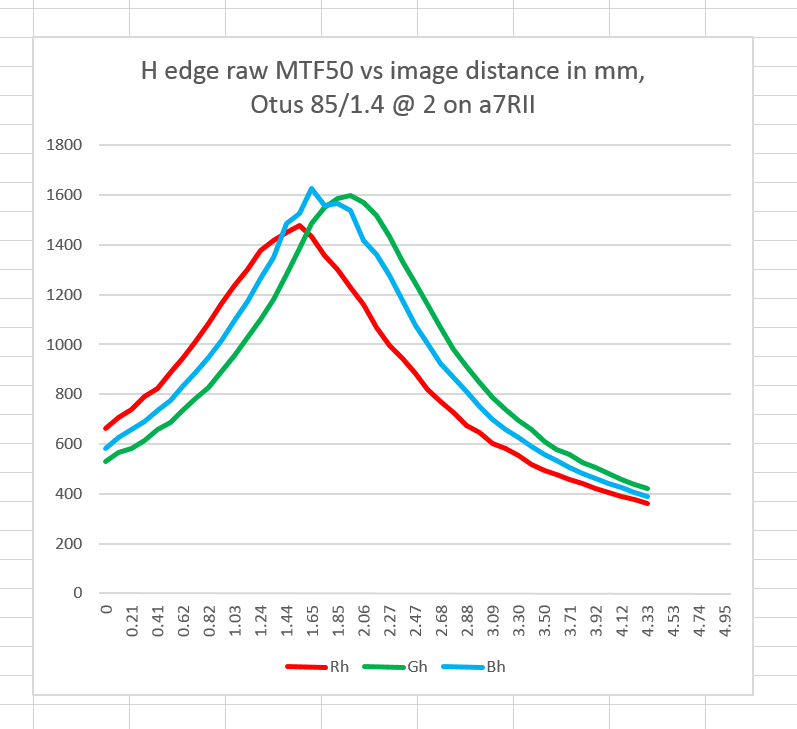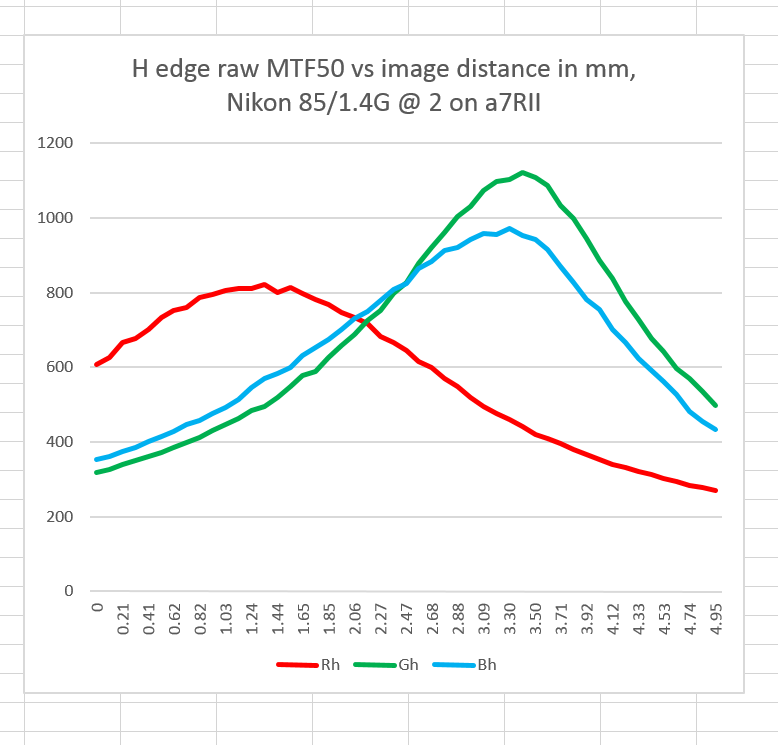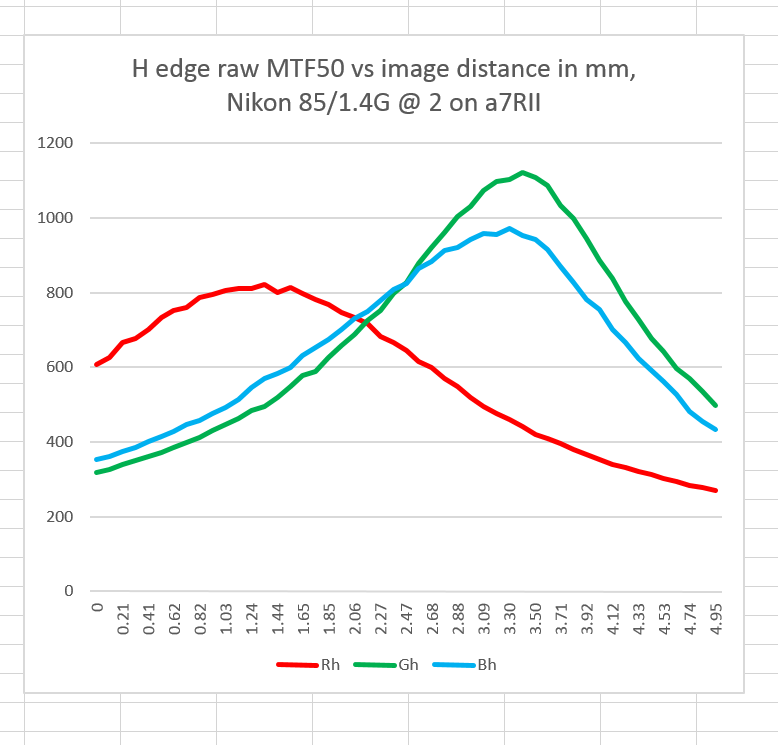 Both lenses are substantially sharper, but the Nikon is still way behind. The Otus LoCA is about the same. The Nikon's is getting a bit worse.
At f/2.8: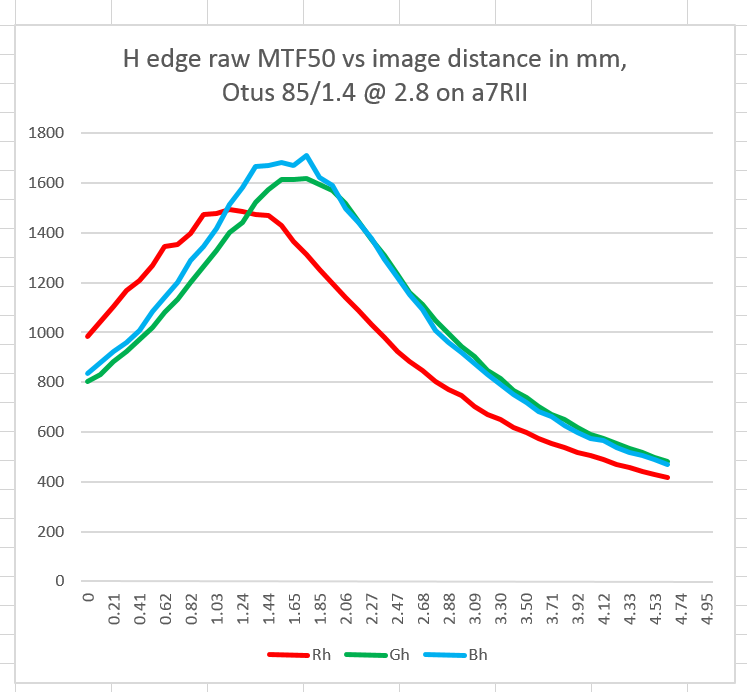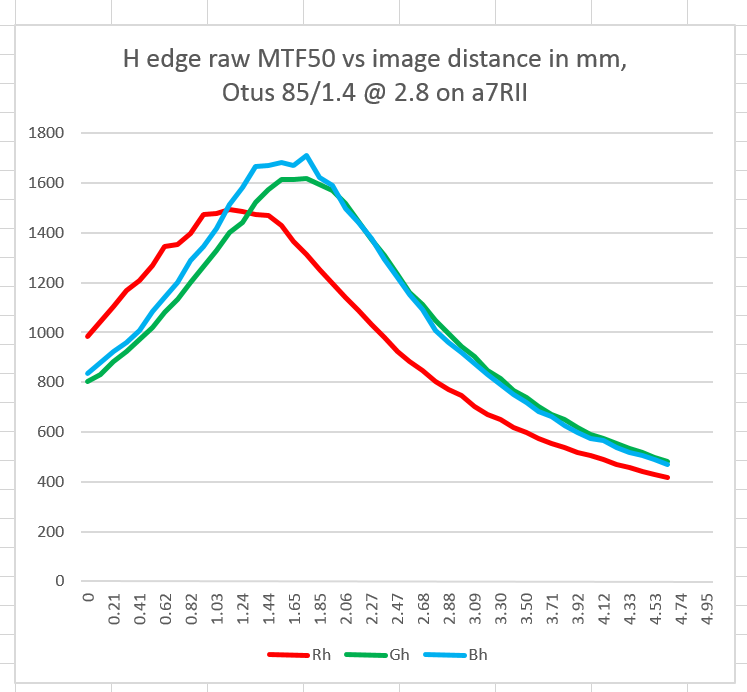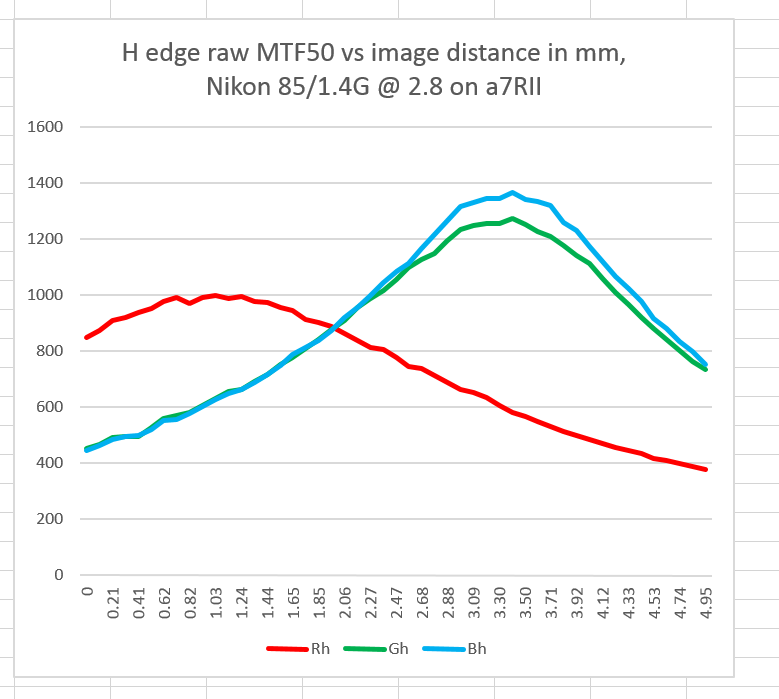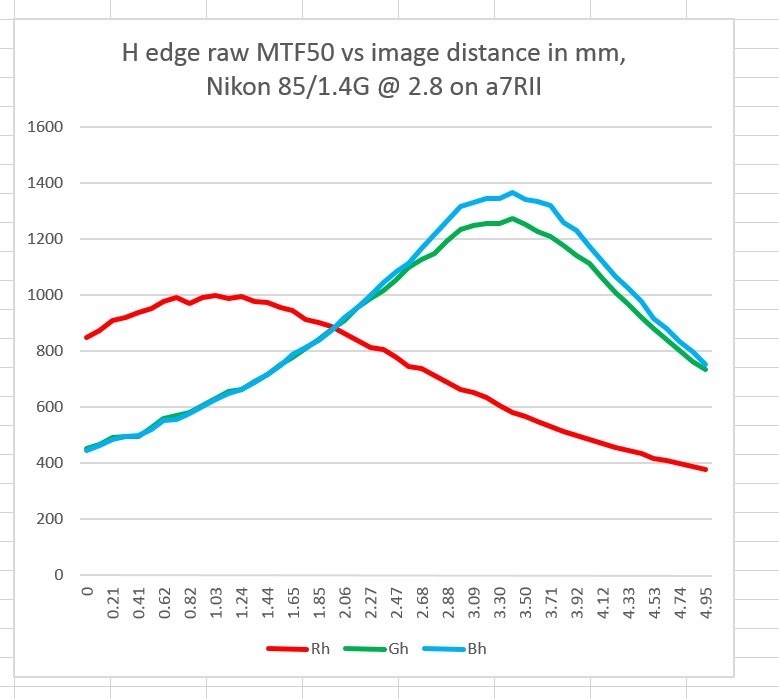 LoCa about the same as at f/2.
At f/4: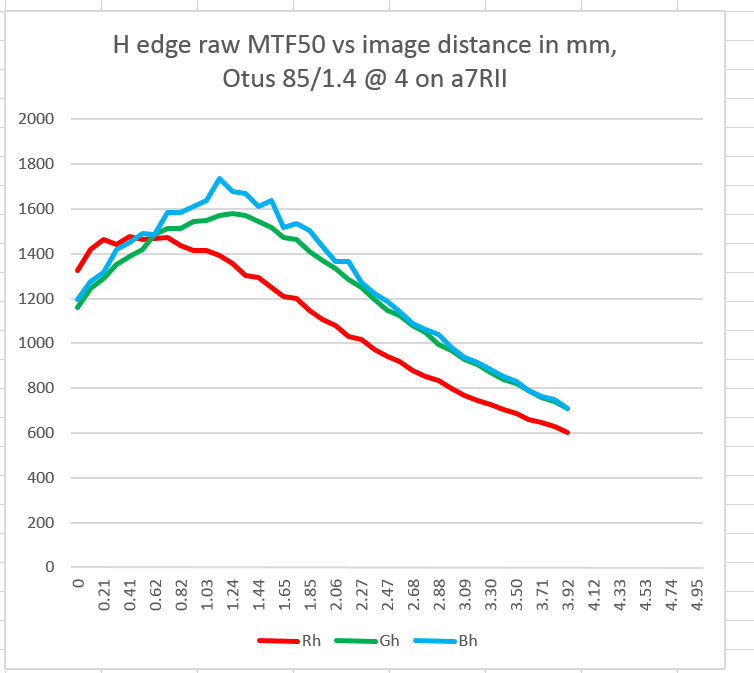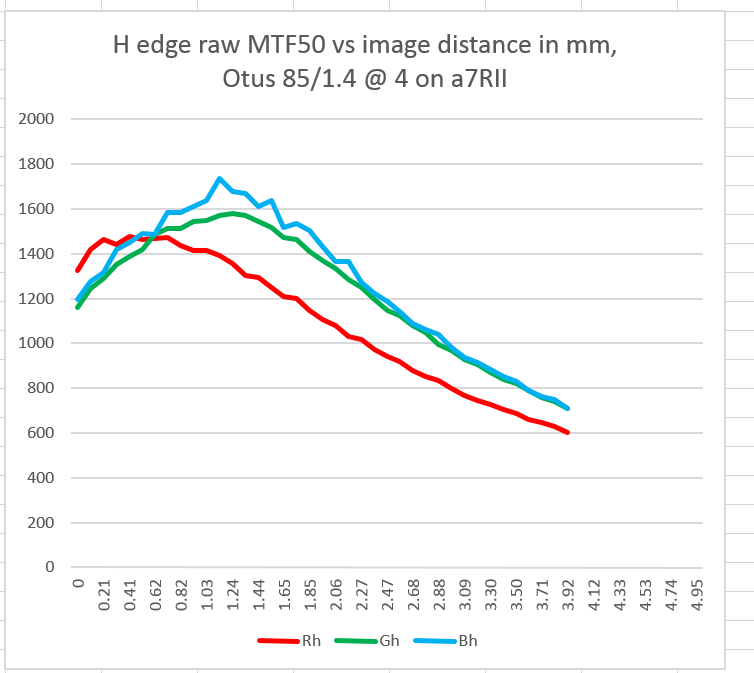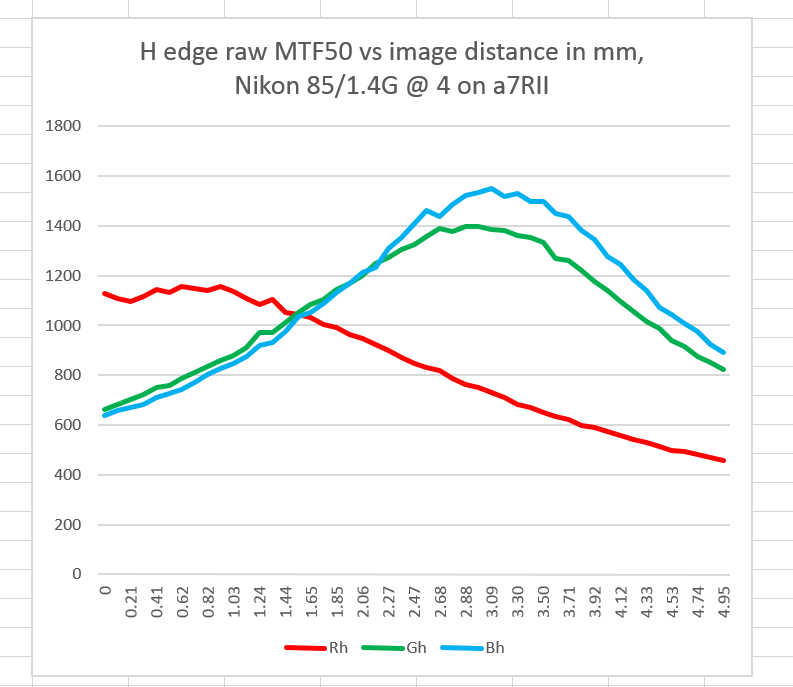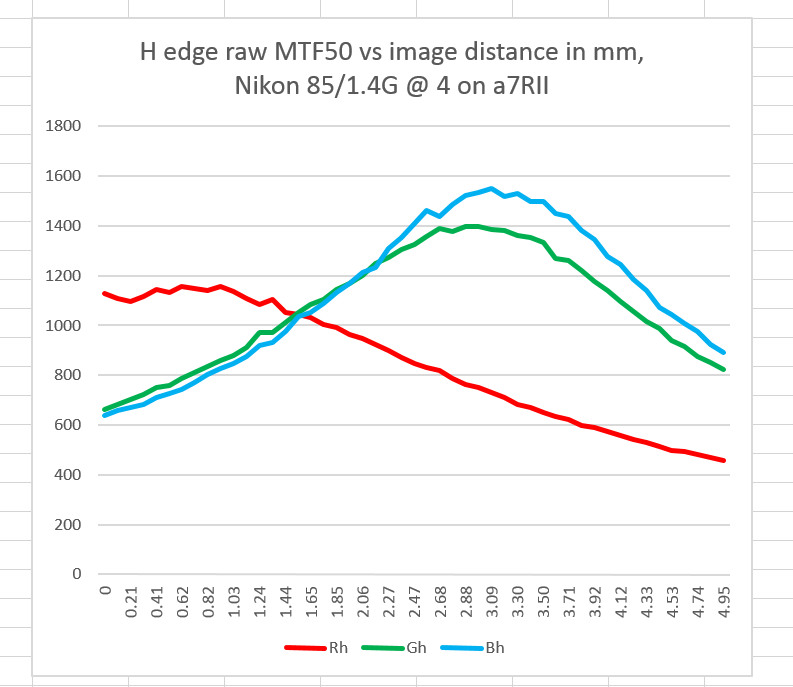 Now the Nikon per-channel sharpness is in the Otus ballpark, but the LoCA is not. Note that if we computed a luminance MTF50, the Nikon would suffer because of the different locations of the red and blue/green peaks.
At f/5.6: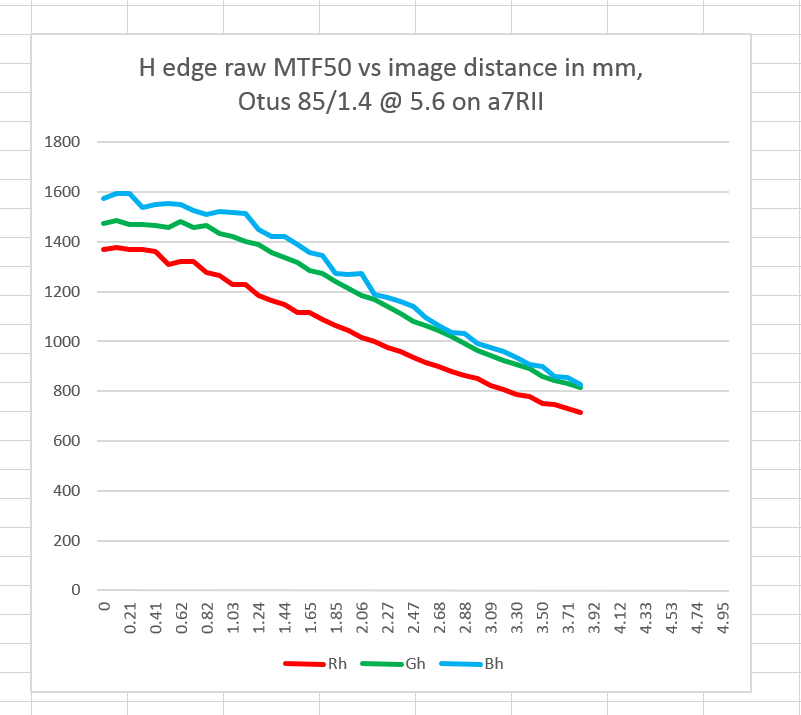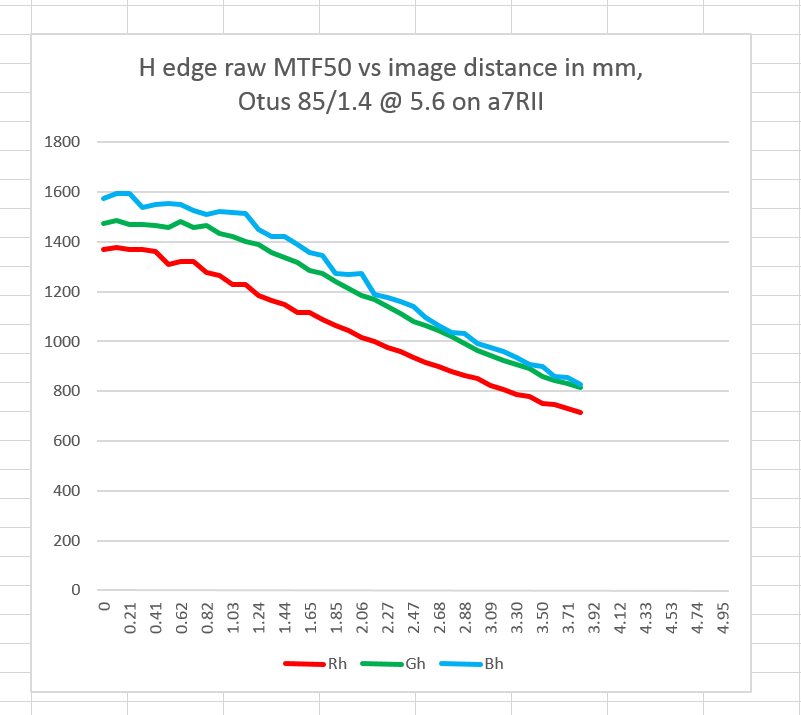 For the Otus, the depth of field has essentially swamped out the LoCA. That's not true for the Nikon.
At f/8: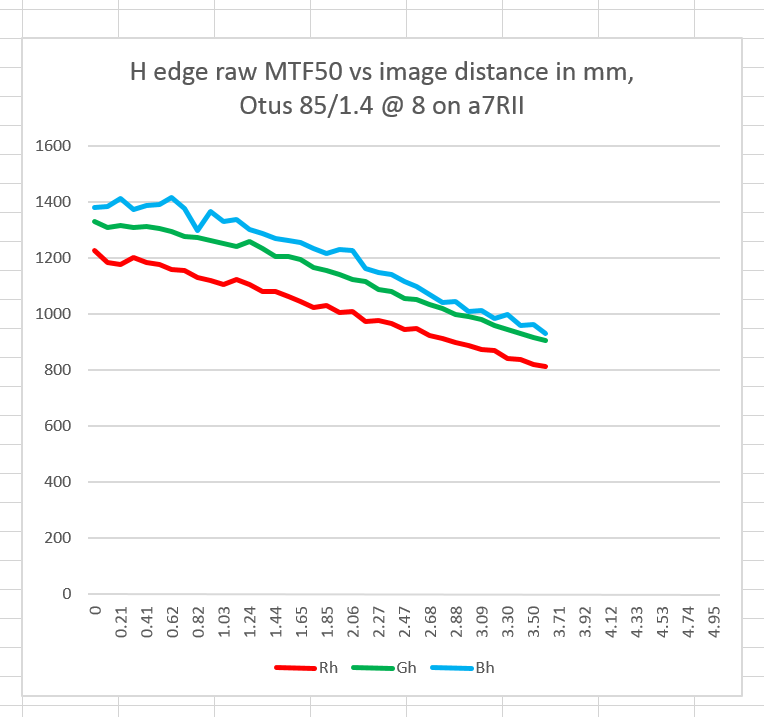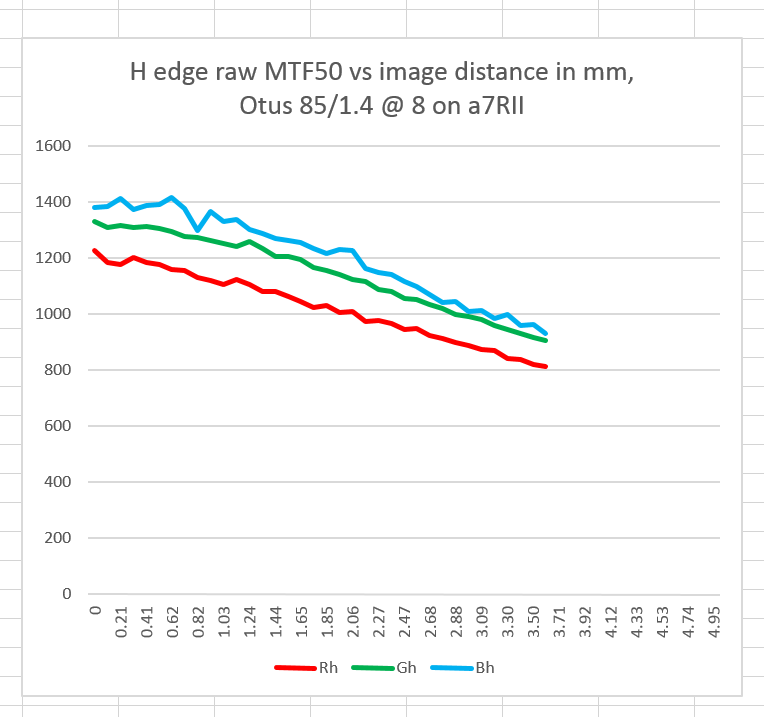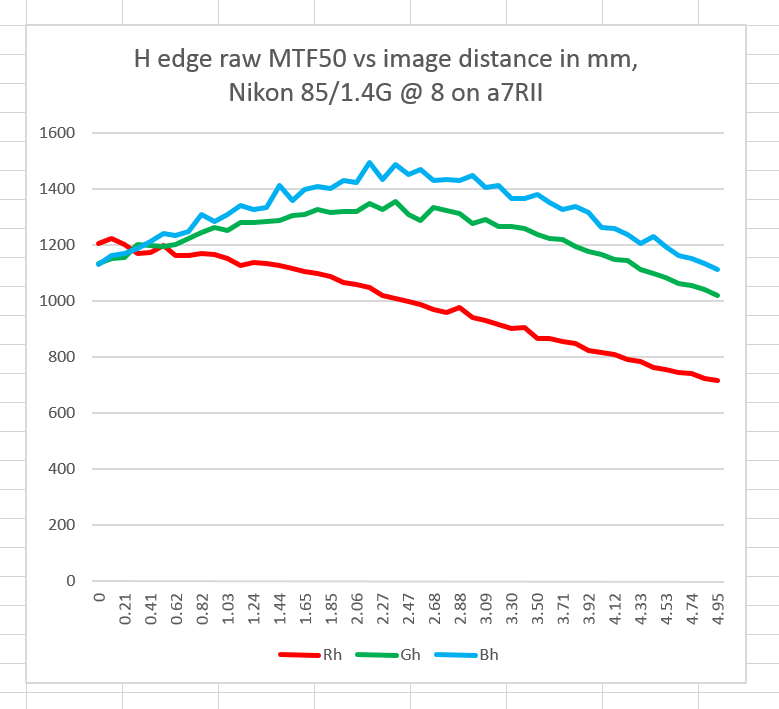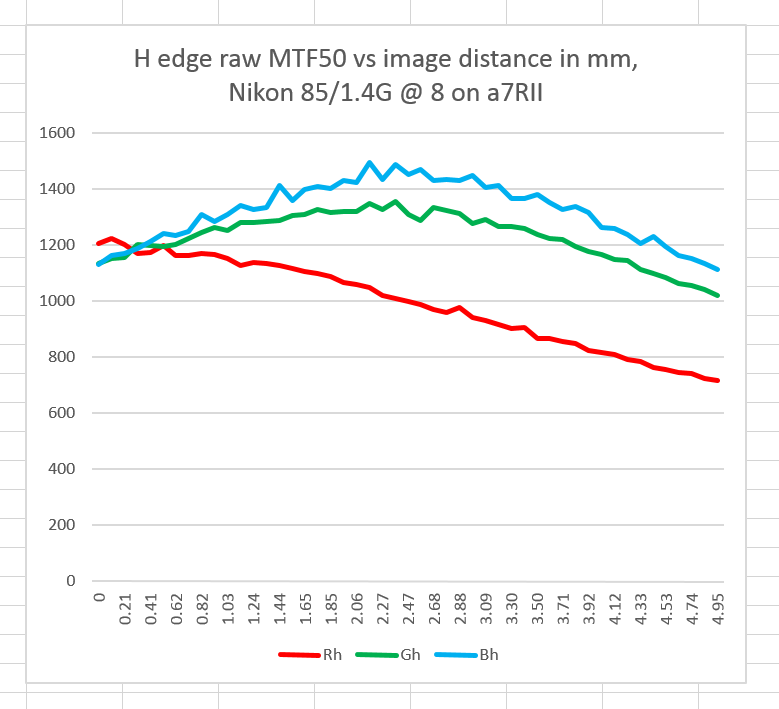 Even at f/8, the LoCA effects of the Nikon are quite distinctive.
I guess that's one of the things you pay Zeiss all that money for.