I have written many posts about managing depth of field (DOF). I have related DOF to modulation transfer function, and developed a way to deal with it from that perspective. I have written a DOF optimizer program that balances the effects of geometrical DOF, diffraction, and capture pixel blur. I have explained how focus stacking works, and how to get the most out of it.
But those have all been fairly to highly mathematical, and some people just can't understand things from math. So this post is going to be different. Yes, it will have a bit of math. You can't discuss DOF productively without math. But there will be plenty of visuals, too.
OK, what's this all about? There is a group of people who believe that depth of field calculators are wrong when applied to medium format photography. They say that the difference in DOF between MF and FF photography is much greater than what is reflected in those calculators. I have been arguing for months now that the calculators are right, but that the circle of confusion (CoC) diameter entered into them must be appropriate for the judgement that will be made from the finished print or the screen.
The purpose of this post is to figure out what is the right CoC diameter to use for critical work. That means the largest CoC that will show no material effect in the final image. The context is landscape photography, the Fuji GFX 100 or GFX 100S cameras, and close viewing of large prints or 1:1 viewing on a display.
To start out, I used the GFX 100S focus bracketing feature to make a series of images of a Siemens star and a slanted edge with CoC diameters from misfocusing that were 1 micrometer (um) apart. I used the Fuji 80 mm f/1.7 and a target distance of about 14 meters. I looked at the slanted edge with Imatest, and plotted the MTF50s: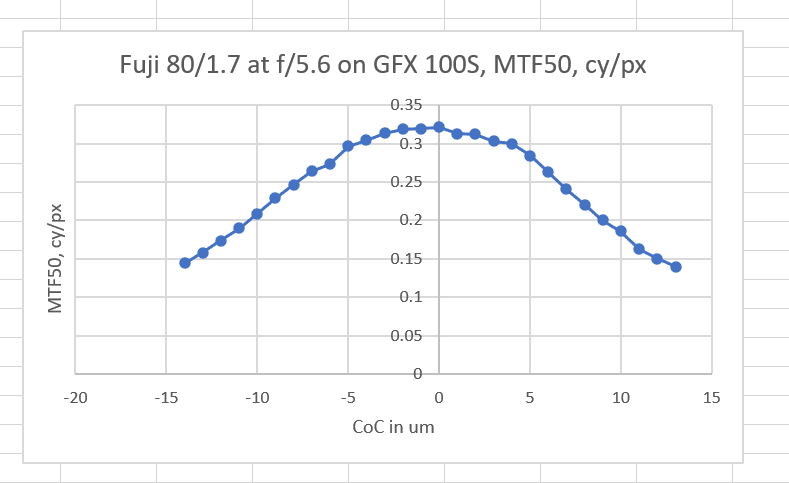 The vertical axis is MTF50 in cycles/pixel. The horizontal axis is the CoC from defocusing.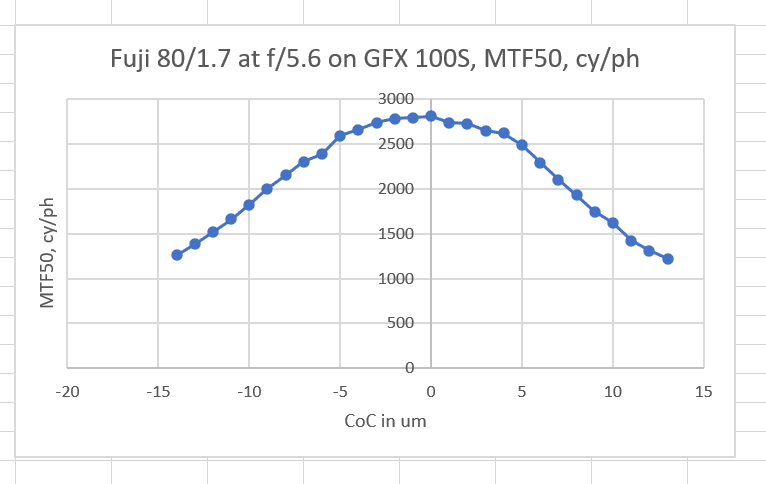 You are probably more used to seeing MTF50 in cycles per picture height. The above graph presents the data that way.
Notice that the top of the "haystack" is quite flat. There are four reasons for that.
Defocus MTF effects are small for very small errors.
Diffraction limits the peak levels for all displacements
Lens aberrations limit the peak levels for all displacements
The pixel aperture of the camera limits the peak levels for all displacements
It seems that CoCs diameters of 4 or 5 um have minimal effect on image sharpness.
Let's look at the images themselves, first about 70% magnification: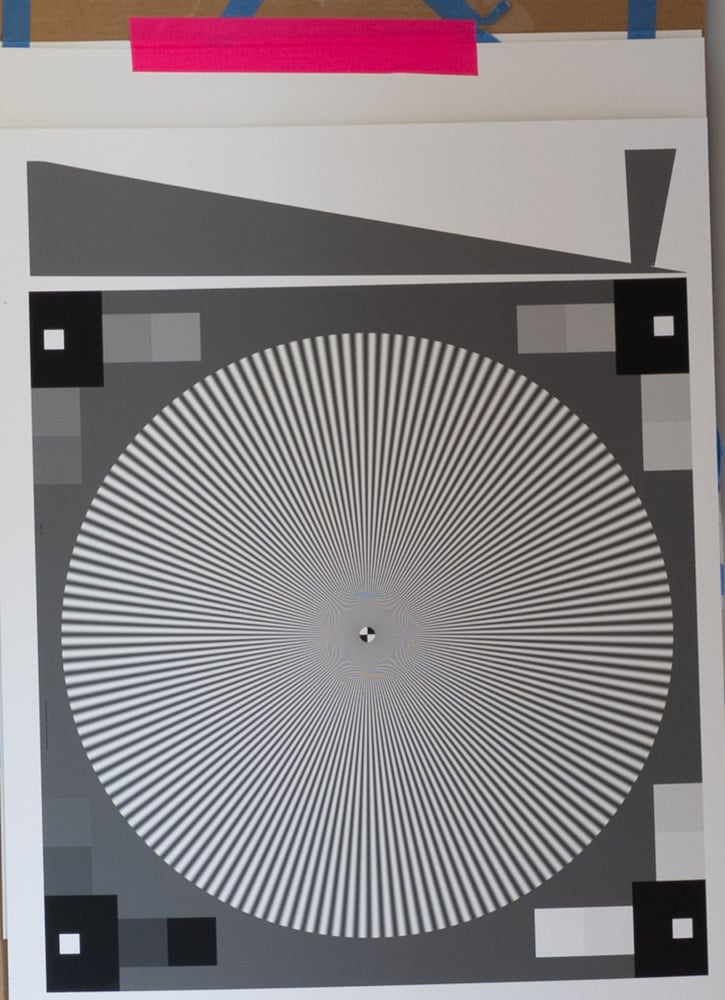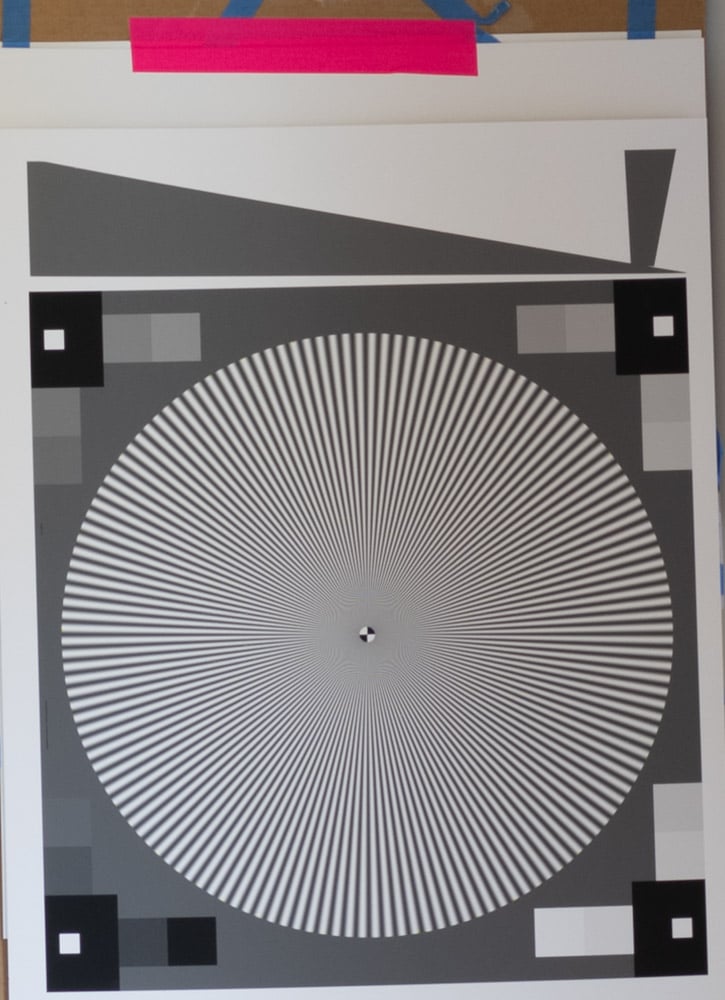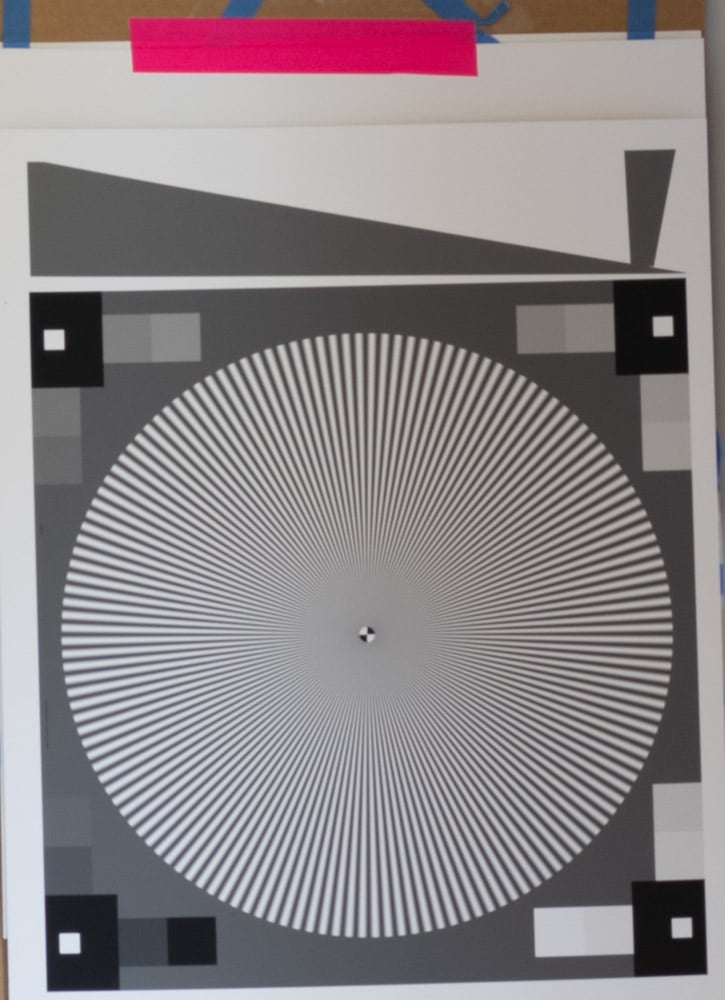 And now at about 160% magnification: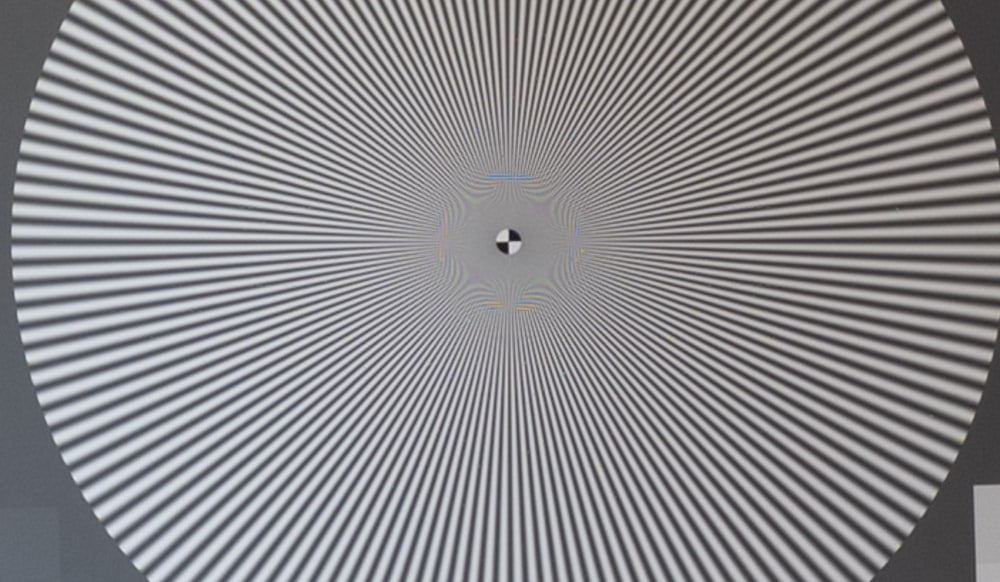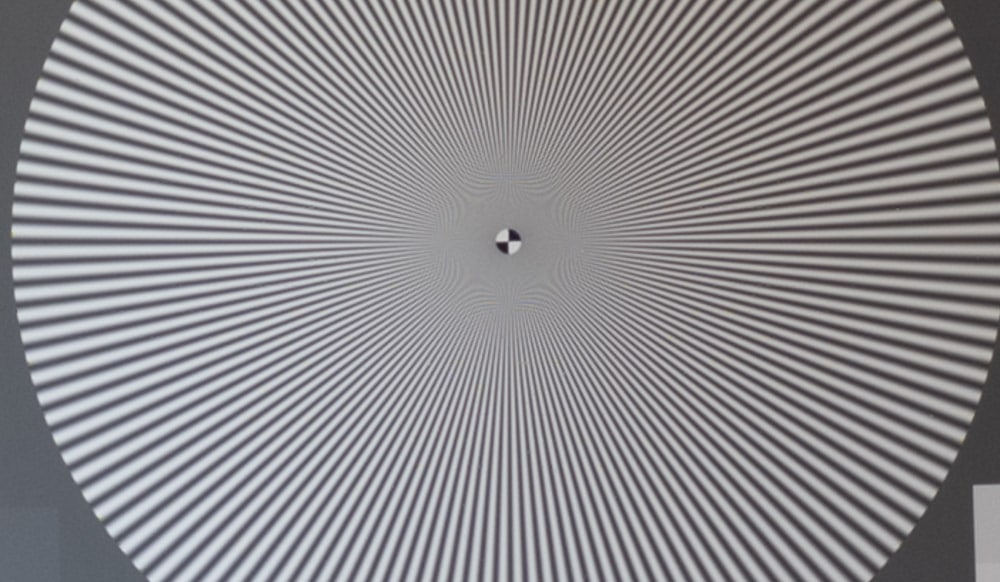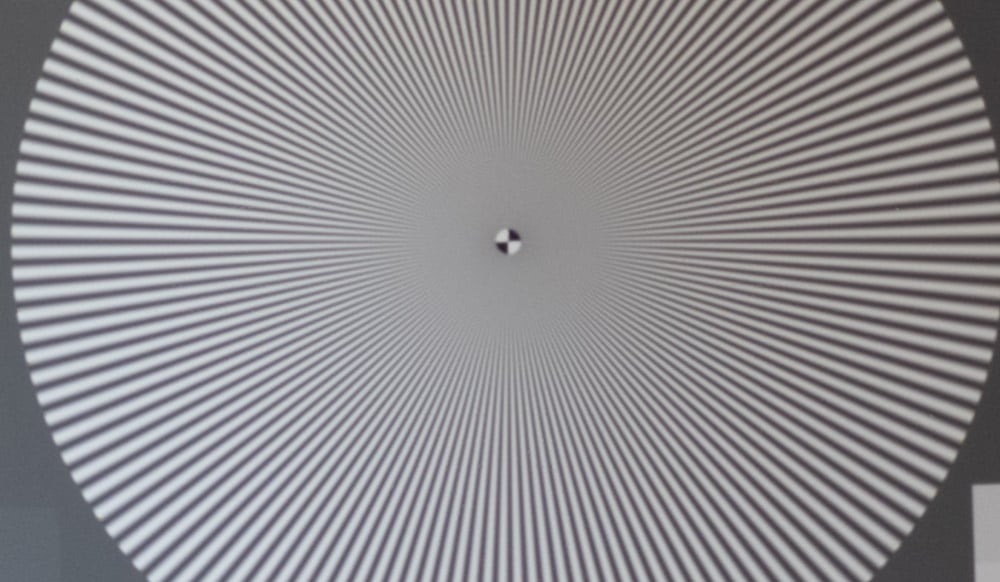 The way I see the images above, the CoC = 5 um image is still sharp, but the CoC = 10 um image is not. This is probably close to a worst case scenarios for judging sharpness, since a Siemens star, even the sinusoidal version that I used above, is a very demanding target.
Now with some natural foliage, at 160% magnification: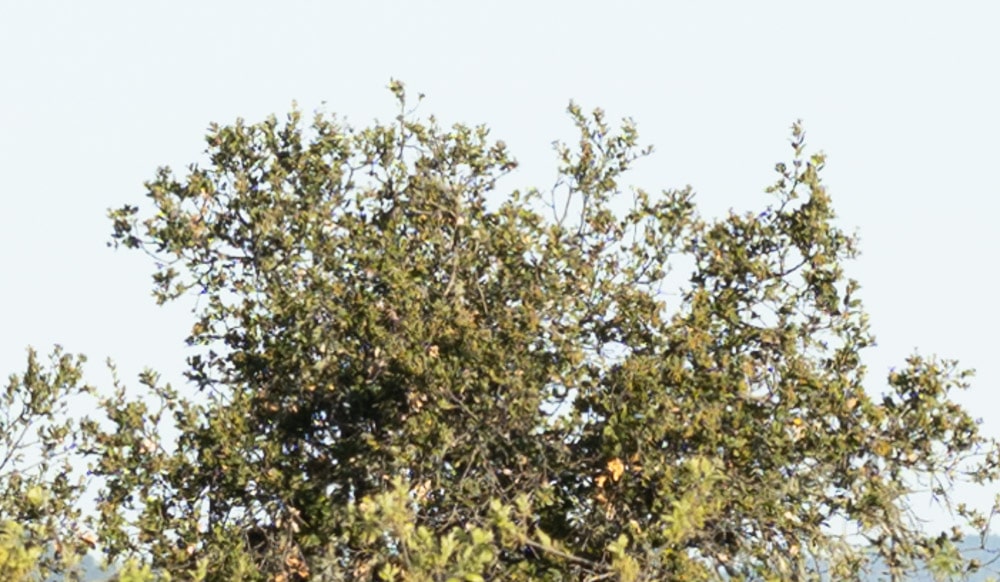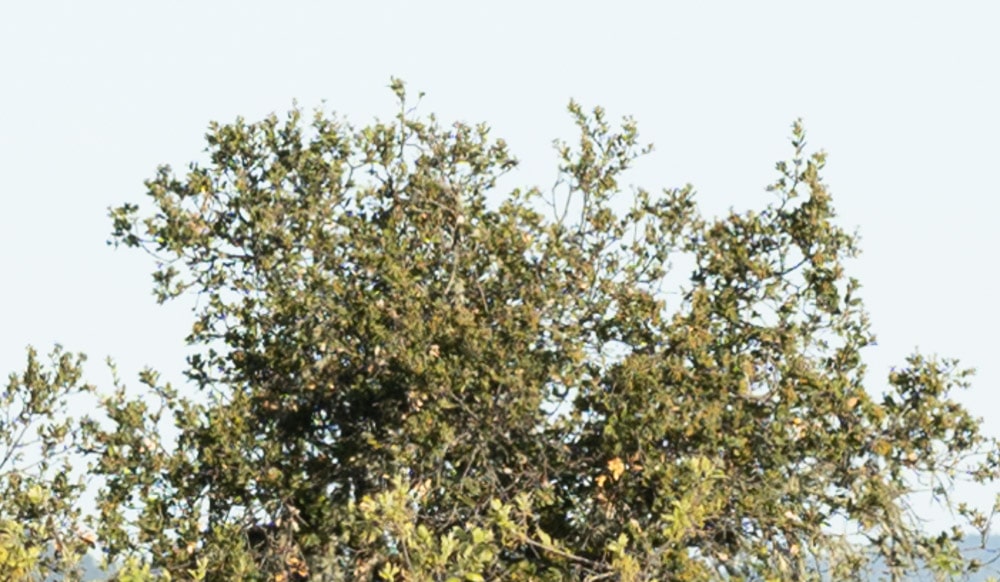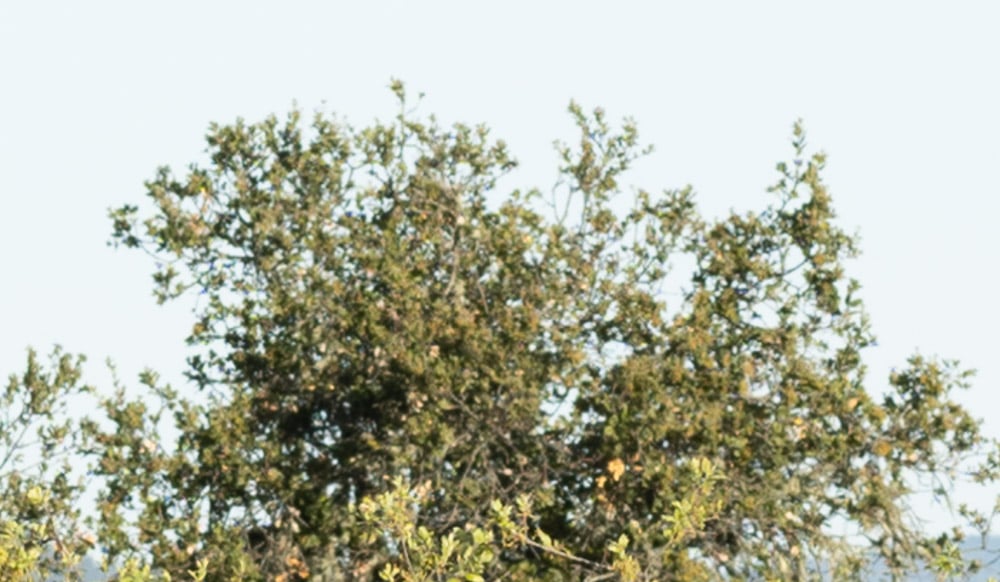 It's not as cut and dried with a natural subject, but for me the answer is the same. A CoC of 5 um is on the threshold of critically sharp, and a CoC of 10 um is not.
If we zoom out a bit from the CoC = 0 image above: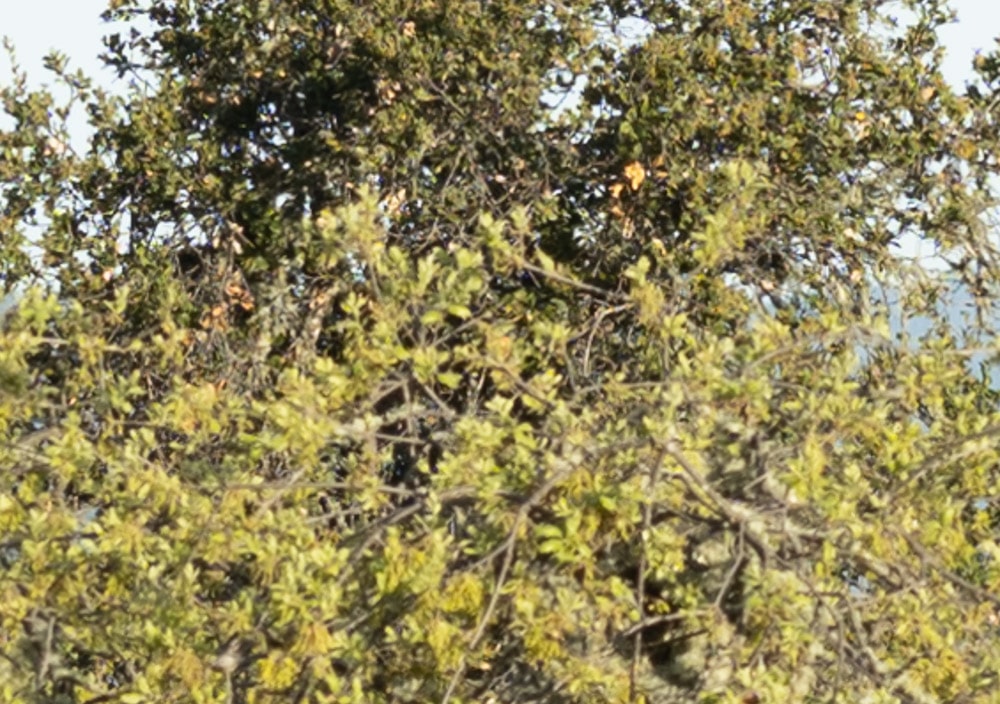 We can see that the tree in the top part of the image, which is the one focused on, is sharp. That tree is 101 meters away. The tree in front of it, which is 54 meters away, is not particularly sharp.
Firing up a standard DOF calculator: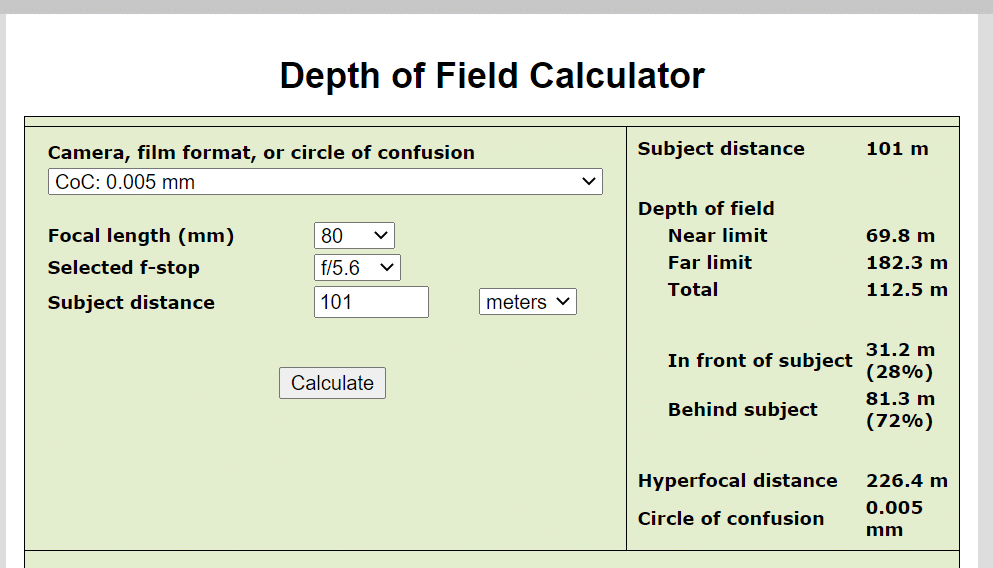 With a 5 um CoC, the calculator says the 54-meter-distant tree won't be critically sharp.
We can use the same calculator to find out what the CoC for that tree will be: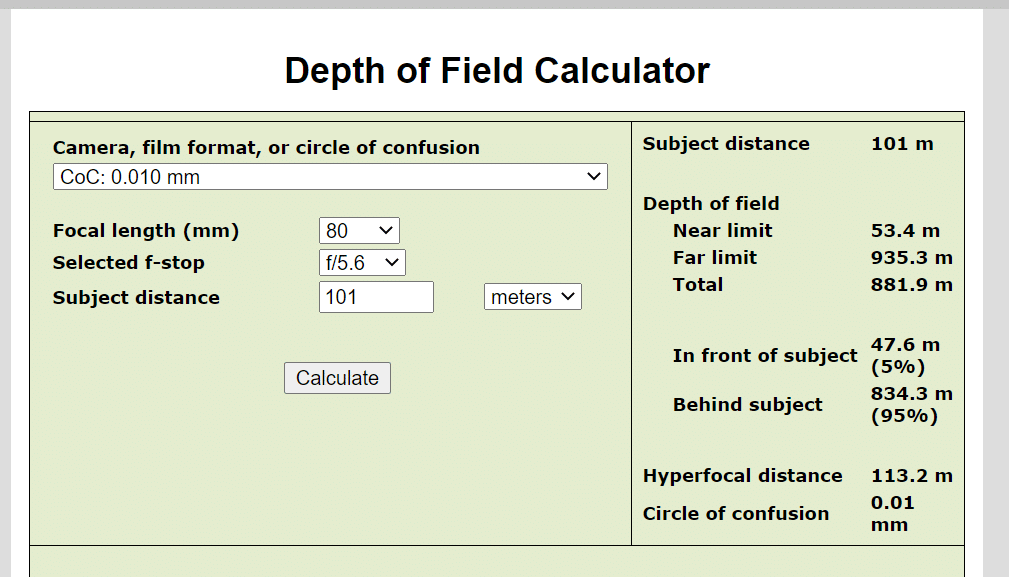 Aha! 10 um, which I decided was soft up above.
The good news is that DOF calculators work, although the one I used just know doesn't include the effects of diffraction. And we know what CoC to plug in for critical work.
The bad news is that CoC will not give us much DOF. Optics is cruel sometimes.