What could be done to extend the gamut of monitors so that we can see all the colors we can print? With transmissive LCD monitors, there's an inherent problem: if you make the red, green, and blue filters narrower so that the primaries are more nearly spectral, they pass less light and the display gets dimmer. That's not necessarily a sticking point for photographers, since current LCD displays are way too bright for soft proofing as it is. It's also a problem that has an end-around solution: make the backlight three nearly-spectral colors, so that all the red filter has to do is block the blue and green primaries, all the blue filter has to do is block the red and green primaries, and all the green filter has to do is block the blue and red primaries. There's also the prospect of organic light-emitting diode displays; such displays should be capable of near-spectral primaries.
So, let's wave a magic wand and say that we can have whatever spectral primaries we want. Where should we put them? That simple question turns out not to have a simple answer. The obvious thing to do is put the red and blue primaries near the ends of the visible spectrum. Not too near, since the eye's sensitivity to light falls off rapidly there. In the case of the blue primary, there's another reason not to go to too short a wavelength: the "red" cones start responding to the short wavelengths, and the color hooks left towards red; that's the reason we see violet in the rainbow.
The big problem is where to put the green primary. We've got two holes to fill: a big one in the cyans and blues, and a smaller one in the yellows. If we make the green primary yellowish, we can fix the yellow deficiency, but we lose cyans and blues. If we make the green primary bluish, we can fix some of the cyan deficiency, but we lose yellows and some greens, and even some blues. Take a look: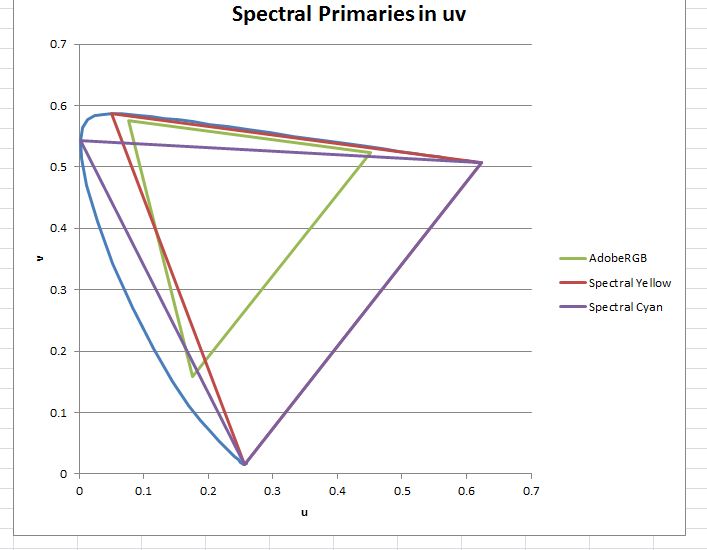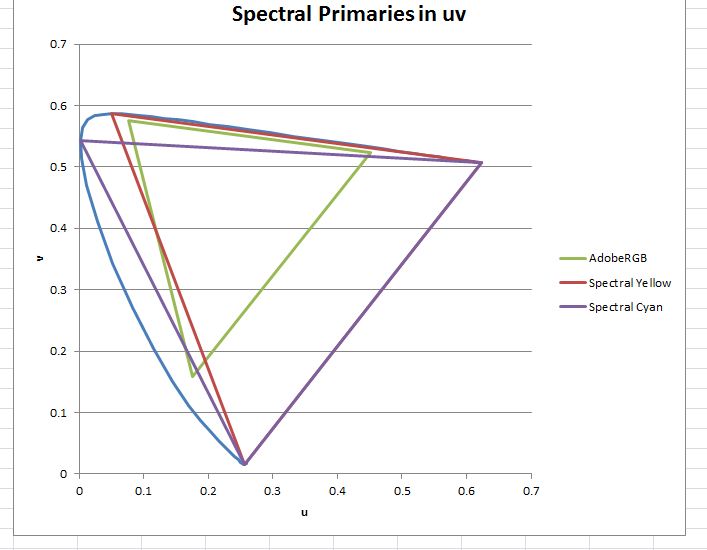 Things get better for the cyans if we sacrifice deep blues, and it looks like a yellowish green primary works well with that. Is that enough improvement in the cyans? I'm doubtful.