I've already established that electronic first curtain shutter can provide sharper tripod-mounted images with the Sony a7 than with the all-mechanical shutter mode on that camera and the all-mechanical shutter on the a7R. I wondered if using the a7S in all-electronic shutter mode — aka silent shutter — would provide any benefits.
I took the longest lens I have that will take a 77mm filter: the Nikon AFS-Nikkor 80-400mm f/4.5-5.6 G ED, and mounted it to the a7S with a Metabones adapter. Using the rotating foot, I clipped the lens, in landscape orientation into an Arca Swiss C1 head which was attached to a set of RRS TVC-44 legs.
I mounted a Heliopan variable ND filter on the lens. I lit an Imatest SFRPlus target with a Fotodiox 5500K variable output LED source. I set the ISO to 400, focused wide open, and set the aperture to f/11. Using the ND filter and the light together to control the, and made a series of exposures of durations from 1/250 second through 1/8 second at 1 stop intervals. I controlled the number of photons hitting the sensor with the ND filter.
Then I did it again.
I processed the images in Lightroom 5.6 with default settings except for cropping and white balance, then I processed them in Imatest, measuring the  MTF50 for horizontal edges. I converted the Imatest cycles/pixel data to cycles/picture height, and made plots.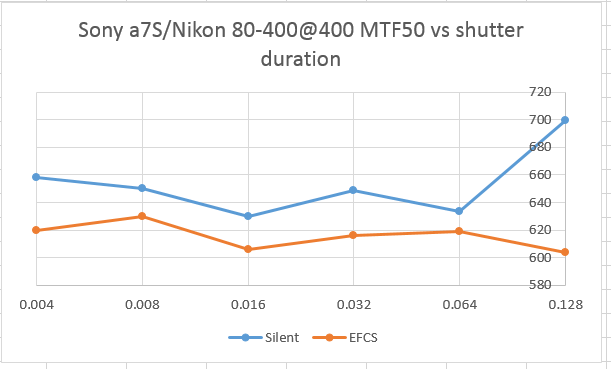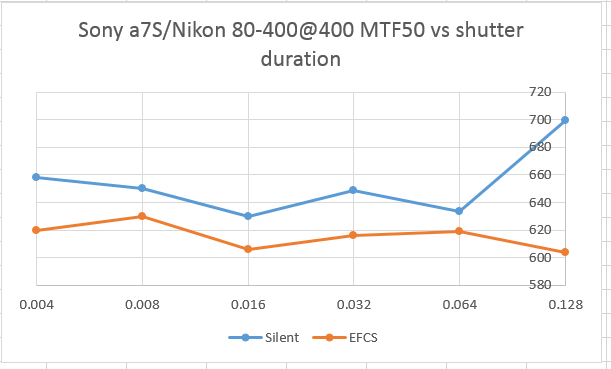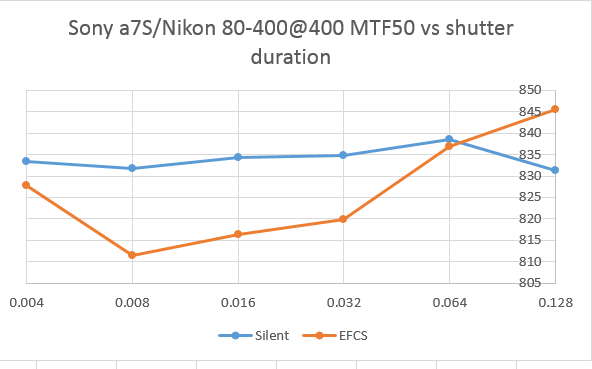 Noisy results. It looks like the all electronic shutter helps a little, but not much. If I could have performed the testing with a sharper lens, it might have helped more.