This is the 35th in a series of posts on the Fujifilm GFX-50S. The series starts here.
In the previous post, I did some testing of manual focus on-axis sharpness with the Fuji 120 mm f/4 macro lens, and compared the results with autofocusing. Now I'm going to so the same thing for the 63 mm f/2.8 "normal" lens.
I focused using maximum magnification and the low red setting for focus peaking. Focusing was performed at the taking aperture. Here are the results of four sets of three shots at each aperture, with each of the three shots with identical focus averaged, with two obvious misfocusings thrown out.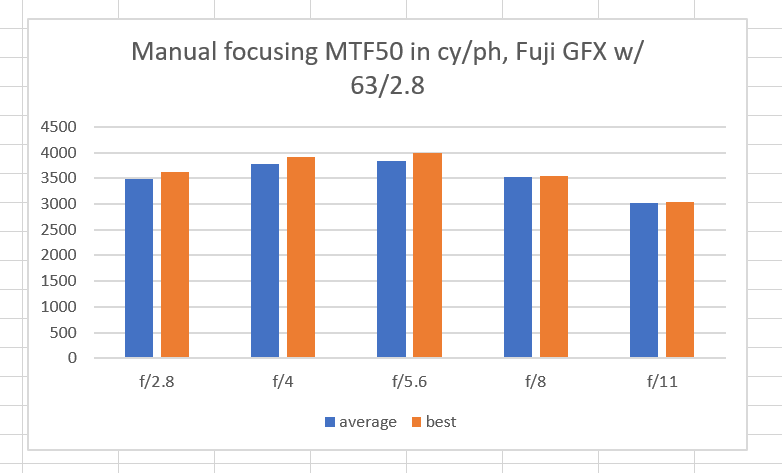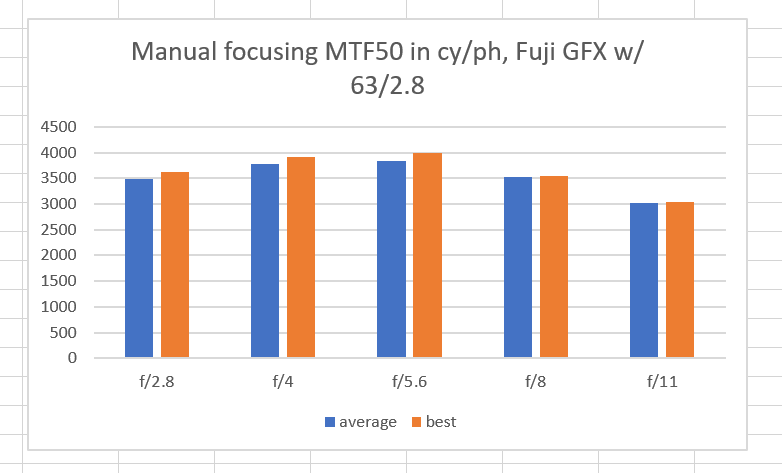 This looks about like what you'd expect. It was easier to focus the 63 in this situation than the 120, because the 63 is not as sharp as the 120, and the zone plate focus target was smaller. Still, I did blow the focusing twice.
Let's compare the average results to those for autofocus: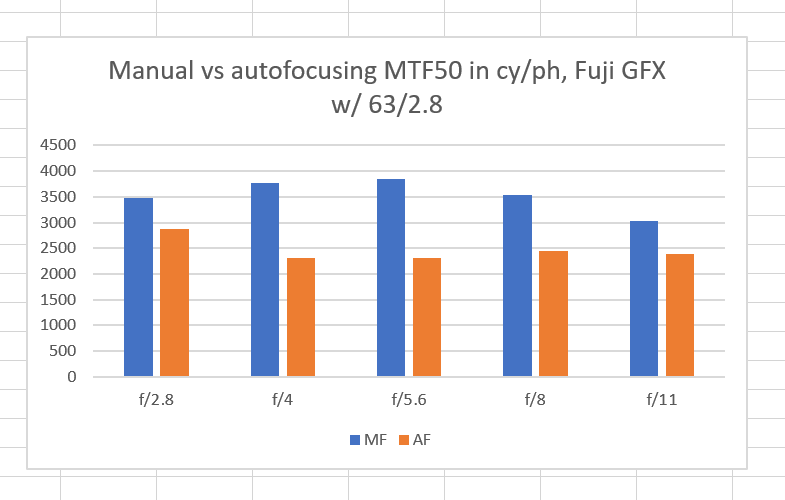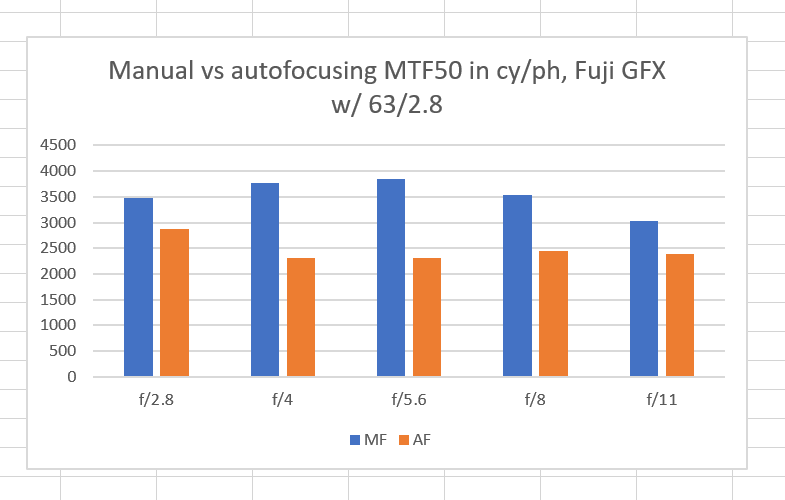 With the 63, manual focusing is better everywhere on the graph, and it is especially better at the three problematical autofocusing apertures identified previously: f/4, f/5.6, and f/8.
When I was making the tests, I did observe that the focus point shifted slightly sometimes from the beginning to the end of the three-shot sequences that followed each focus attempt. In order to get a handle on that, I opened up the lens all the way, focused once, and made 16 shots: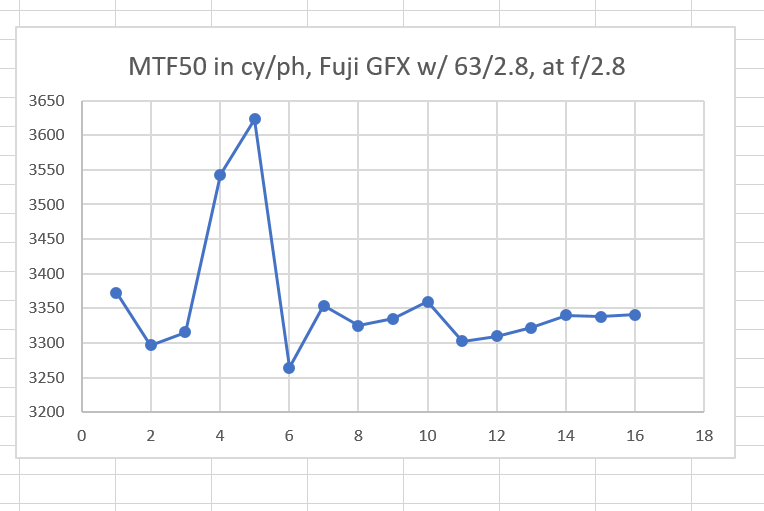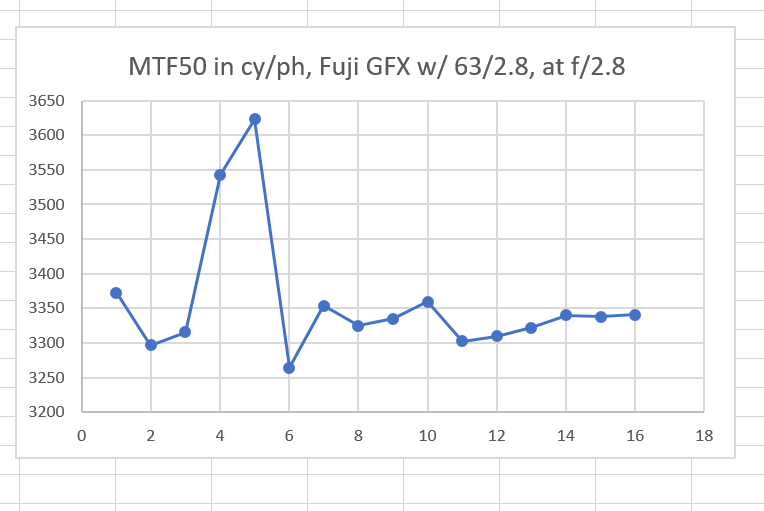 You can see that there was a shoift of focus for the 4th and 5th shots, and — Murphy being on vacation today — it was in a direction which corrected for some of my initial focusing error. The difference between 3600 and 3300 cycles per picture height is not something you're likely to notice in real-world photographs, but I think this is one of the downsides of focus-by-wire.
A few details follow.
Here's the scene: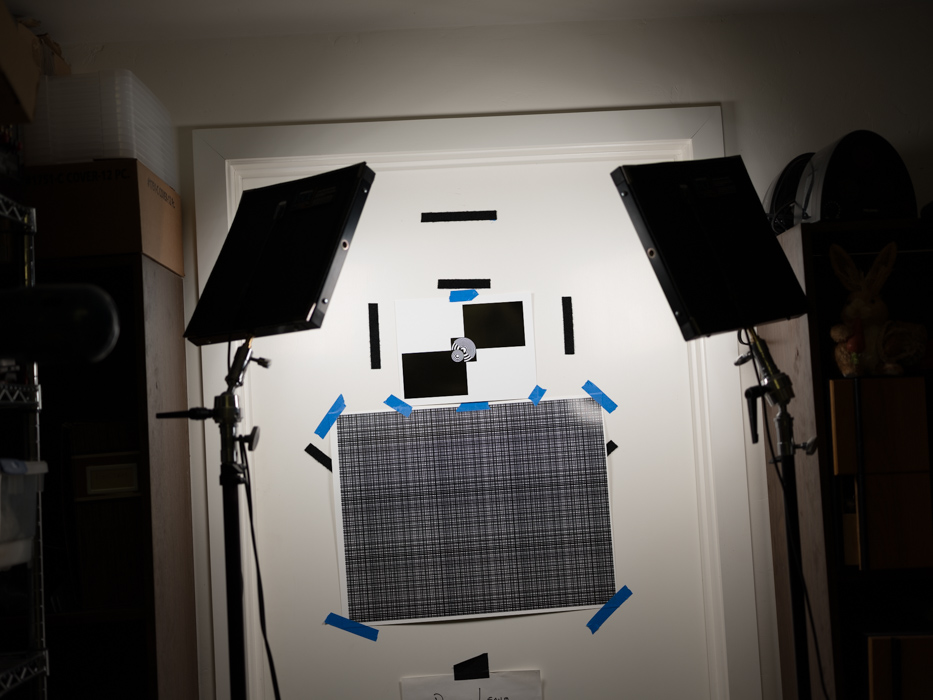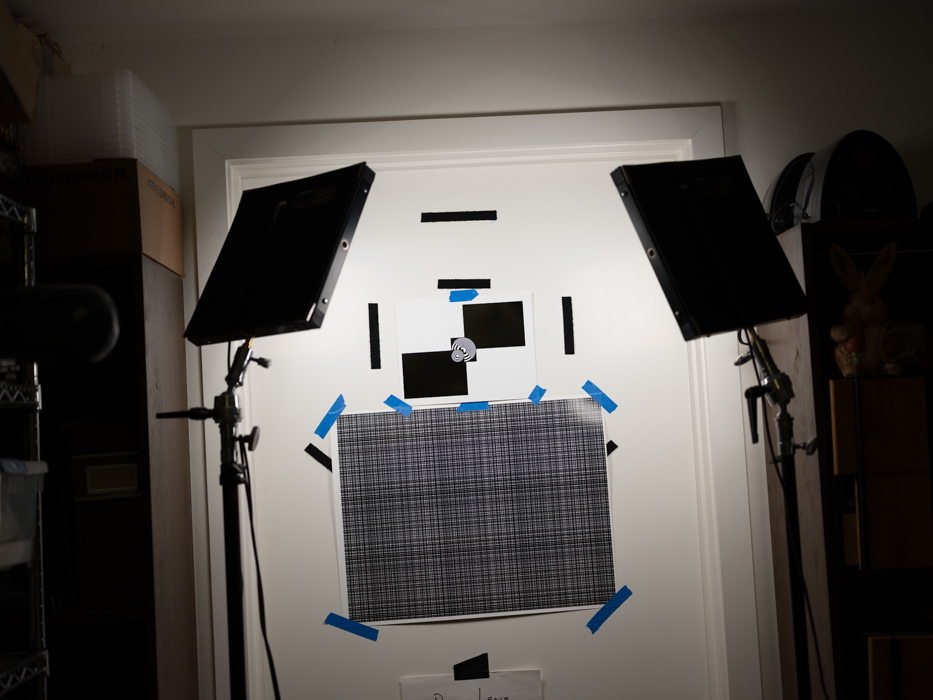 The chart is straight and the camera is tilted to get the right slanted edge angle. Note the zone plate focusing target.
Here are the test conditions:
ISO 100.
5000K illumination, bright enough so that the f/2.8 exposure was 1/320 second
Target distance 3 meters
EFCS on
Lens set to C mode, and aperture controlled from the camera
Shutter set to A mode.
+ 2/3 stop exposure compensation
Internal self timer at 2 seconds
RRS heavy-duty legs
Arca-Swiss C1 head
Images developed in Lightroom with default settings except for custom white balance to the target white. Lightroom does provide some sharpening under those conditions, which explains why some of the MTF50 values are beyond the Nyquist frequency for the camera.