In addition to Vice Versa, I can also recommend a program called GoodSync. Imagine the meetings at which the product marketing folks rejected AverageSync, SoSoSync, JustOKSync, and BarelyAdequateSync as not sufficiently appealing, and BetterSync, BestSync, GreatSync, and SuperSync as too pretentious, before settling, with commendable modesty, on GoodSync. GoodSync runs on both Windows and Apple workstations. There is a Windows Server version aimed primarily at pull synching from workstations, which I haven't tried because it costs close to a thousand bucks. Since the Vice Versa Windows Server version is up to the task of backing up a handful of workstations, NAS boxes, and other servers, I see no reason to spend so much more money on a server-side syncher.
GoodSync is more conventional than Vice Versa in that the scheduler is combined with the synch program, making it more intuitive and in some ways easier to use than Vice Versa. Like Vice Versa, it has more synch modes than you'll need for backup. The user interface is more polished than VV. Here's the main window, with your backup jobs accessible in tabs running across the upper part of the screen, changes in the middle, and a log at the bottom: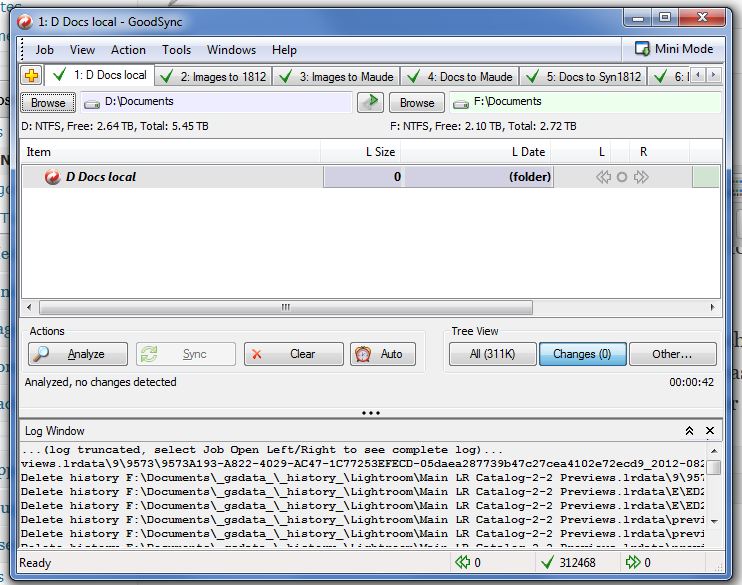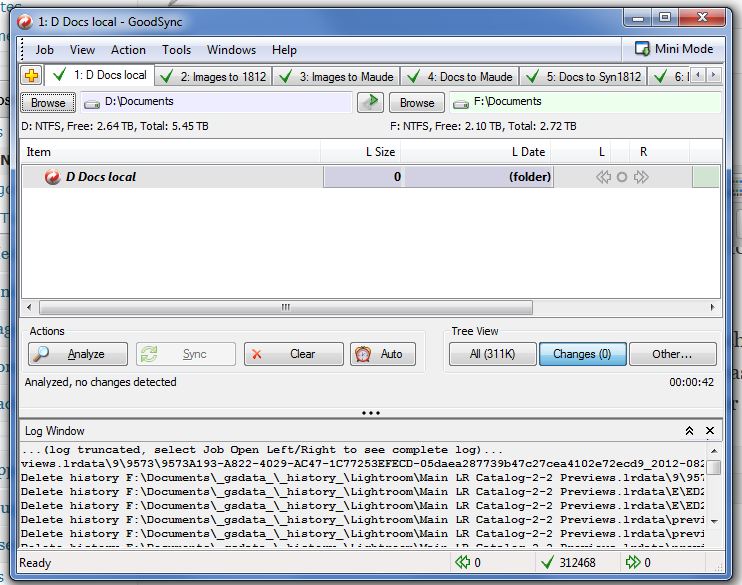 The options and filters are similar to VV, except that there aren't sub-folder filtering options. Note that GS will clean up old copies of deleted or changed files automatically: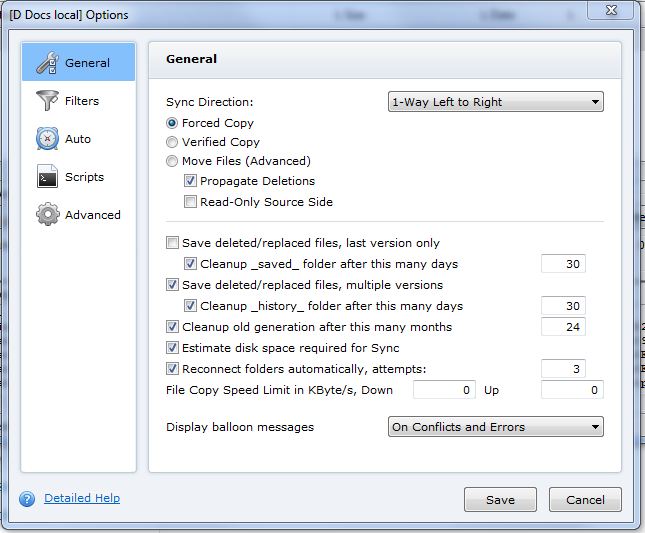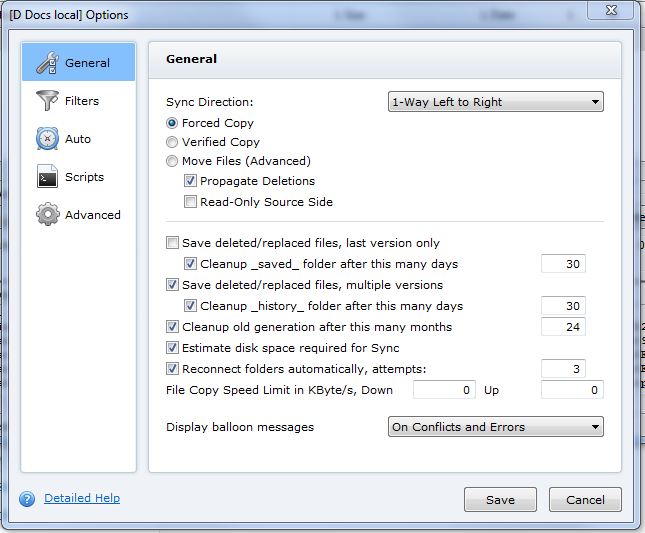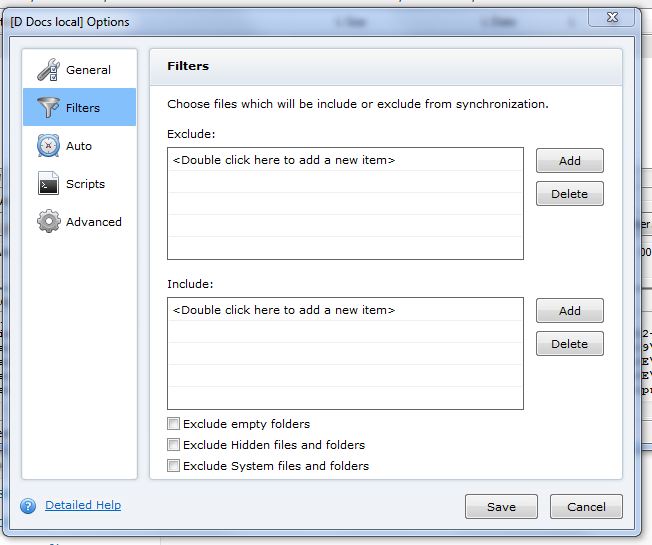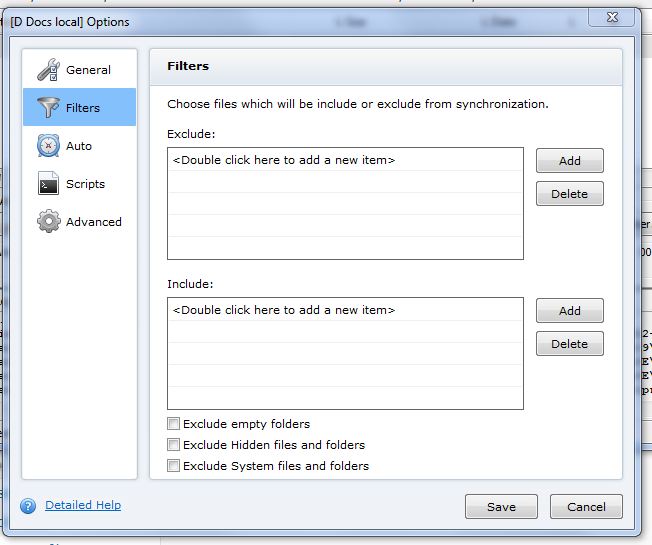 The next set of choices involve scheduling: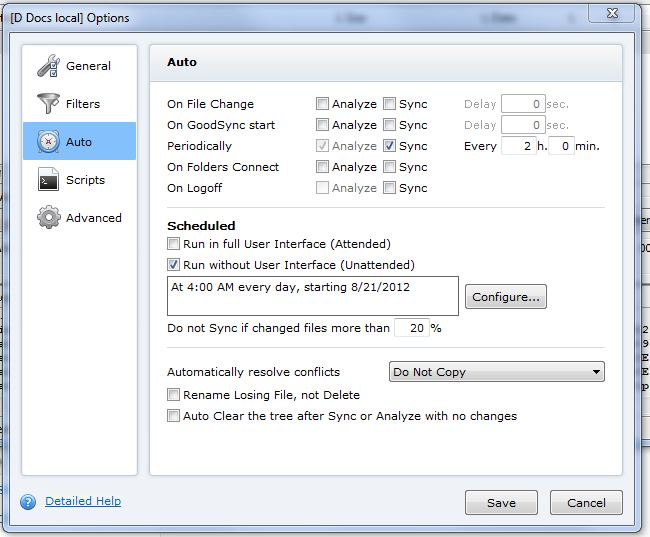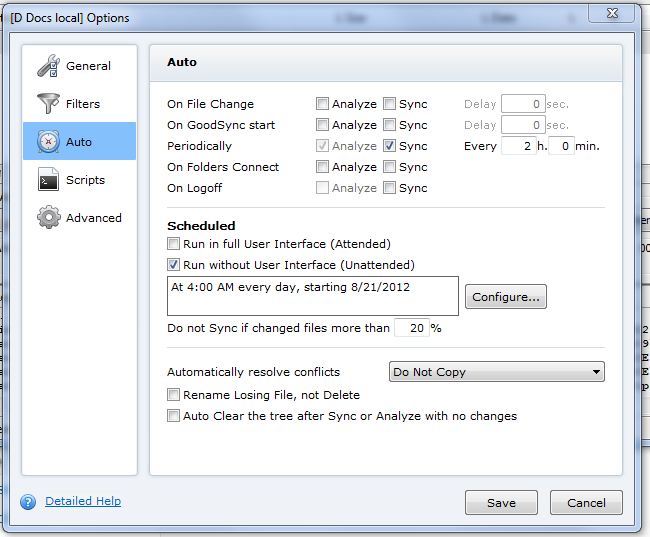 The scheduling options are comprehensive. There is one feature that I like that VV doesn't have: the ability to abort a run if more than a certain percentage of the files have changed. Using this option could prevent complete deletion of your backup caused by changes in your directory structure. There are also welcome options for what to do in the event of conflicts.
You can indulge your inner programmer and write scripts: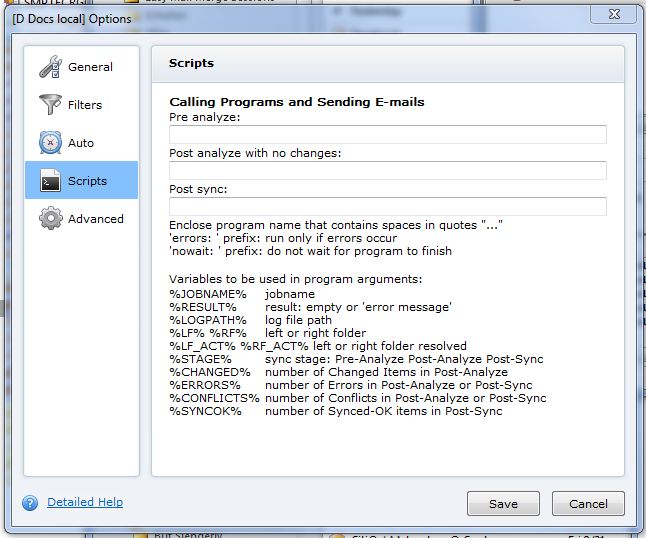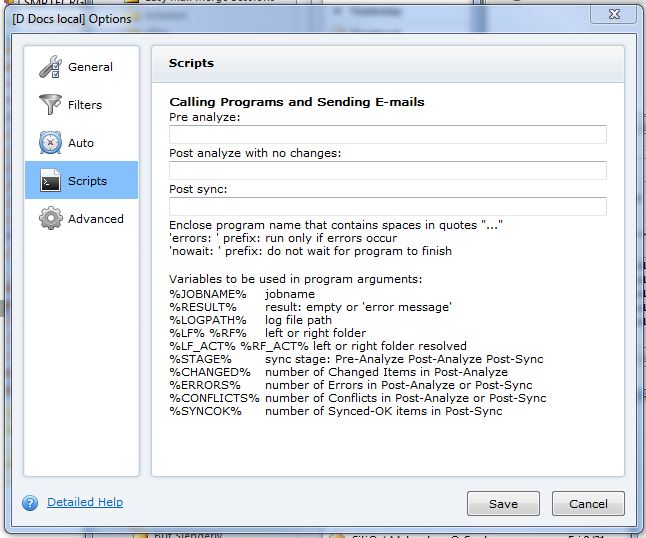 And there are plenty of head-scratching advanced options: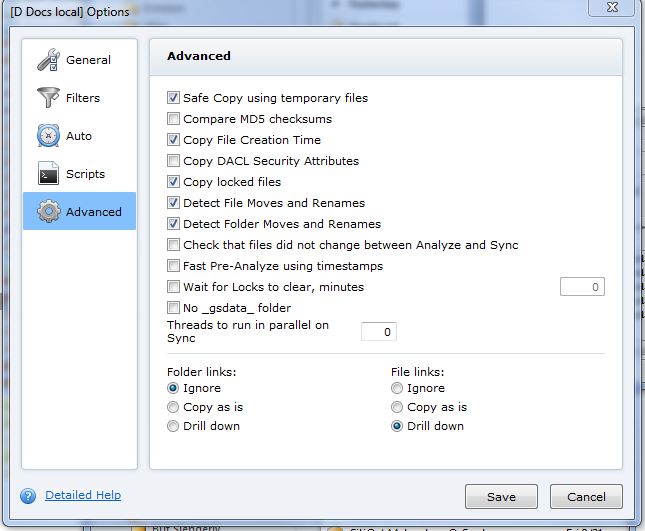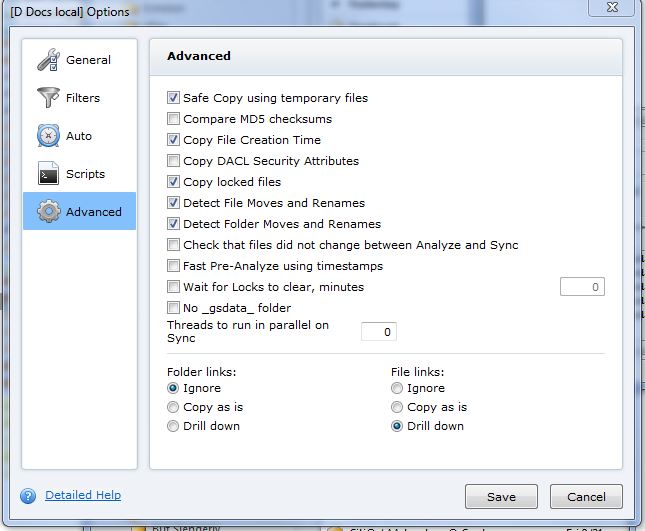 You get real-time information on what's happening: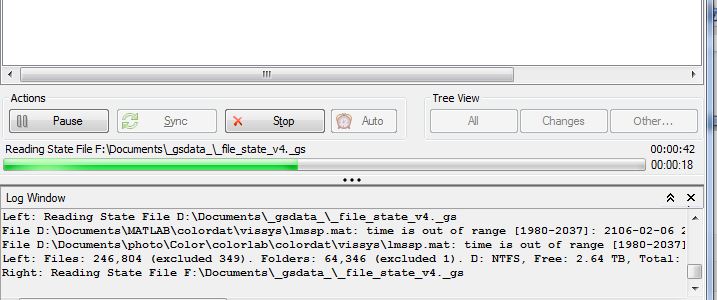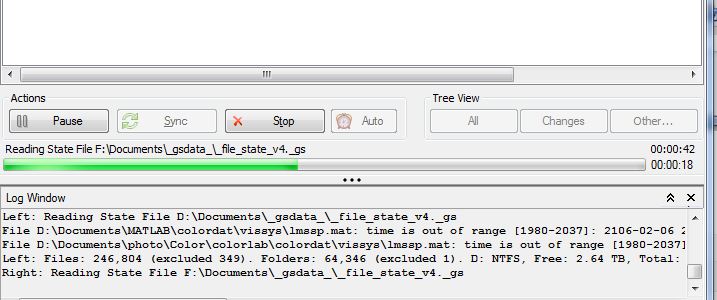 You may be thinking, "What's this state file?" GoodSync stores information about the directory structure and synch state right in folders it's synching. For backup, this is not strictly necessary, but it does save time, and GoodSync's analysis runs a bit faster than VV's. If you use GS on the workstations to push and VV on the server for third-party and local backup, as I do, you'll be backing up those now-useless state files, but they're small and won't hurt anything.
You can set GS to automatically start whenever your OS does. I strongly recommend this option: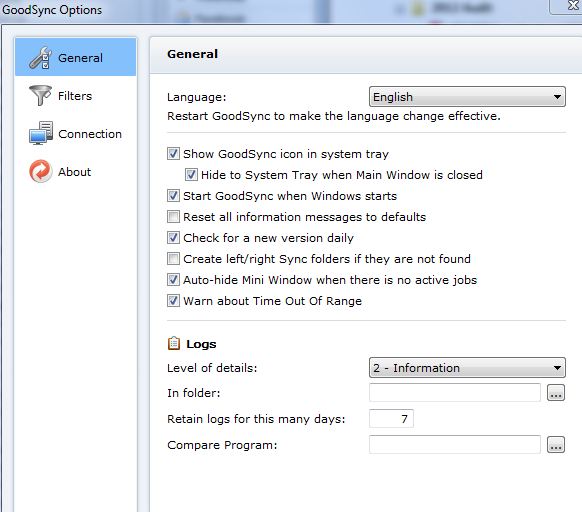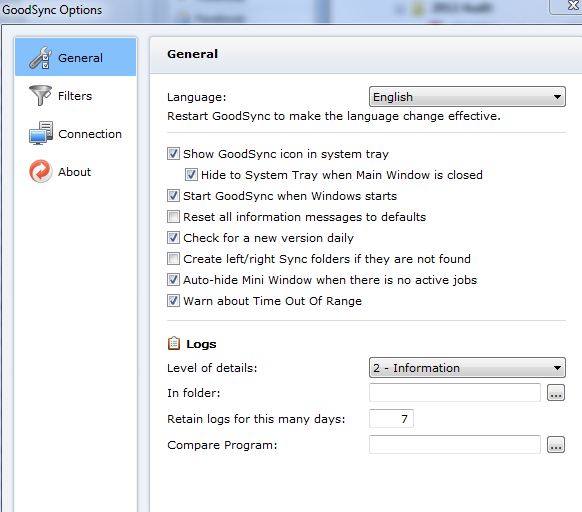 GoodSync has a web server like VV Engine, but you don't need to use it.
All in all, GoodSync is a pretty powerful program wrapped in a nice user interface, with well-chosen defaults so you don't have to deal with the complexity if you don't want to. I recommend it if you're looking for a synch program to run on a Windows or Apple workstation.