This is a continuation of the development of a simple, relatively foolproof, astigmatism, field curvature, and field tilt test for lens screening. The first post is here.
I'm getting ready to wrap all these posts on lens screening up into a paper that describes an entire lens test procedure, but there are a few things I need to deal with first. One is the size of the target. In yesterday's test, I used a 22.5×22.5 inch (570 mm) target. I wrote some code to see how big that target would be on a high-res full frame sensor at the minimum focusing distance that satisfies our defocused-induced Coc of 3 um: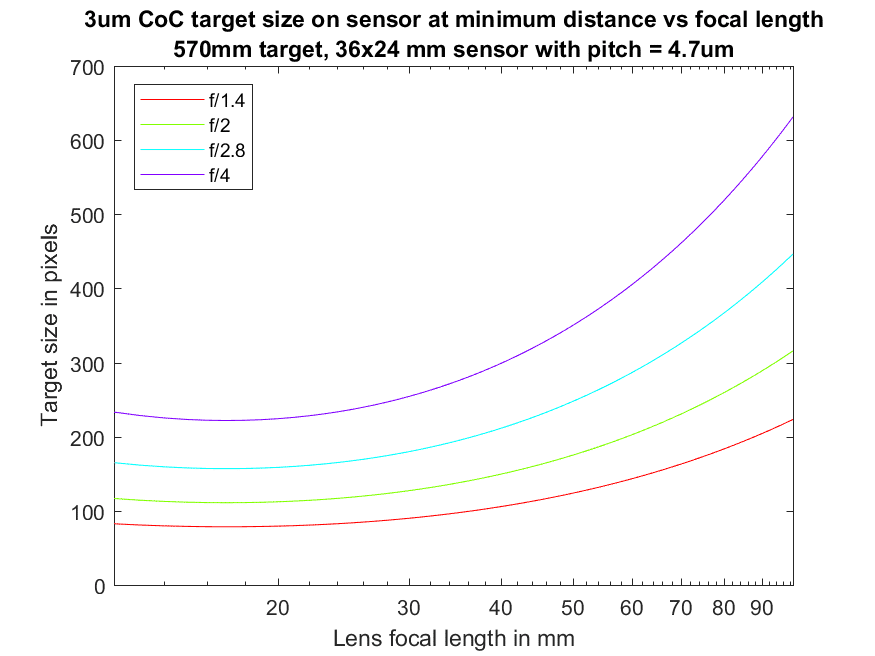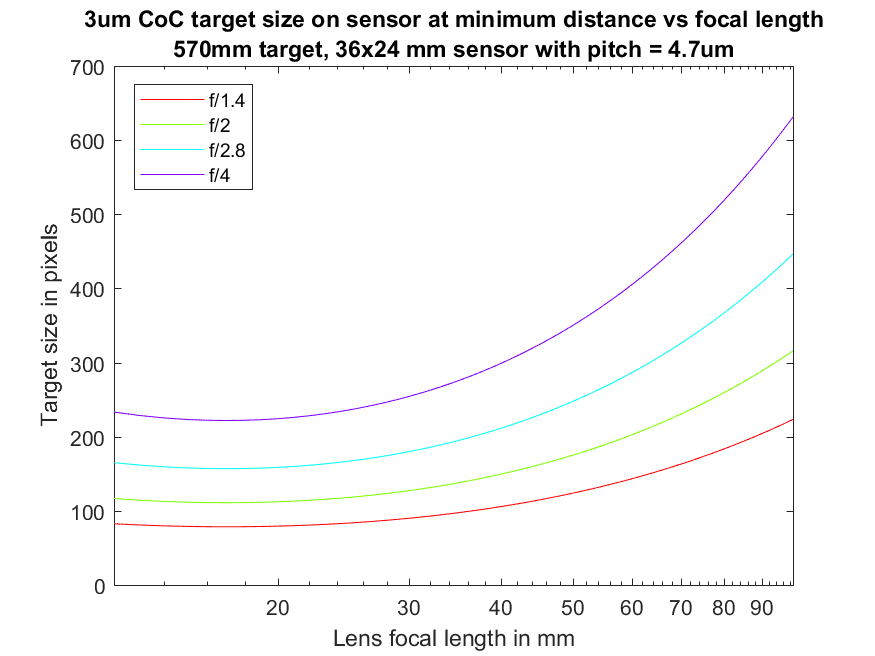 We'd like to have the target be at least 150 pixels on the sensor. You can see that our 570 mm target is enough to test wide lenses at f/2.8 and narrower, but not at f/1.4 or f/2. It looks like we'd need a target twice that big to test an f/1.4 lens wider than 60 mm or so.
If we have a lower-resolution FF sensor, here's what those curves look like this: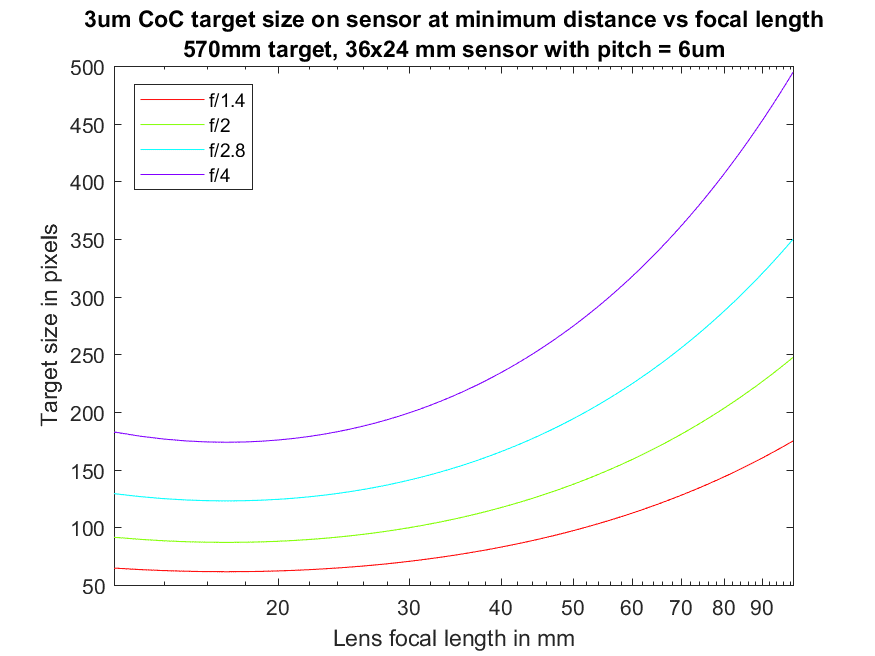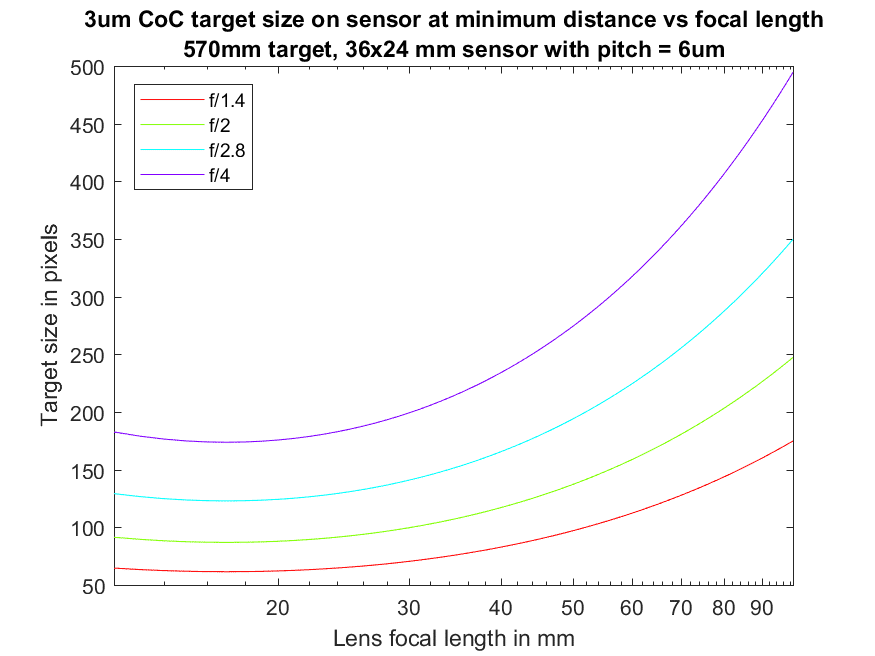 That's even worse. Now we need a target that's three times our 570 mm one to test those lenses at f/1.4. But let's look on the bright side. We'd be fine with both those sensors at f/4 or narrower with a 570 mm target.
Note also that with Siemens Star targets that have no center widget, like the one below, there is no problem with the target being too large on the sensor at the distance that gives us a barely-acceptable depth of field, we'll just use the part of the target closer to the center. Thus, if the resolution of the printer making the target is the same, there is no penalty in printing a big target.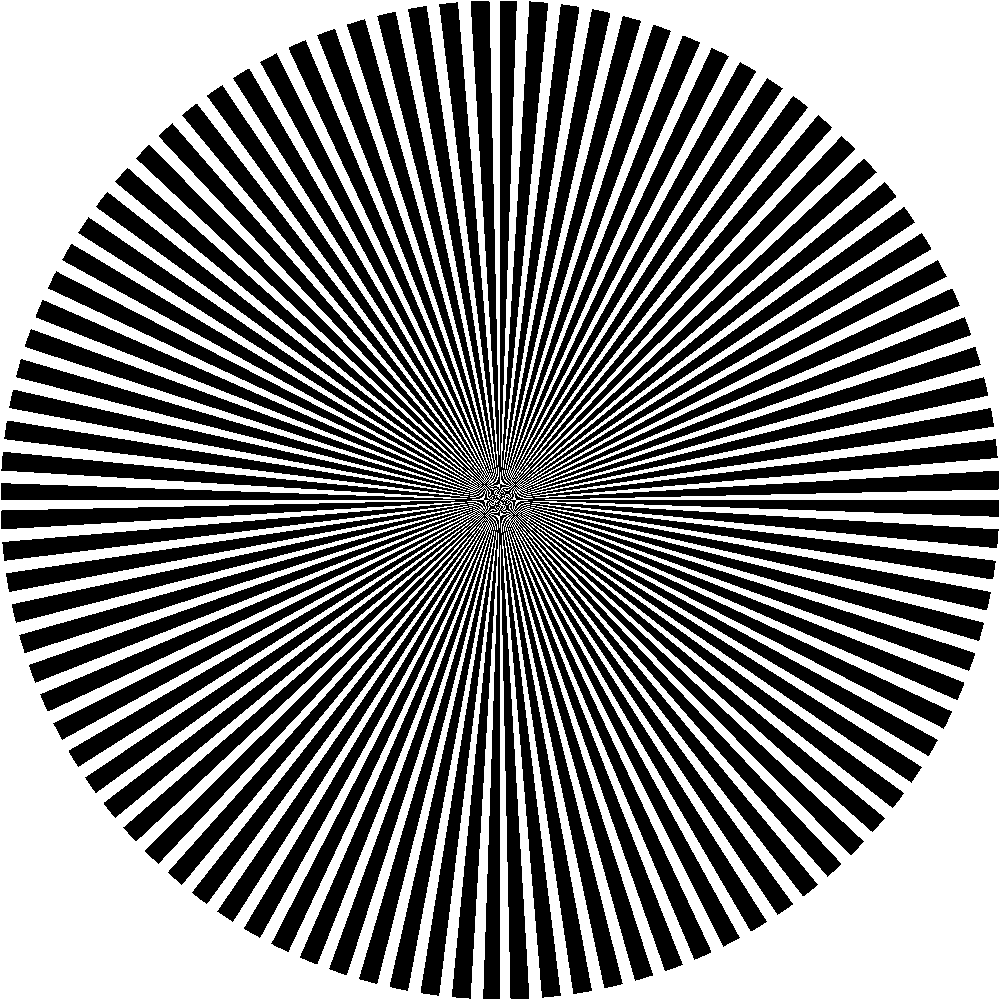 For completeness, here is the target size on the sensor at minimin allowable distance for a 33×44 mm 51 MP sensor: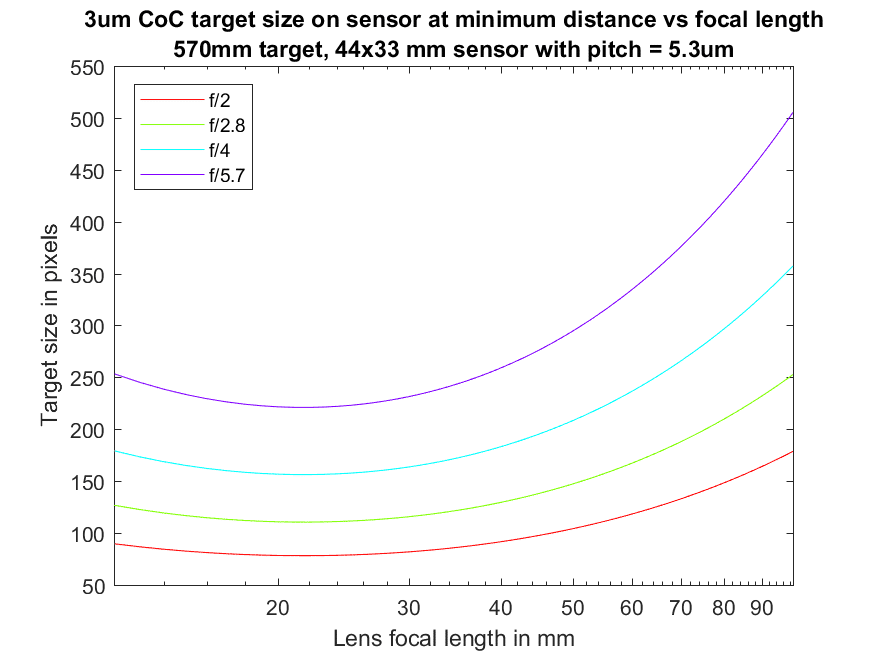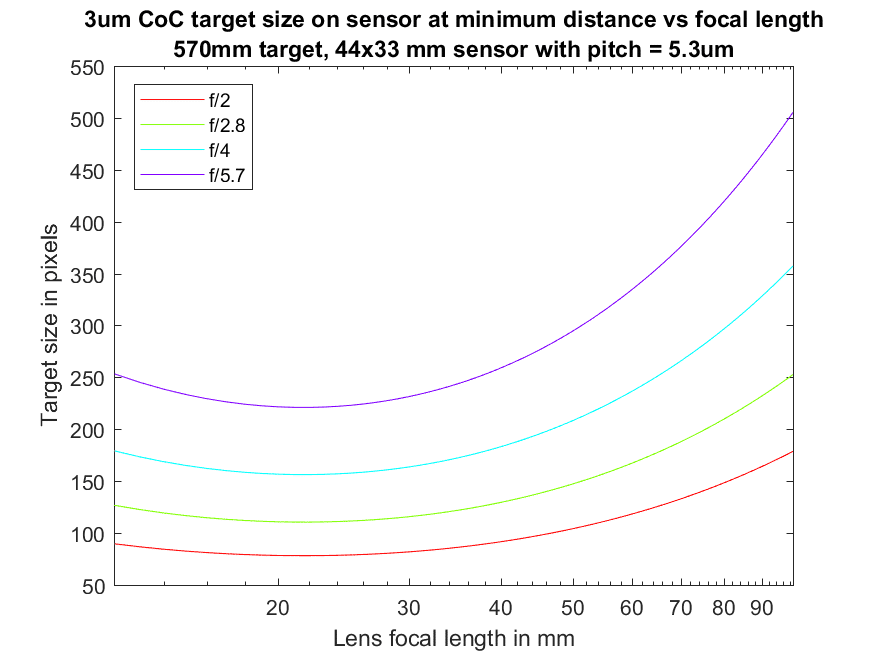 I don't think there are any 20 mm f/2 MF lenses so we may be able to get away with a 570 mm target for a 33×44 mm sensor. There also aren't any 33×44 sensors with a pitch coarser than 5.3 um, so that won't trip us up there. Setting the program to pick the CoC at half the pixel pitch and telling it to look at what we'll have to deal with with the upcoming 100 MP 33×44 mm sensor: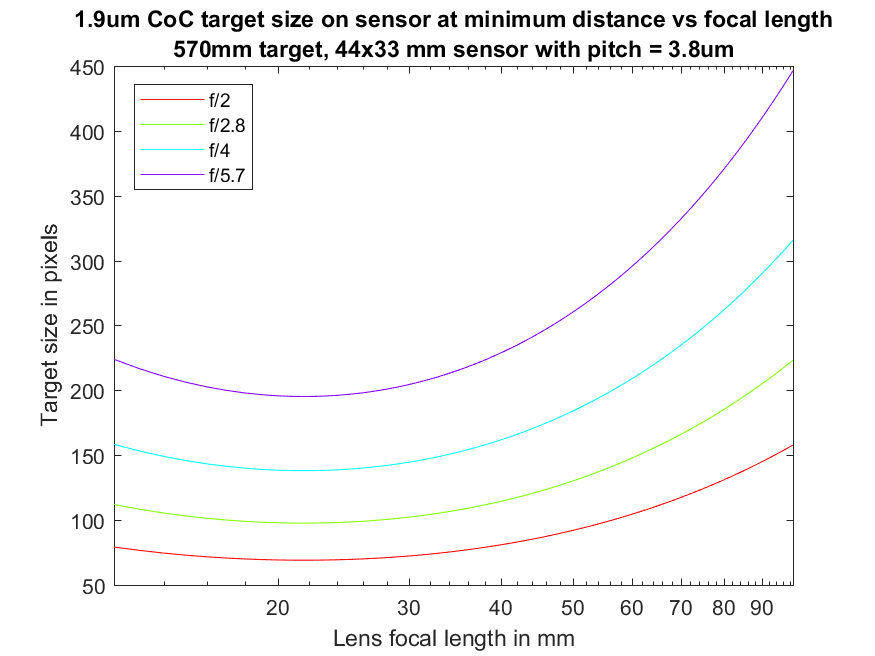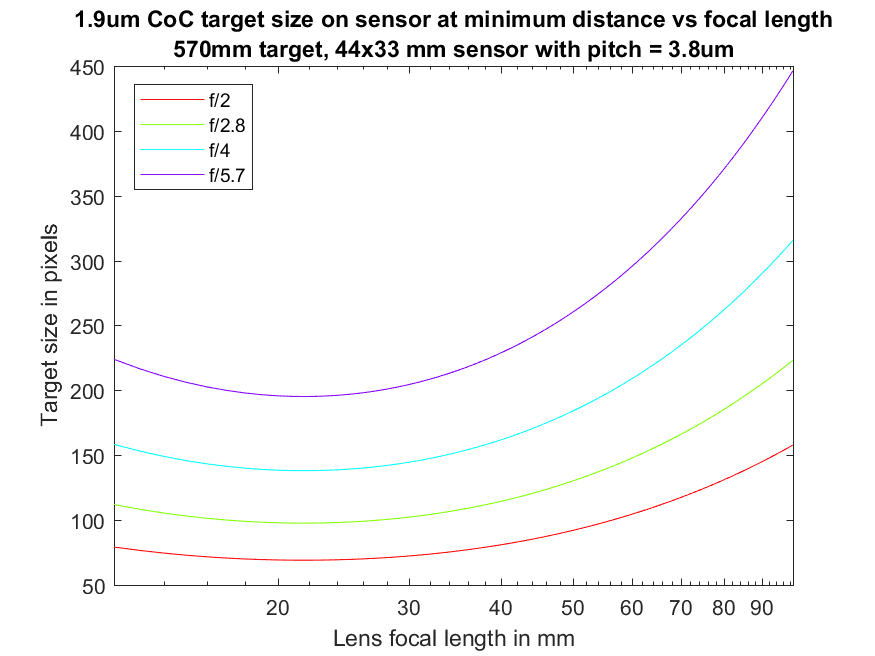 The target is going to have to get a bit bigger for fast wide lenses.
With a 24 MP MFT sensor, we have no problem: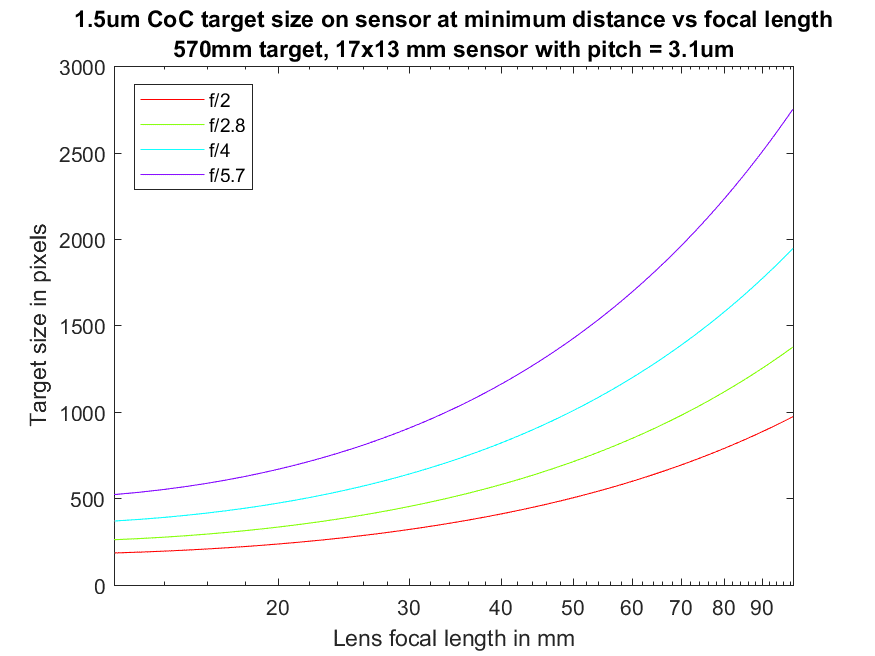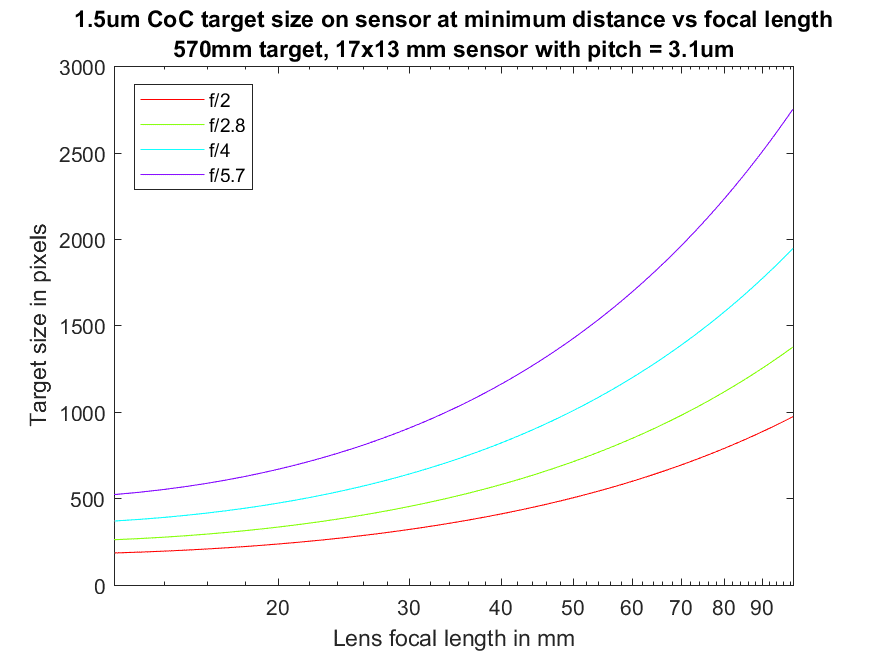 A 24 MP APS-C sensor is OK, too: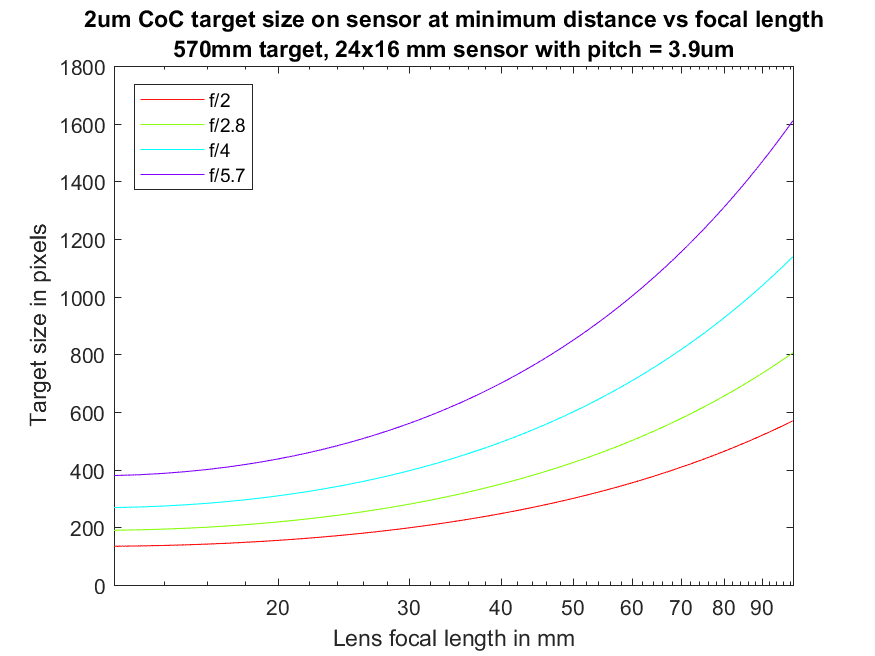 But of course, equivalence works here, too. If we make the MFT lenses as short and fast as the FF lenses on the 24 MP FF camera, we're back in the same soup: