There have been some complaints about the Sony a7RII battery drain when turned off. There have always been complaints about how fast the camera drains its pint-sized batteries when the camera is on. So far, the discussions have been usually qualitative, and, even when quantitative, not reproducible. I thought that there was probably a way to make some tests that did not suffer from either lack of quantitative precision, or inability for others to reproducer the results.
I already had an external ac power supply that used a coaxial power connector to connect the ac-to-dc converter box to the battery-looking thingie that plugs into the battery compartment of the camera. I measured the outside of the male end of the power connector. at 5.46 mm using a lovely old entirely mechanical Starrett micrometer. I looked at Mouser for connectors of that size. There seemed to be a lot of 5.5 mm by 2.1 mm power connectors. I figured I probably  had a pair of those. Spurning Mouser in search of instant gratification, I went to Amazon and ordered a package of 5 male and 5 female 5.5×2.1 connectors with screw terminals on the non-coaxial ends.
They arrived today, not 20 hours after I ordered them.
I connected the negative terminals with a black piece of hookup wire, and used two red wires on the positive ones, so that I ended up with an arrangement like this: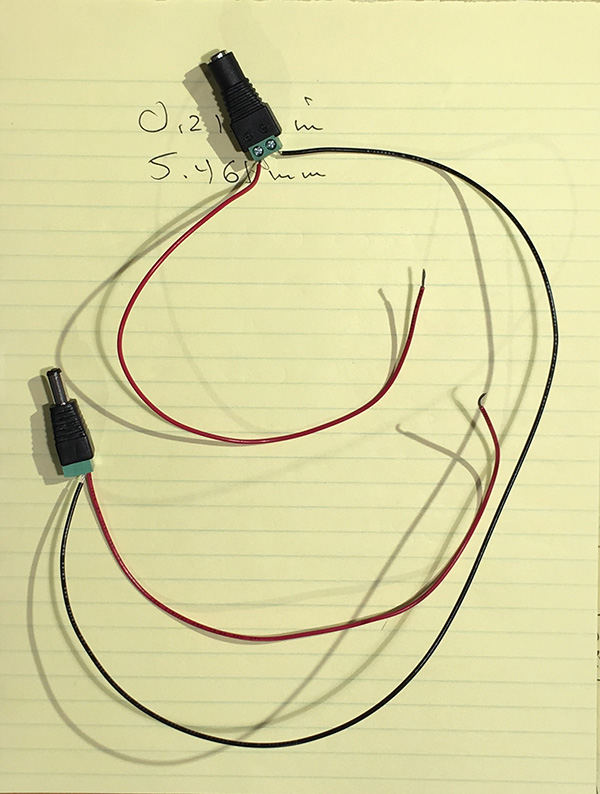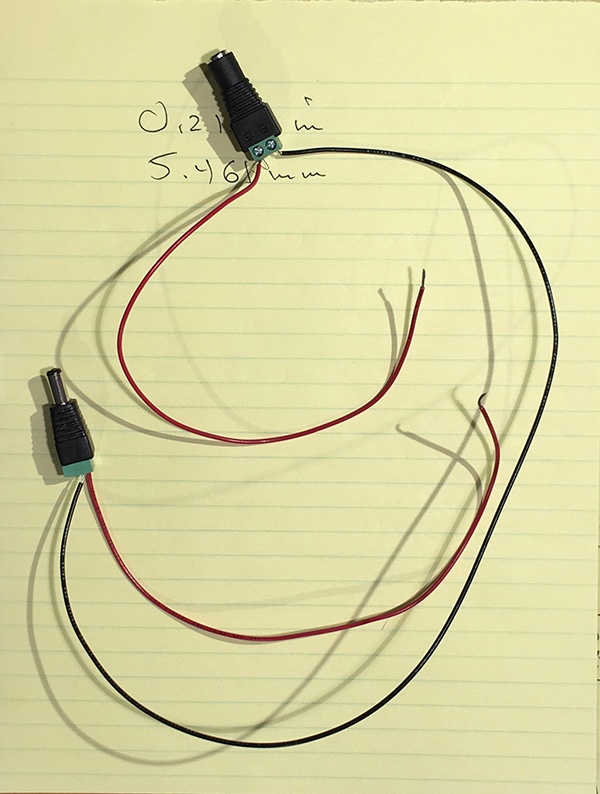 I connected a Fluke multimeter, wired as an ammeter, between the red terminals, and hooked the breakout device above in between the two halves of the third party external power supply, and turned on the camera, then turned it off again: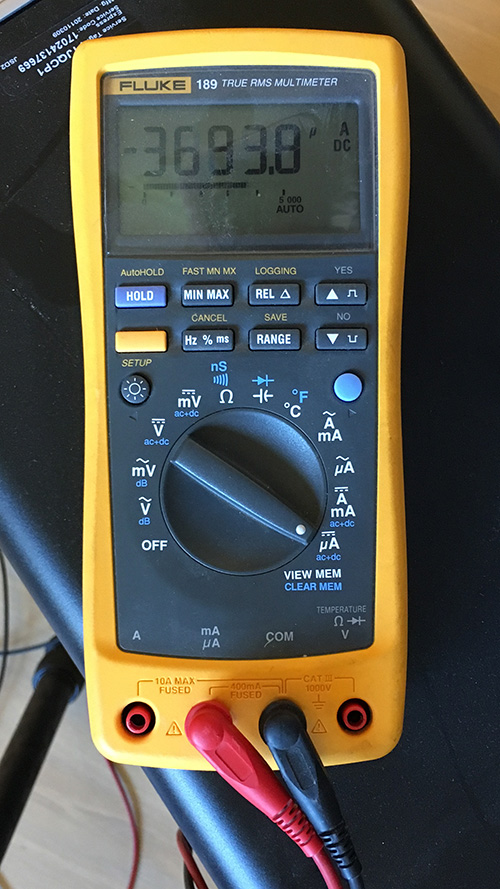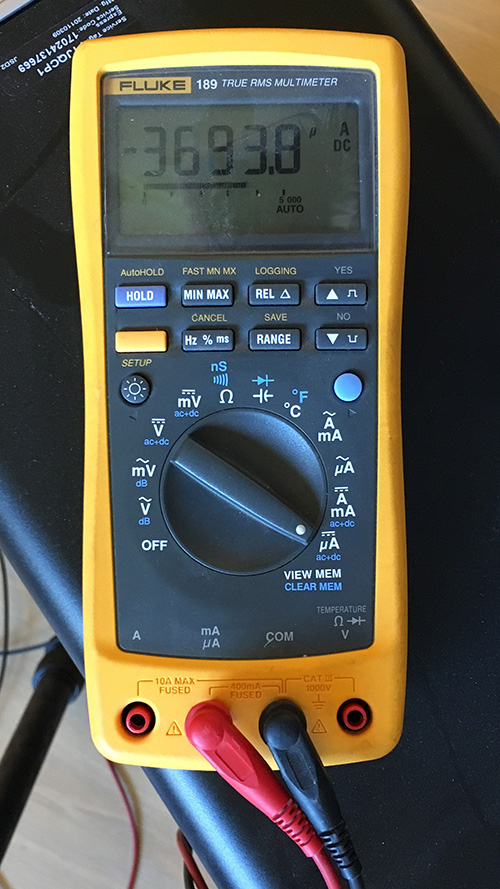 This shows the camera drawing 3.69 milliamps. The Sony battery is rated at 7.2 volts. Lemme see… "Twinkle, twinkle, little star, power equals I squared R; little star up in the sky, power equals E times I." 26.6 milliwatts. Since the OEM Sony battery is rated at 7.3 watt-hours, that much current draw would deplete a fully-charged battery in about 274 hours. That's not very long.
However, if you wait for five minutes, the drain drops to 1.22 ma, or 8.78 mw, or 831 hours. That's more than a month.
It may drop further if the camera is off even longer; I'll be doing some more testing there.
I found out some other interesting things. Internet scuttlebutt says the EVF consumes more power than the LCD. but that's not what I found: LCD: 293 ma, and EVF: 256 ma. The camera consumes 14% more power with the LCD on. That's when switching is set to manual and display brightnesses are set to manual and default.
Turning SteadyShot on with the camera on a tripod made essentially no difference in the power consumed, with a dumb adapter and a third party lens, and the camera on a tripod.
I'll be doing more testing in the coming days.