There has been a little interest in developing a protocol for slanted edge modulation transfer function (MTF) testing that is sufficiently standardized and reproducible that the results from various amateur practitioners can be compared fairly.
There are several things that conspire to make slanted edge MTF testing irreproducible:
Alignment errors
Field curvature
Target differences
Lighting differences
Focus errors
In this post, I'll propose ways to deal with each of these things, based upon the backlit razor blade methods that I've developed for testing macro lenses on-axis. In all cases, I'll trade off time and the number of exposures for repeatability and reproducibility. The idea is that this protocol might be useful for a single person testing her own lenses, not an operation like Lens Rentals, where time is money.
I'll assume you have a MTF testing program like Imatest or MTF Mapper, and you know how to use it. If not, feel free to read on, but when you're finished with this post, you won't have everything you need to go and do the measuring.
Alignment errors can be dealt with by making the slanted edge subtend only an angle in the field of view big enough for accurate MTF calculations. This means only a few edges per exposure. For now, let's think in terms of one or two.
Field curvature can be handled, if the edges are compact, by focusing on the area in the field containing the edges, no matter where in the frame that happens to be.
Target differences can — I hope — be handled by using a readily available double edged razor blade as the target. I have no way to print a target that is anywhere near as sharp as using a backlit double-edged stainless steel razor blade. When I print targets, the numbers that I get are affected by the file contrast, the print size, the paper finish, the printer, and the camera distance. The razor blade is so sharp that camera distance is a non-issue, and none of the other variables apply.
I have not used the Imatest photographic transparencies with their light box, one because they are so small and two because they are expensive and, I believe, beyond what most of my readership is willing to spend to test lenses.
Lighting differences will be taken care of with readily-reproducible illumination that is non-critical.
Focus errors will be managed by using multiple exposures and a focusing rail. Ugh, right? Yeah, I know, that's a PITA, but I know of no other way to find the point of peak focus reliably. I've given up manually focusing when accuracy is primary. I use a motorized rail for focus bracketing. I can't get repeatable results any other way. Making lemonade out of lemons, we'll use the rail to get longitudinal chromatic aberration ( LoCA) and focus shift data at the same time.
The test revolves around a razor blade.
The blade is stuck into a block of wood, which is mounted to a tripod with a gear head that I can use for alignment. Any way to get the blade perpendicular to the lens axis will work, and the alignment is not critical. Behind the razor blade is a white piece of paper illuminated by two light sources. I use Westcott 5000K LED panels. When you turn the room lights off and the panels on, here's what you see with a Sony a7RII, a 90mm lens and the target at 2 meters: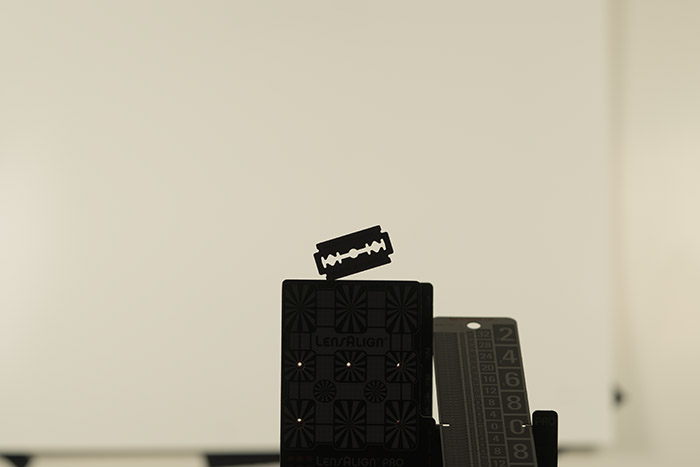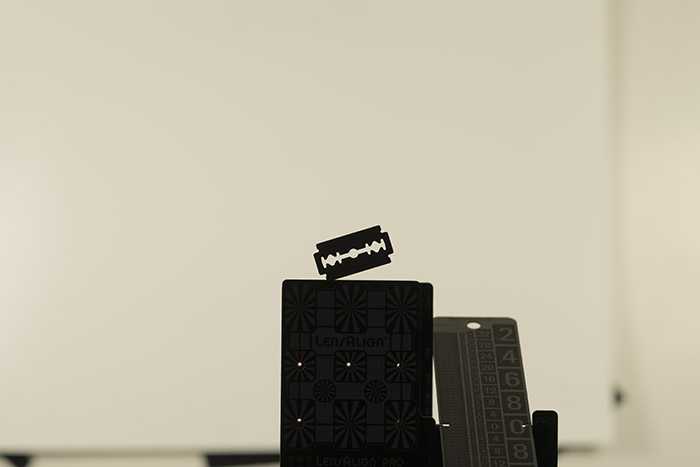 The above image was made with the camera set to APS-C mode, which crops the full frame image. I use this more when doing on-axis testing to save disk space and processing time. For on-axis testing, I use the framing lines in the Sony camera to put the center of the edge right smack dab on-axis, like you see here.
With the Sony a7RII, the combination of 90mm and 2 meters gives a usable target extend of about 250 pixels. You want the extent small, so that alignment is non-critical. You want it big, so that the slanted edge testing is more accurate. This seems like a good compromise. For other focal lengths, you can use the formula:
distance = 20 * focal length
where distance and focal length have the same units, say, millimeters. Yes, yes, I know; the constant should be 22.2, but I rounded. If you're testing an APS-C 24 MP camera, you can get a little further away. If you're testing a 24 MP full frame camera, you need to get a little closer.
You'll note that, with a 200mm lens, you'll want to be about 4 meters away. If that strains the size of the room you're in it will be fine if you're closer, since the razor blade is so sharp.
With a short lens like a 20mm, you'll want to be about 40 cm away. You won't be able to back up from that a lot and still have enough pixels covering the blade.
The blade angle should be somewhere between 3 and 14 degrees. Actually, if you avoid certain critical angles, it can be almost anything.
Here's the razor blade front lit: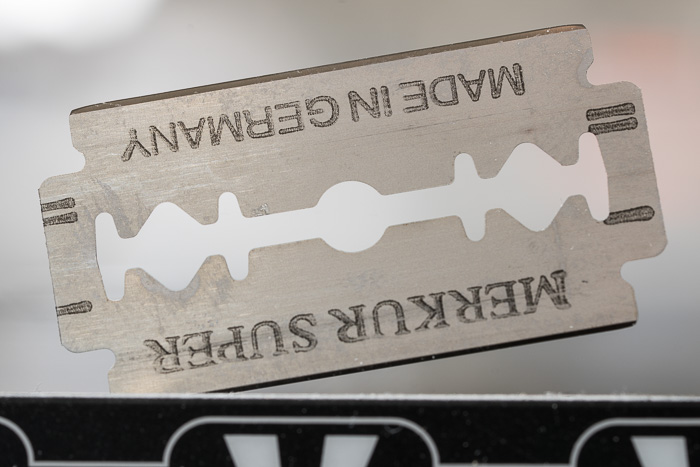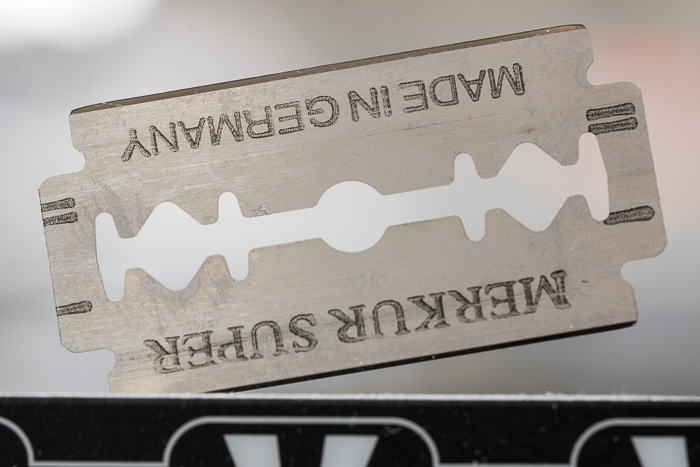 I don't think it makes much difference what brand you buy, but, in case it does, you now know the brand I use.
Here's a close up of the blade when it's back lit: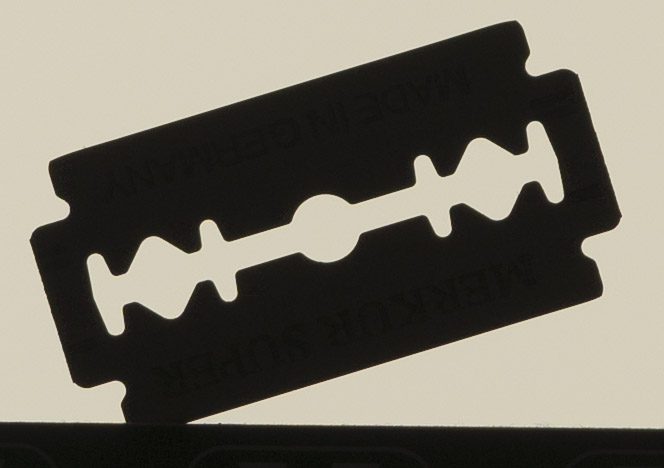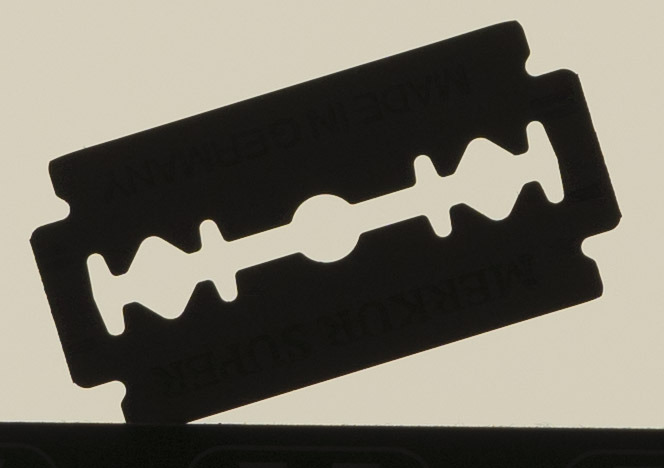 I use a Cognisys computer-controlled focusing rail with 200 mm of travel. In order to make sure that I don't run into the stops, I only use 190mm of that. I focus in the middle, back the rail to the far from target end, and make a series of images spanning 190mm.
How many images?
For the macro work I made 200 exposures. That took about 10 minutes. For the work I'll show you today, I made 50 images at each aperture. That turned out to be about as few as I think I could get away with, although, if you aren't aiming for the whole LoCA/focus shift/peak MTF50 package, you might be able to get away with fewer.
Could you use a manual focusing rail? I think you could, but it would get to be a pain after a while, unless you just wanted peak MTF for each f-stop, in which case you could focus at that f-stop and focus bracket four or five shots on either side of that.
I used the Sony 90mm f/2.8 macro as my test lens.
I developed the files in DCRAW, and analyzed them for MTF50 in each raw channel using MTF Mapper. In MTF Mapper, I used a 150×150 pixel region of interest (ROI), even though I could have used a bigger one, do make sure the razor blade was large enough in the target for useful data. Here are the LoCA results for each whole f-stop: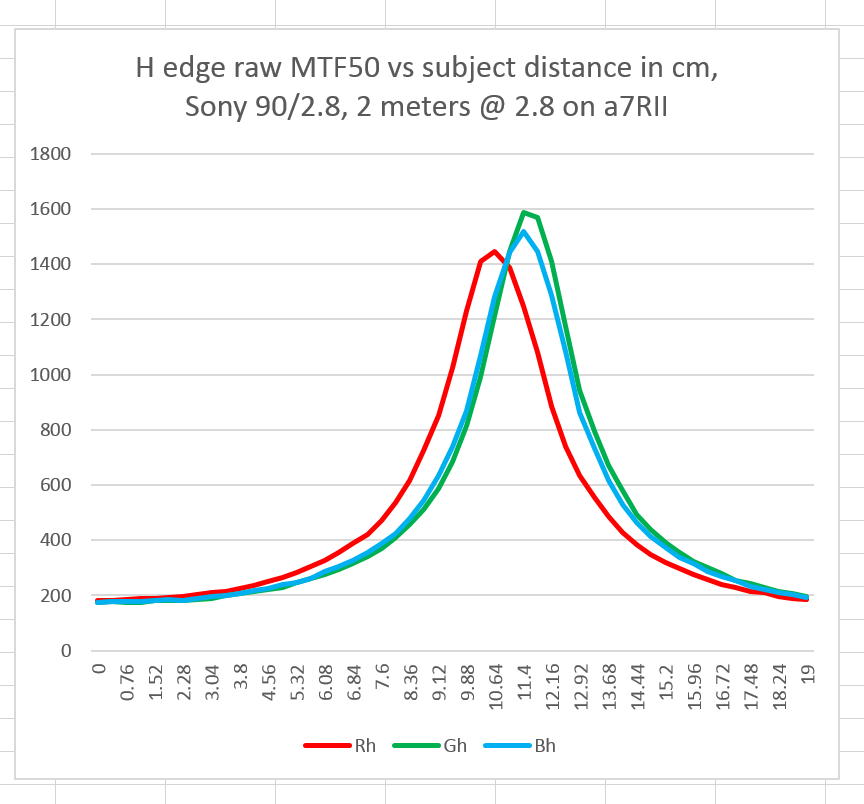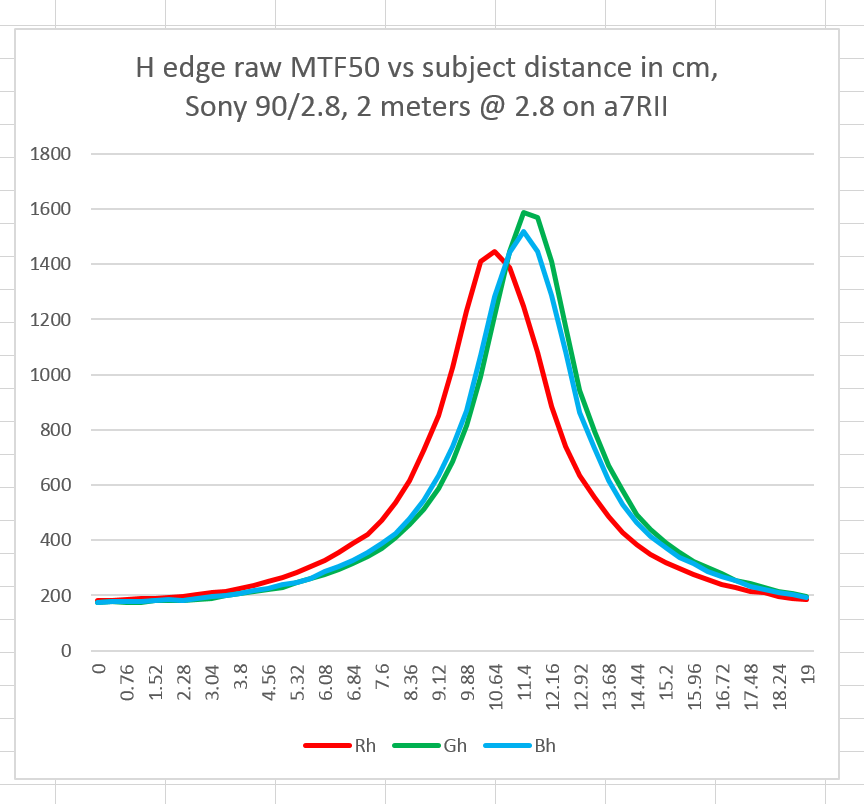 Distance is the horizontal axis, with the left hand size having the subject farther from the camera than the right hand side (The camera moves closer to the subject by 3.8 mm after each exposure). The vertical axis is MTF50, measured in cycles per picture height, assuming the entire sensor is used.
It is pretty obvious that the green and blue raw channels focus in the same place, and the red channel focuses farther away.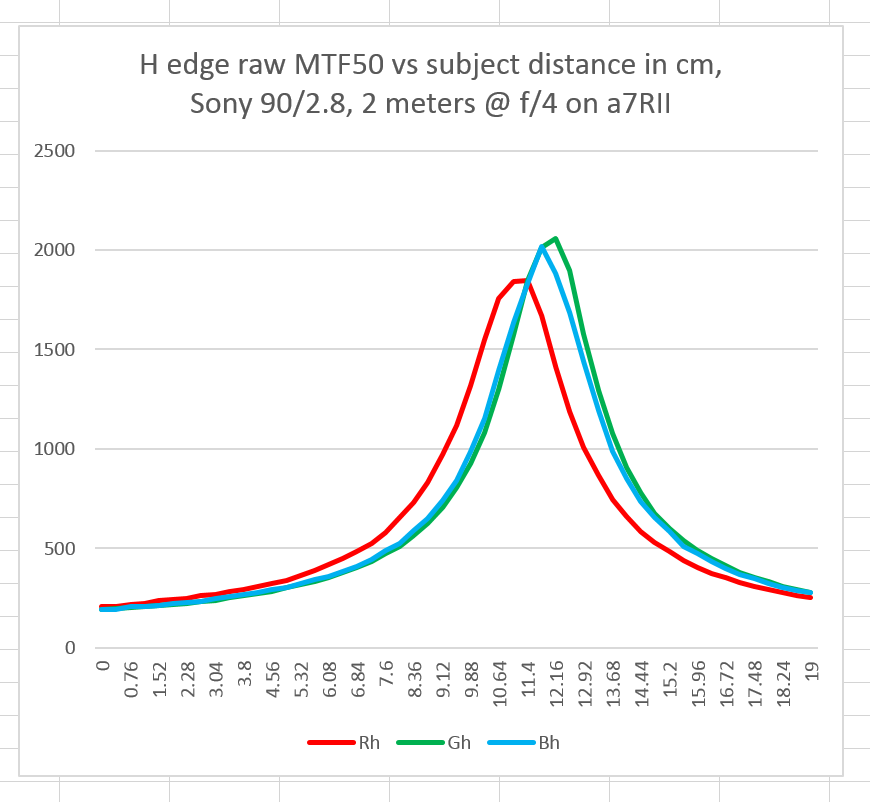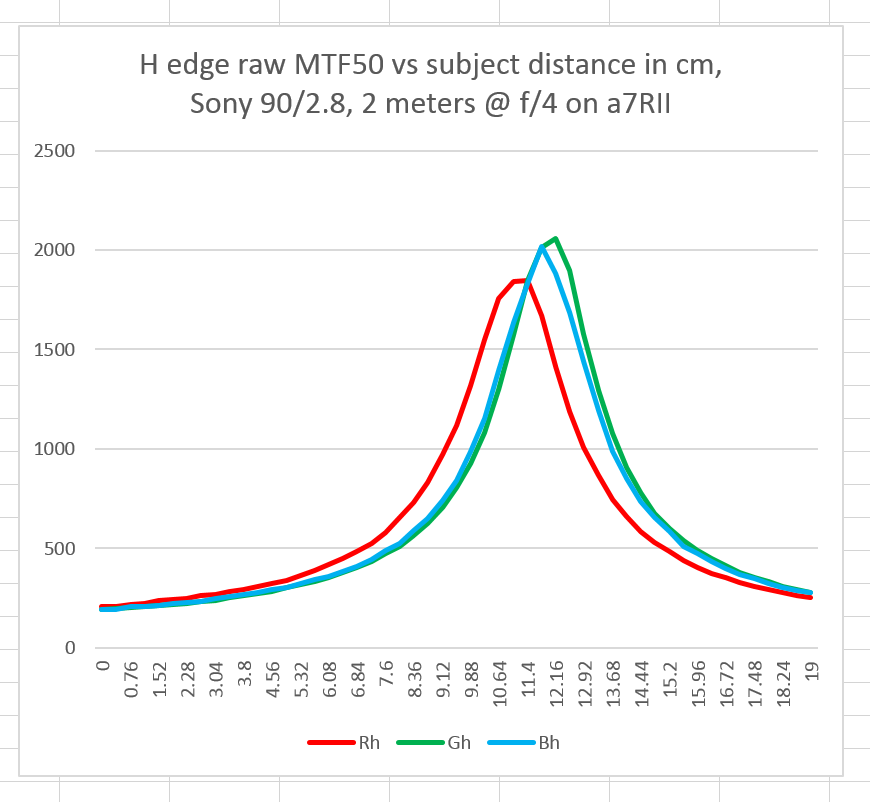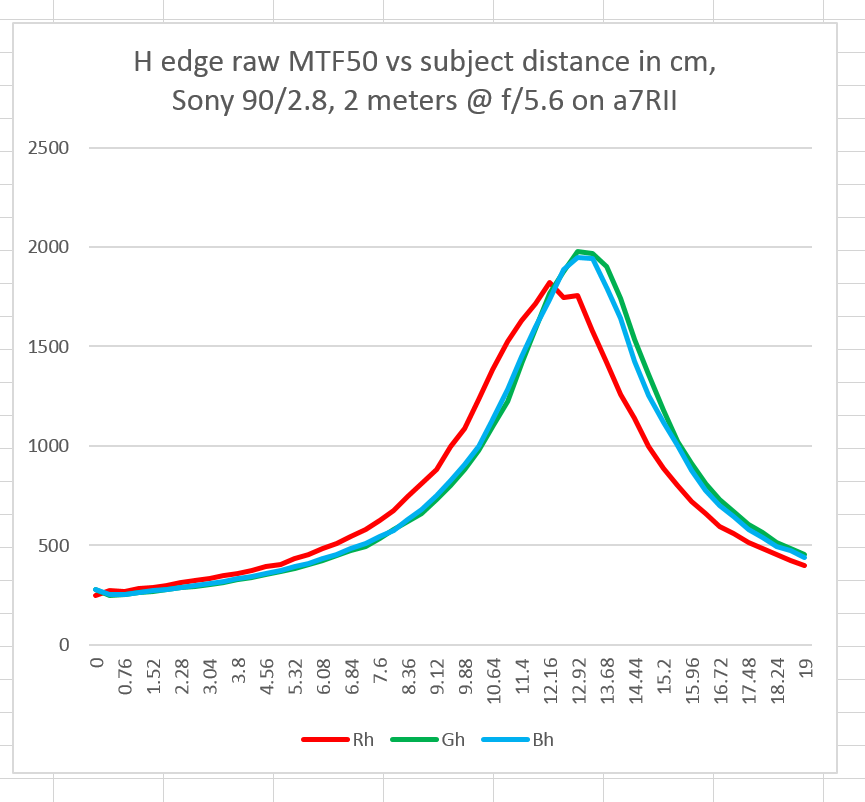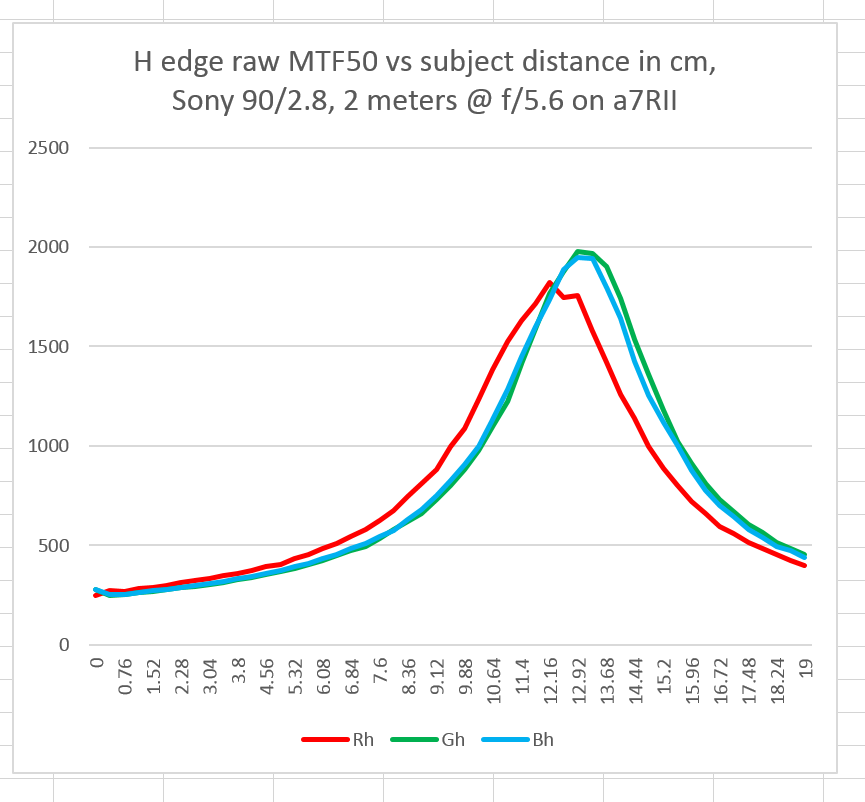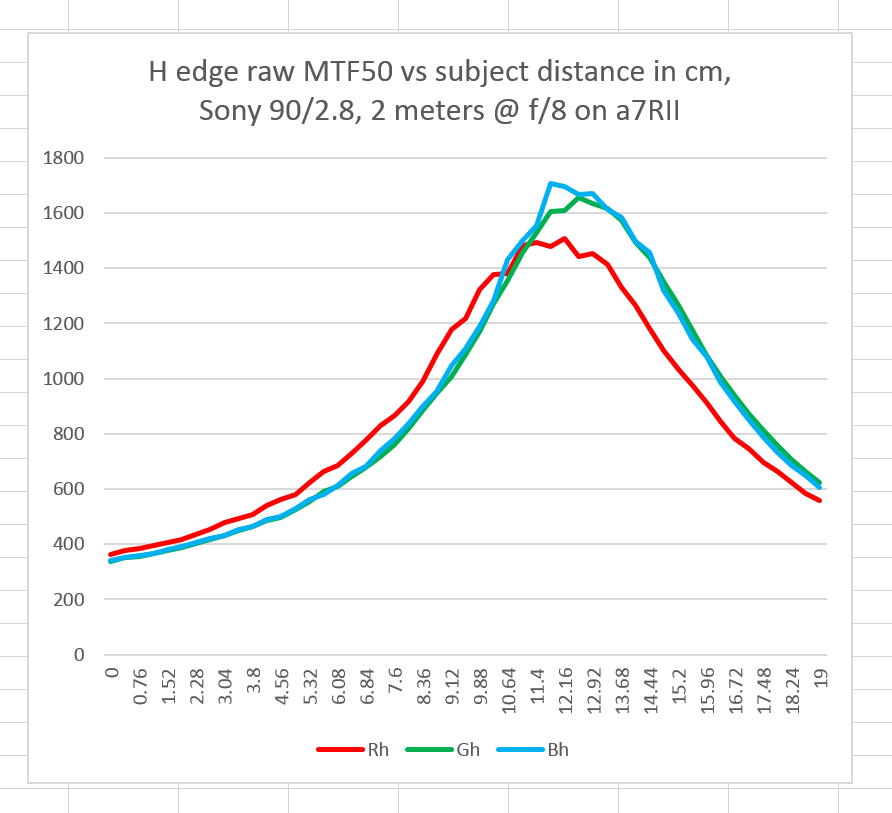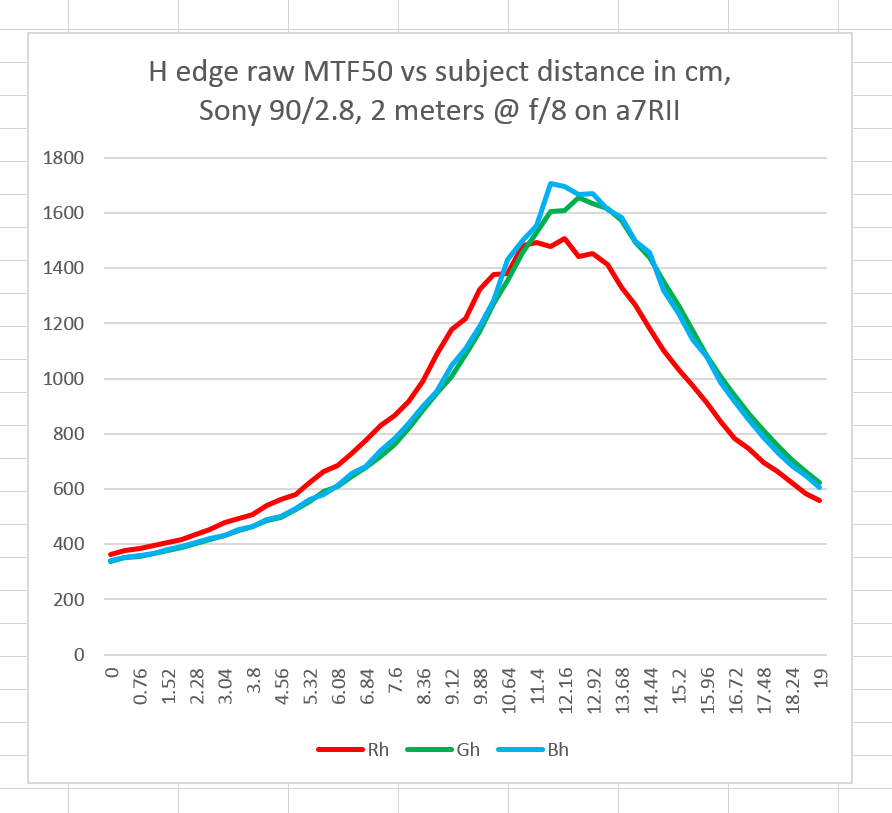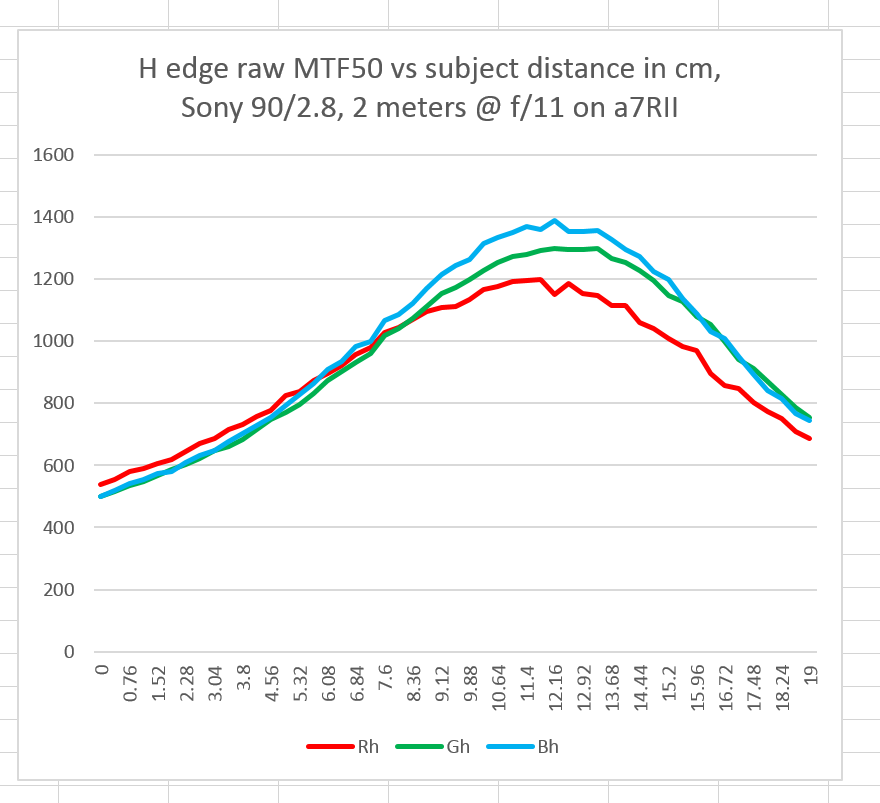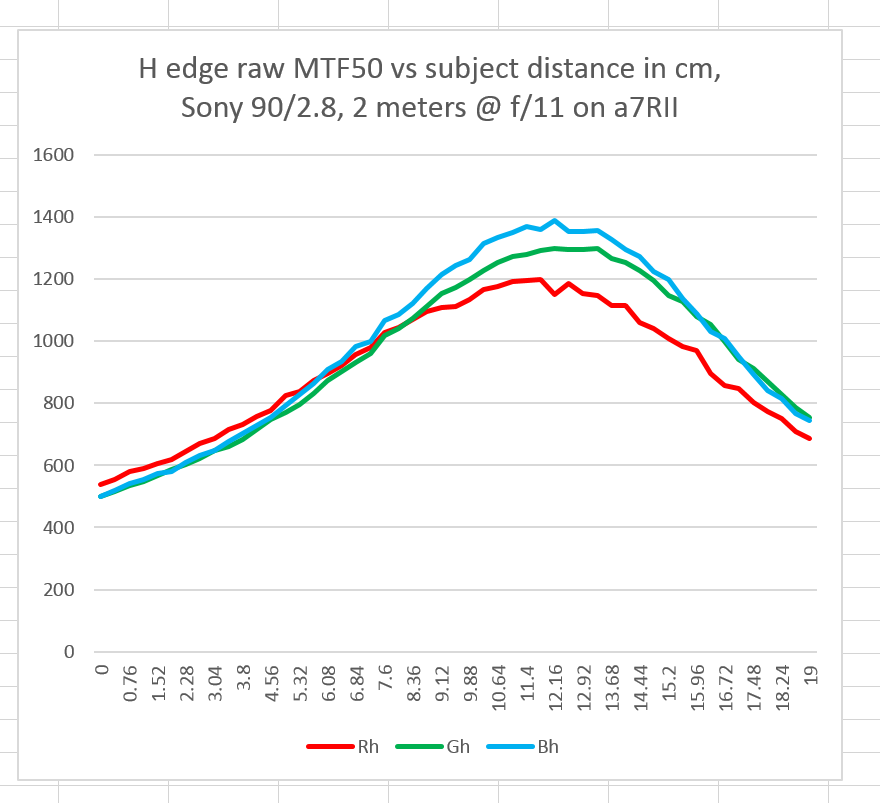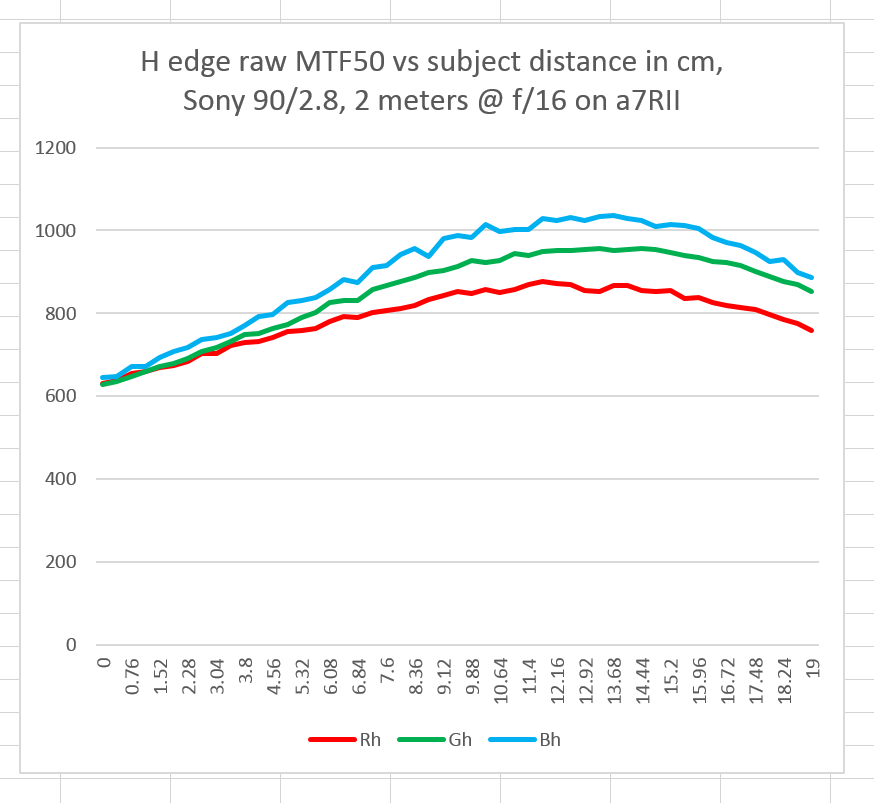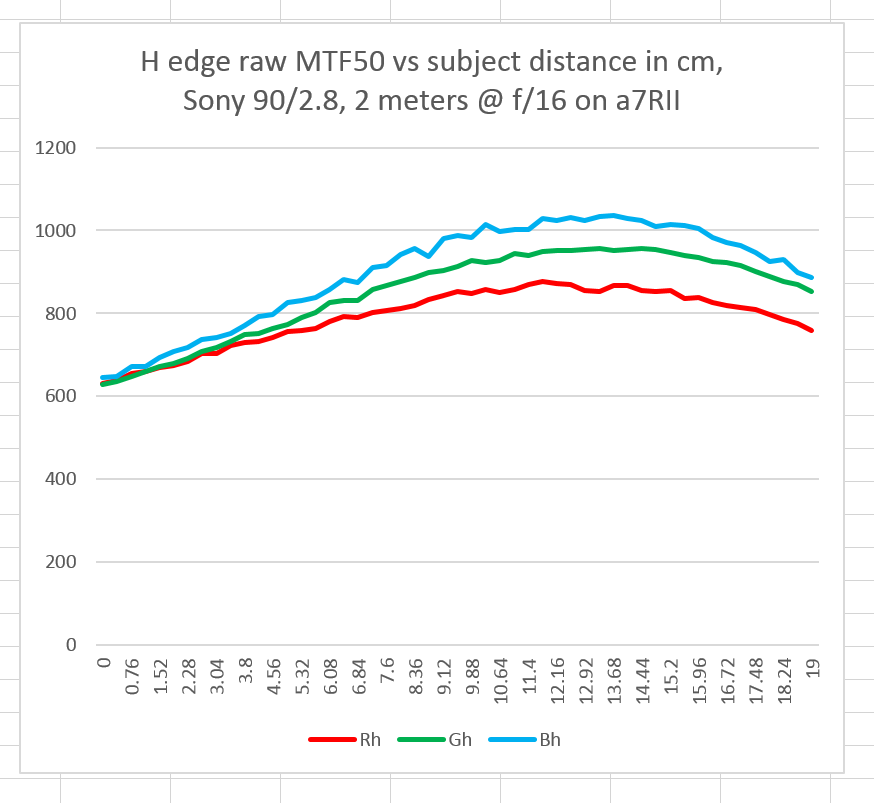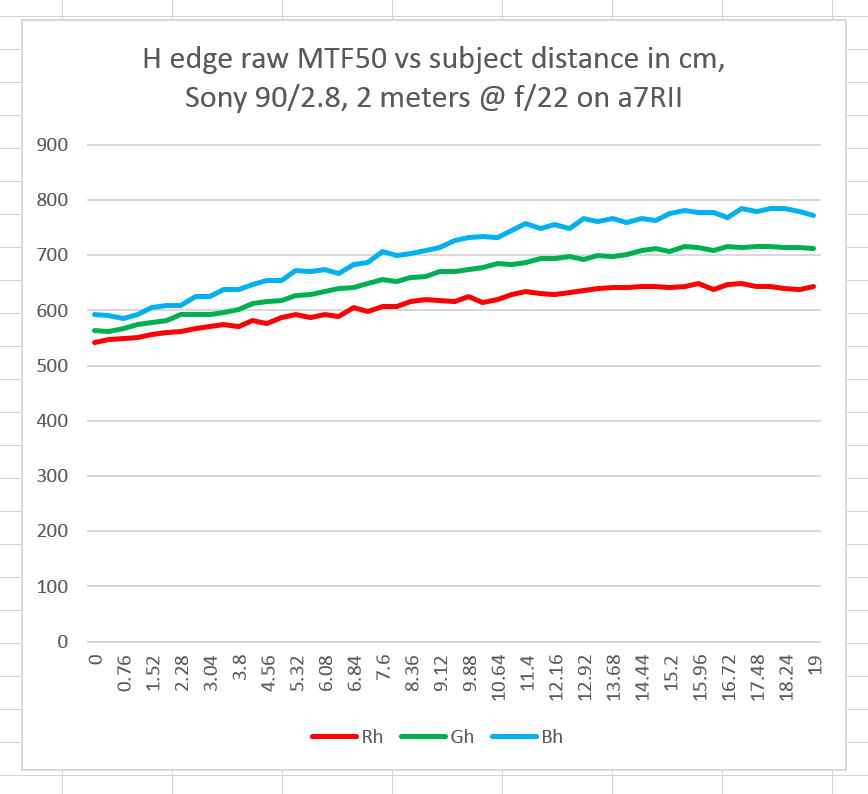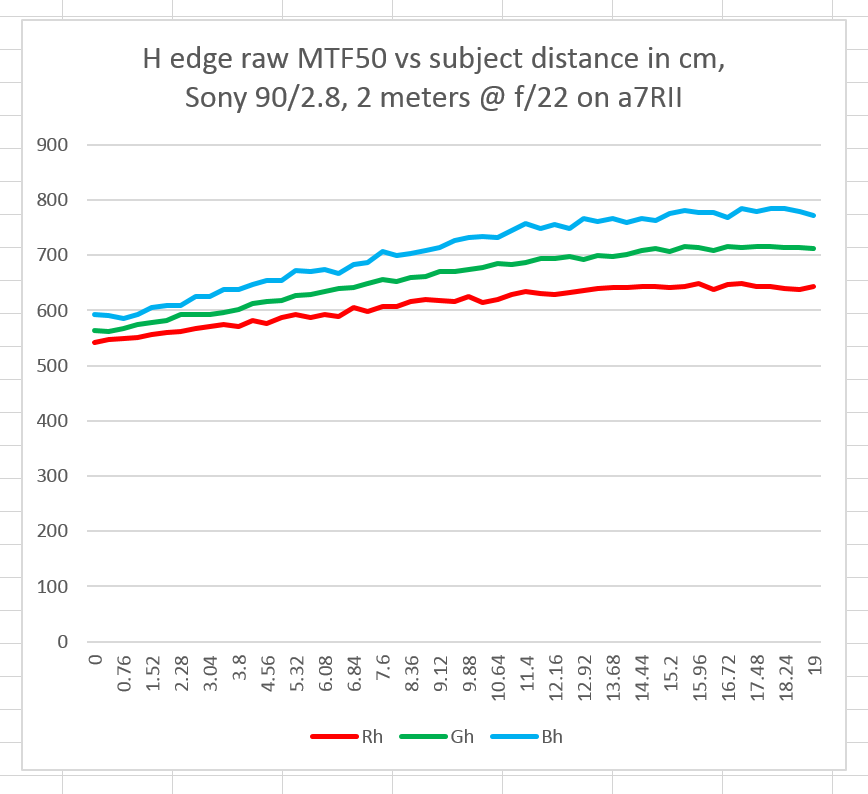 As the aperture is closed down, the depth of field swamps out the LoCA.
Plotting all apertures and each of the raw channels on its own chart give us focus shift information: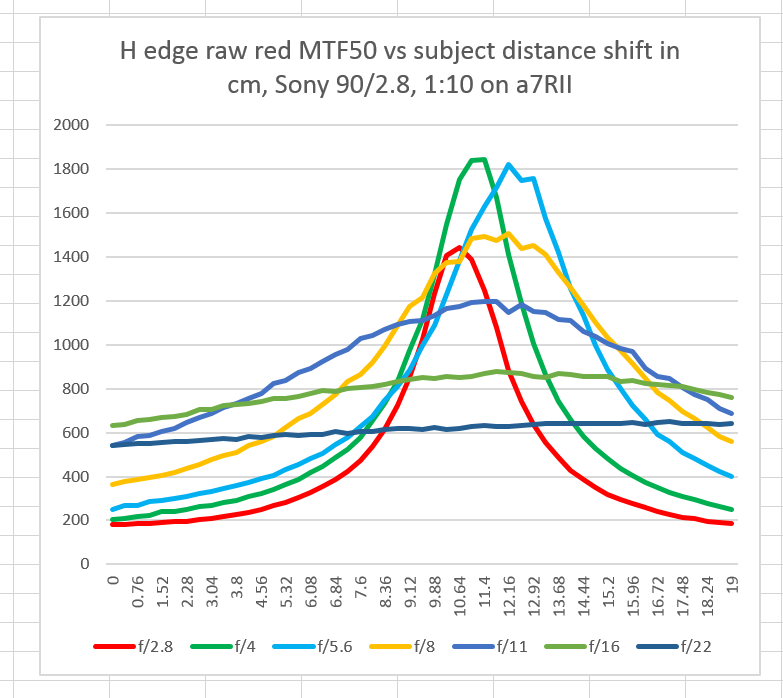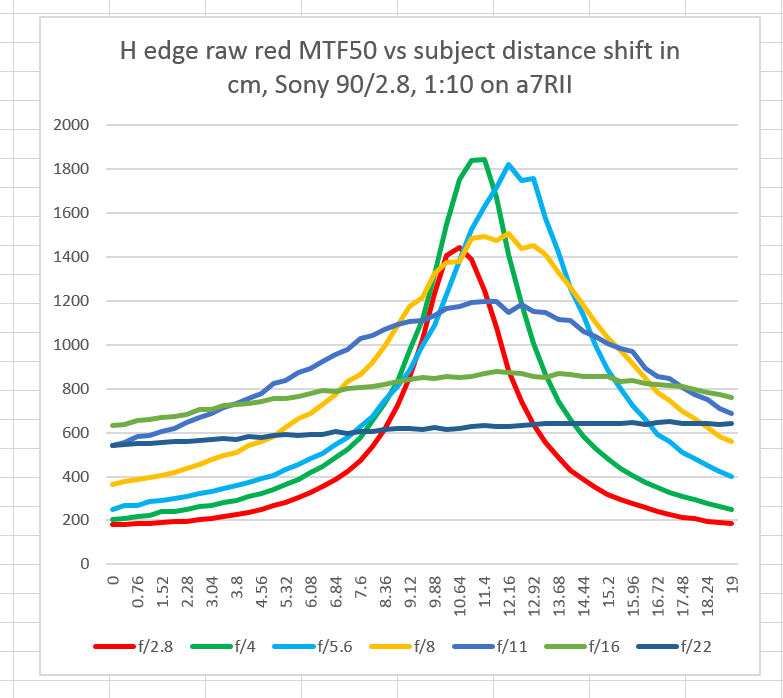 You can see that I probably missed the peak of the f/5.6 curve, indicating that 50 exposures is marginal.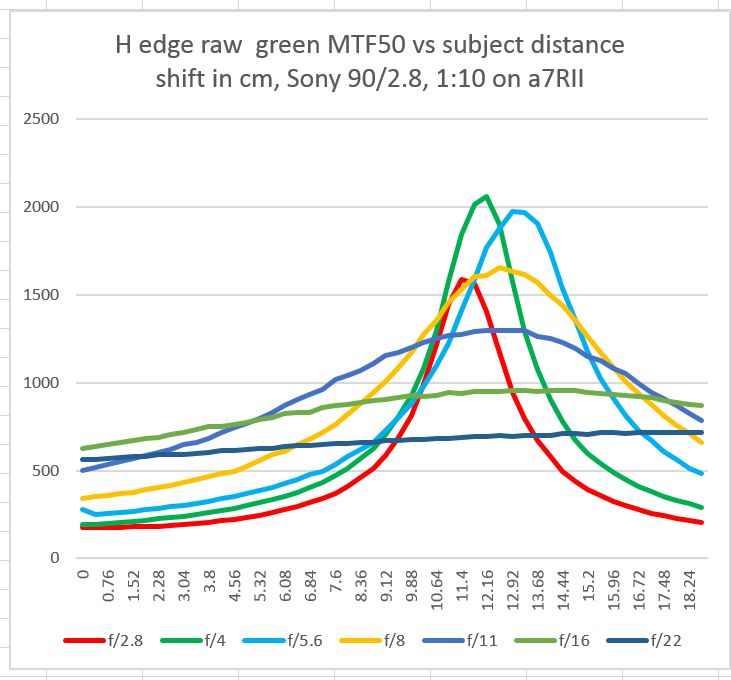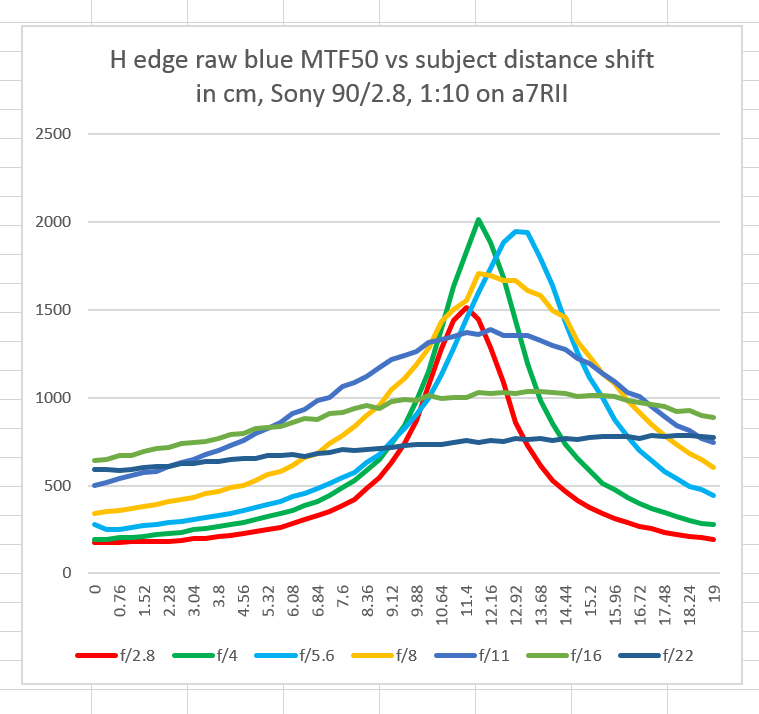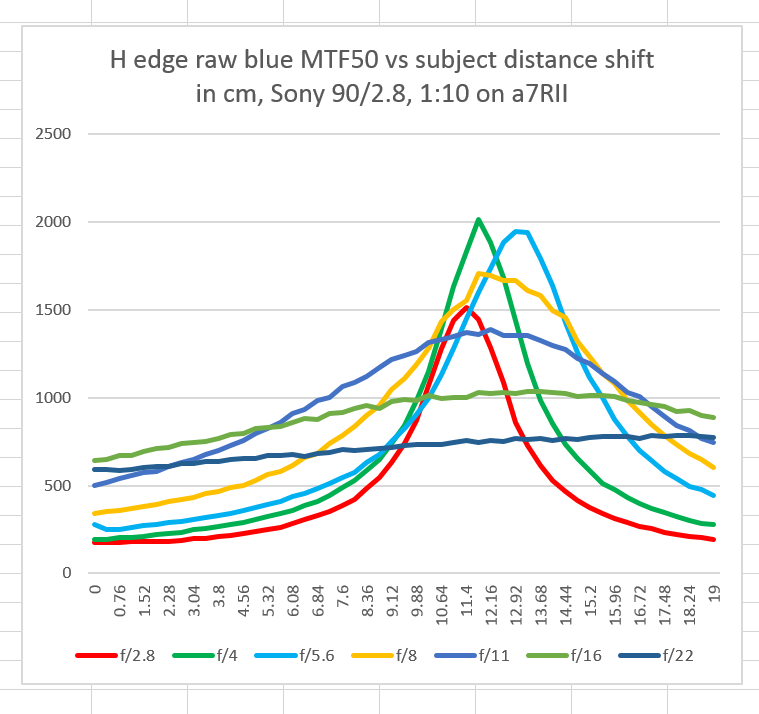 Ub this one, I probably missed the peak of the f/4 curve.
A white balanced set of curves uses all the raw channels: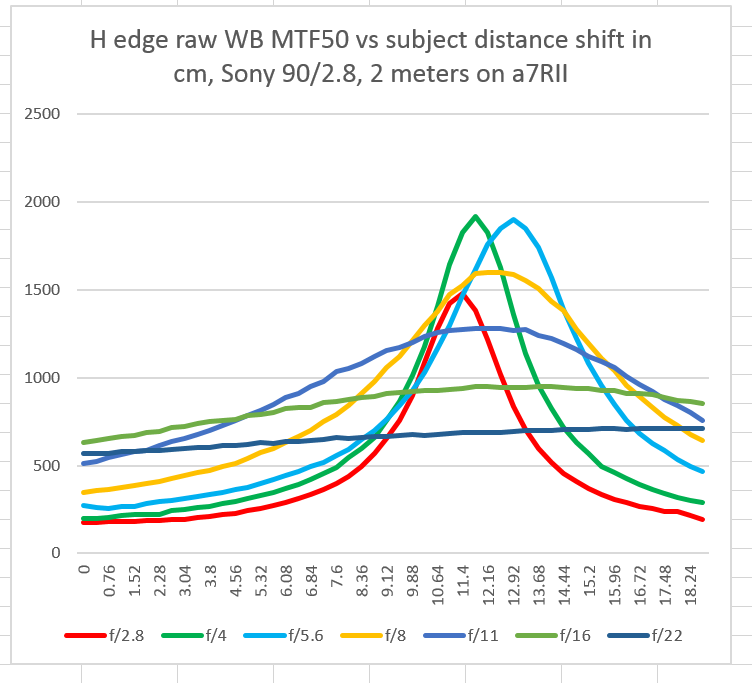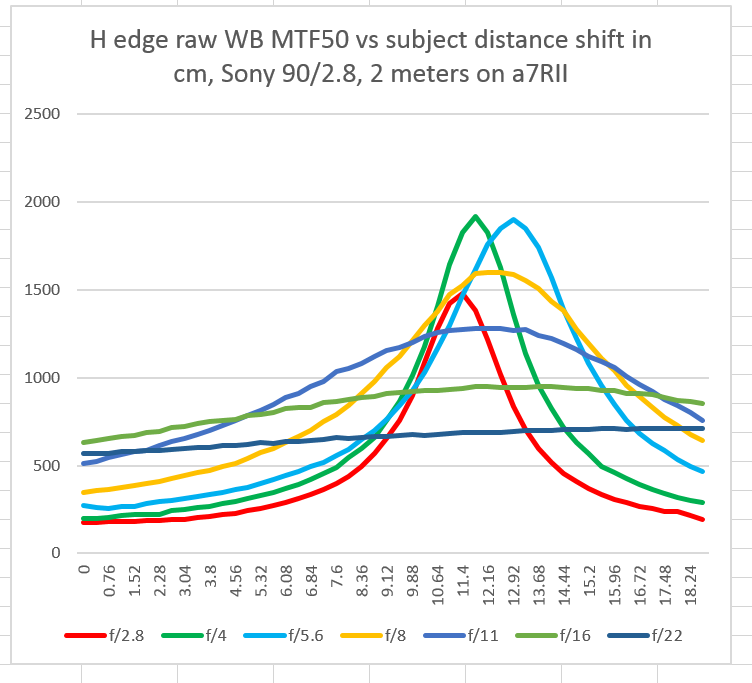 Because there's more data, the curves look smoother, but the f/4 one is still suspiciously pointy on top.
Where shall I go with this? I'm open for suggestions.