This is the first in a series of posts about the Sony alpha 9 Mark II, aka the a9II. You can find other posts in this series by using the category list on the right, and selecting "a9II".
The a9II arrived on Friday, earlier than I expected it. The packaging was the usual Sony box with the origami cardboard insert. Nothing fancy, but it does the job and it's easy to unpack. I much prefer that kind of packaging over Apple's precious fingernail-breaking stuff.  Does anybody else experience a twinge of regret while throwing the elegant Apple boxes away?
The ergonomics of the camera are the same as those of the a7RIV, except for the drive mode and focus mode dials on the top left of the body. Sony had the good sense to have a modal locking button on the new EC control, so you can have it spin freely if you wish, but they still have the old awkward press-and-hold-while-you-spin button for the drive and focus modes.
The first thing I did was check the read noise in various shutter modes. This was done with the body cap on the camera, in single shot shutter mode, at 1/1000 seconds at various ISO settings. I express the results as engineering dynamic range (EDR), which is full-scale divided by the read noise averaged over a 600×600 pixel area just far enough to the left from the center of the image to avoid the center column. I did that for all four raw channels.
Here are the results with the fully-mechanical shutter: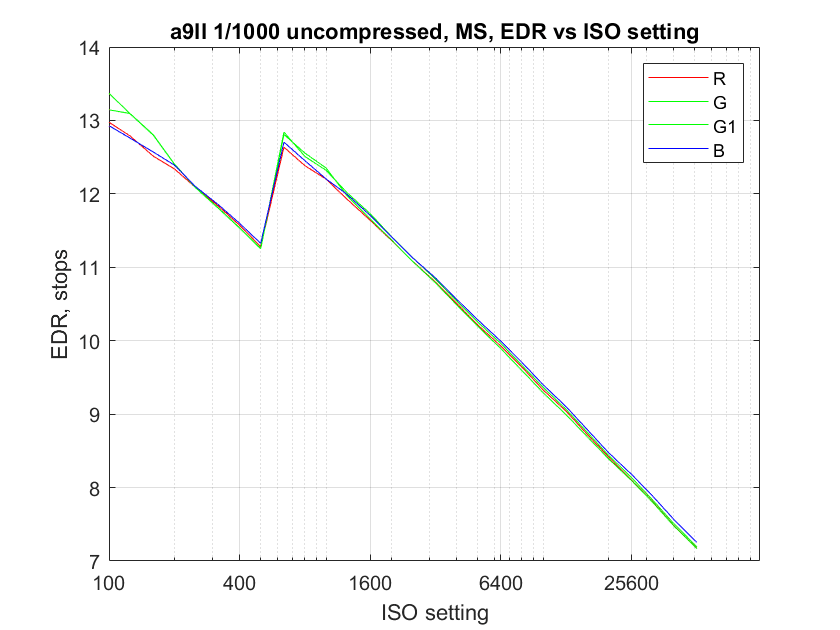 The increase in EDR at the transition from ISO 500 to ISO 640 is due to the camera's increasing conversion gain at that point.
With electronic first-curtain shutter (EFCS) engaged, we see essentially the same thing: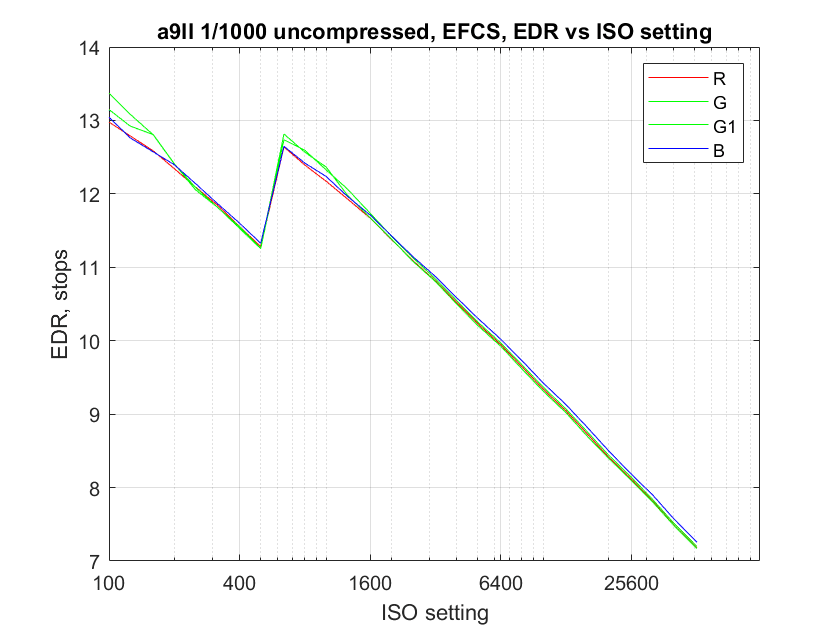 With the all-electronic shutter (ES), the channels are more evenly matched, and the EDR is ever-so-slightly lower: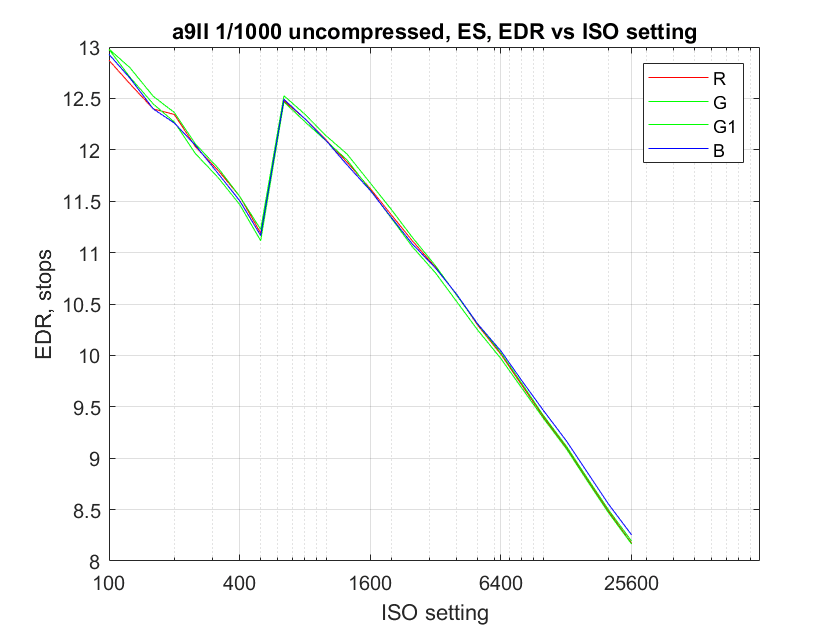 Switching to continuous compressed mode, which the camera requires to achieve the fastest frame rate, and back to EFCS: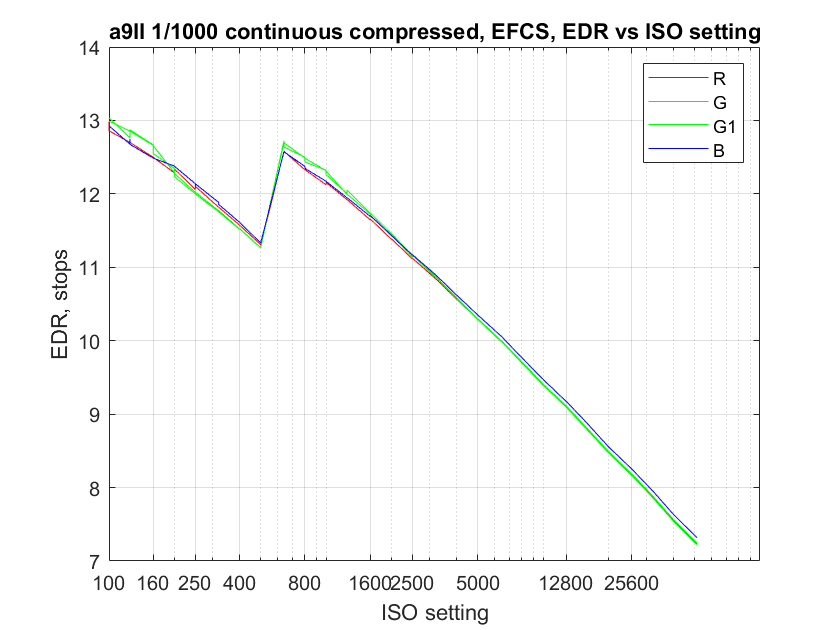 That's a whole lot like the single-shot, uncompressed mode.
With ES engaged: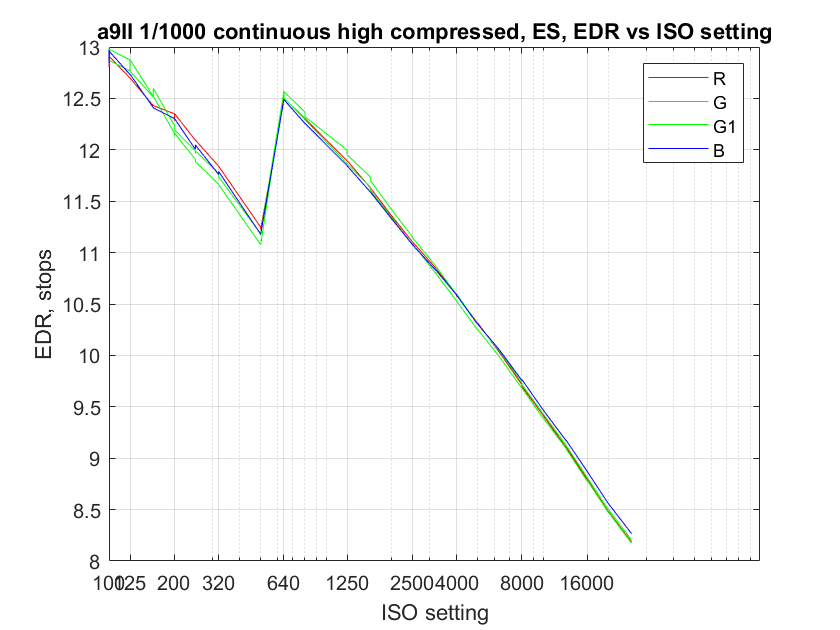 This is quite similar to the a9 EDR plots.
I then looked at the EDR as a function of shutter speed, with the camera set to ISO 1000 and EFCS engaged, with long-exposure noise reduction (LENR) turned off.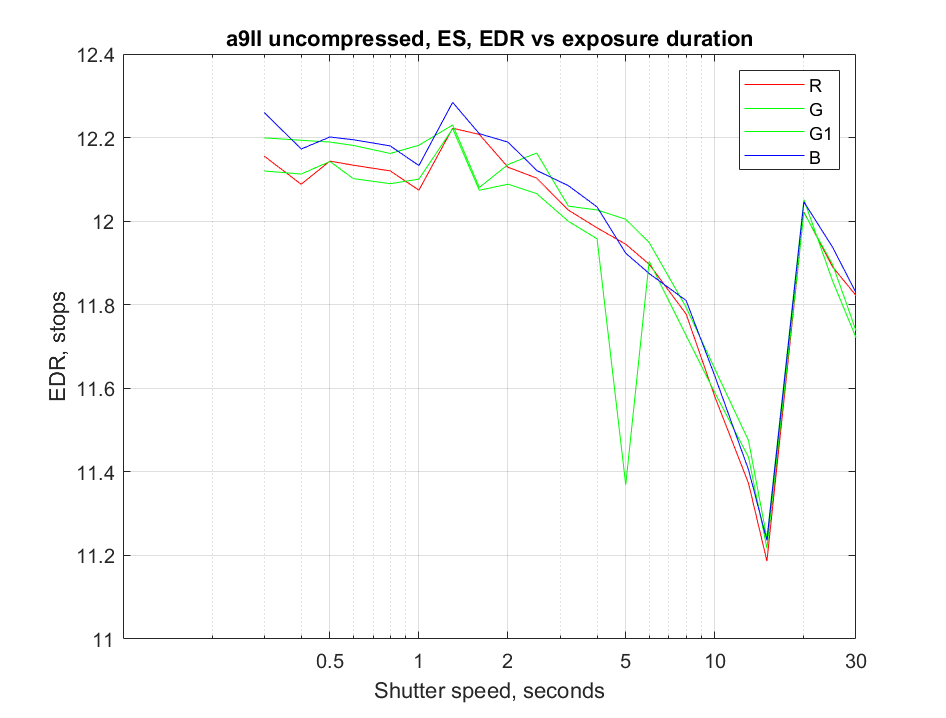 There is a glitch in one of the green channels at 5 seconds. Ignore that. The Sony "star-eater" digital signal processing doesn't start until the shutter speed is 20 seconds or longer, which is quite an improvement over the a7RIV.