This is a continuation of a series of posts about adapter pitfalls and pleasures (I promise that I'll get to the pleasures). The first two posts are here and here.
It has been stated by many that adapter tilt affects focus blur more for short lenses than long ones. It's become conventional wisdom, but it has never sat right with me.
I constructed an actual physical experiment. I took a Linhof Master Technika, and two lenses, a Nikkor SW 65 mm f/4 and a Nikkor AM-ED 120 mm f/5.6. I printed out a checkerboard target and applied a boatload of tilt — I almost used another term, but this is a family-friendly blog. This picture will give you a rough idea, even if the tilt wasn't quite the same for the checkerboard shots: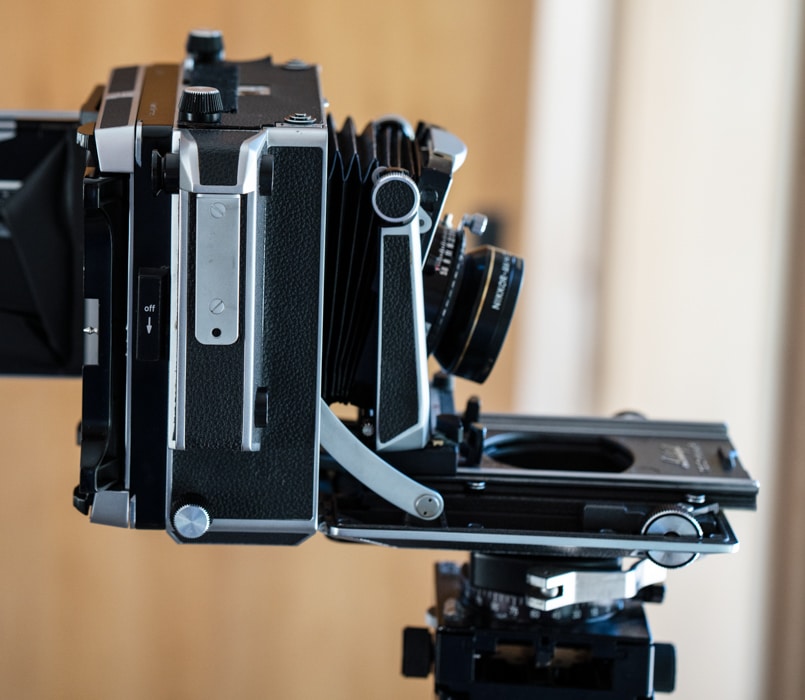 I set the camera up with all the movements but tilt centered, and square on to the target. I slipped a Betterlight Super 6K back into the film holder, and lit the target like this: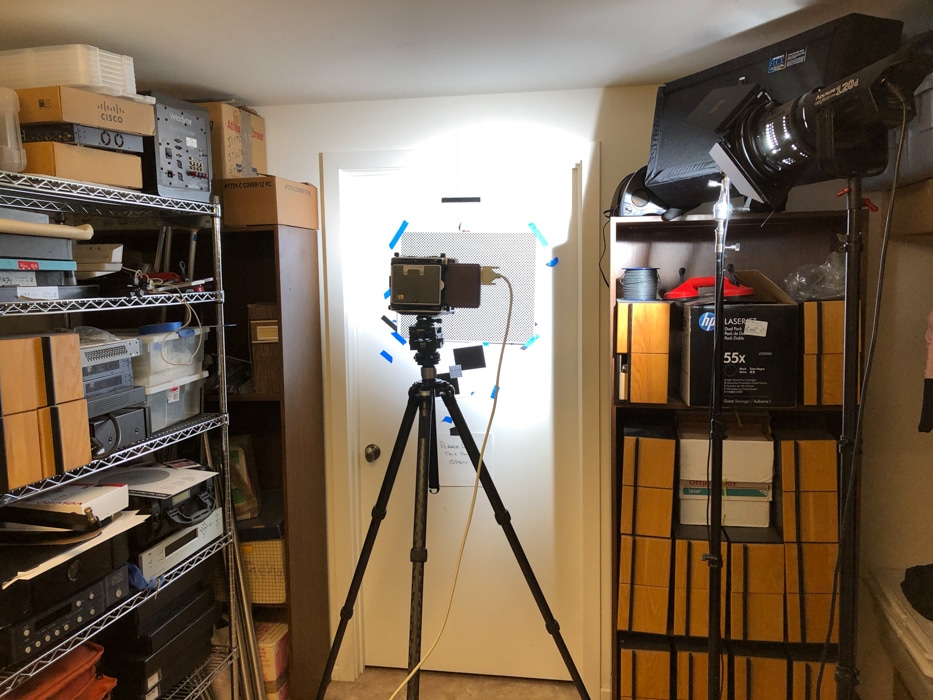 Then I spent 2 hours trying to get the back to run under Windows 10 — the last time I'd used it was about 3 years ago, and I was using an XP laptop, since sold. I couldn't find a USB driver that worked and gave up; I'm going to sell the back.
But I didn't give up and ended up taking pictures of the ground glass. It ain't pretty, but I think it proves the point.
Here's the 120 at indicated f/5.6. The effective aperture is maybe a third of a stop narrower than that because of bellows extension.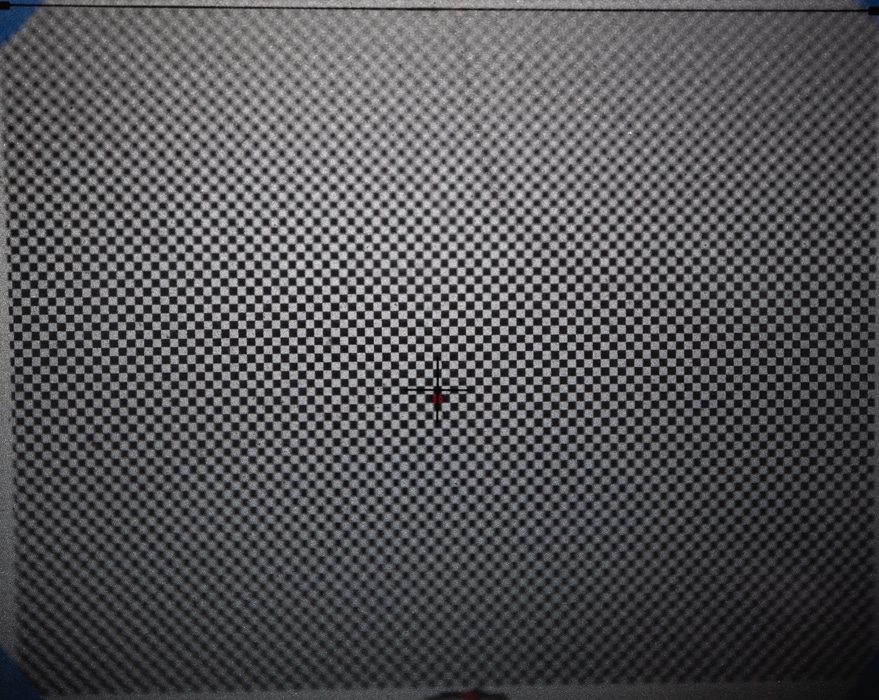 As expected, both the top and the bottom are out of focus, and the center is sharp.
Here's the 65 at the same f-stop, the same reproduction ratio, and therefore the same effective f-stop: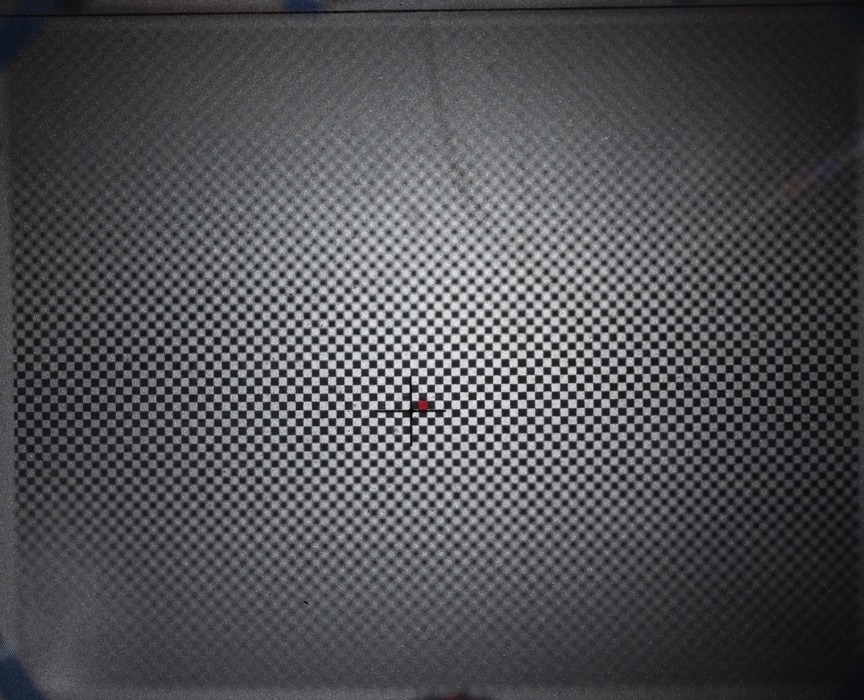 Because it's such a short lens, there's a lot of light fall-off. I tried to even it out: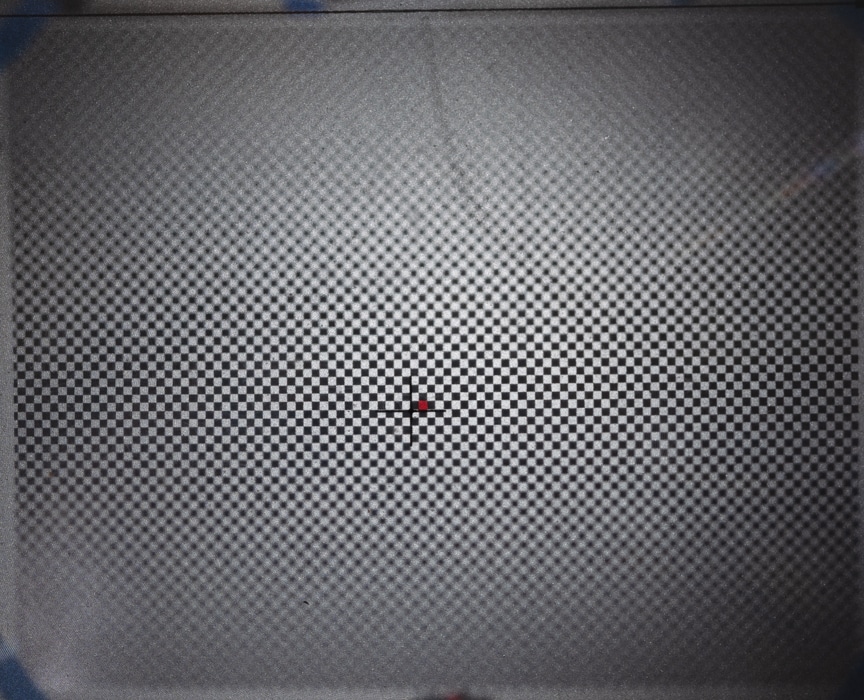 Now you can see clearly that there is more blur at the top and bottom of the image made with the shorter lens. It's possible that at the same distance the two lenses would have similar blur, but I think the right way to look at the situation is to hold the magnification constant.
Score: one for reality, one for conventional wisdom, and zip for my intuition.