This is a continuation in a series of posts on power consumption in the Sony a7RII. The more recent incarnation of the series starts here.
About the question in the post title: in a word, no. In three, somewhat more accurate words, hardly at all. In order to create a worst-case test, I told the camera that it had a 400 mm lens attached, but I had a 24 on it. So I could wave it around pretty easily. Then I triggered the oscilloscope, and after a second or so, picked up the camera and started waving it around.
Here's what I saw (time is from left to right, and current is the vertical axis):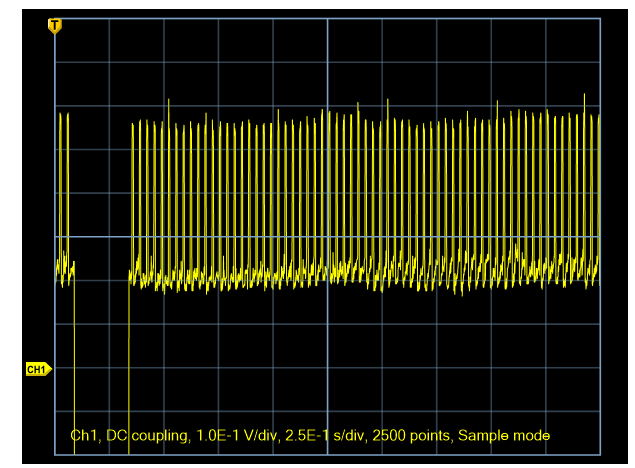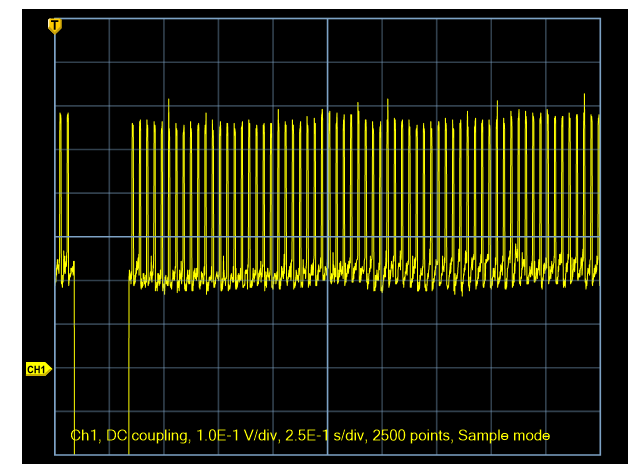 Ignore the part of the trace before it drops off the screen. Until a little past the left/right center of the image, the camera was still. IBIS was making some small corrections, as indicated by the variations in the lower parts of the trace. As I pointed out in the last post, the times of higher current draw are associated with the live view feature of the camera. On the right side of the screen, when I'm moving the camera, the current when the camera is not refreshing the live view varies more. Looking at the Keithley 2100 DMM set to average 100 current readings, it looks like IBIS can draw maybe 20 extra milliamps, and it usually is less than that.
One less thing to worry about.
Update 11/4:
Using the techniques that I describe here, I've gotten less noisy results.
Here's what you see when you wave the camera around with IBIS on. The additional small current draw affects both the peaks and the valleys in the scope trace, as you would expect, since it is unlikely that the refresh rate of the live view display and the updating of the voice-coil motors that drive the IBIS occurs in synchrony.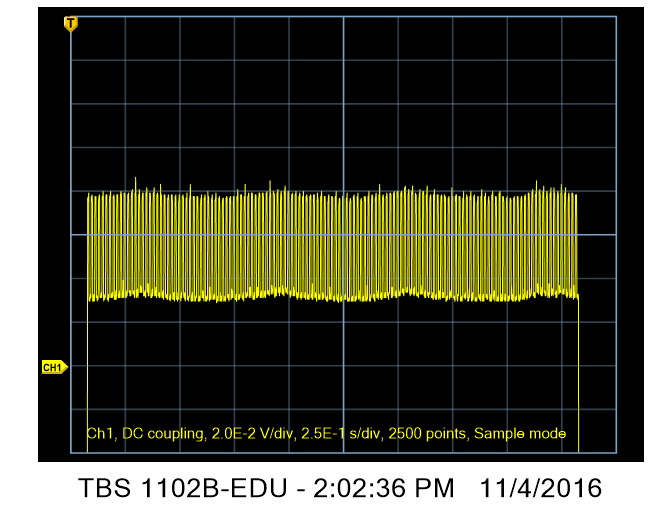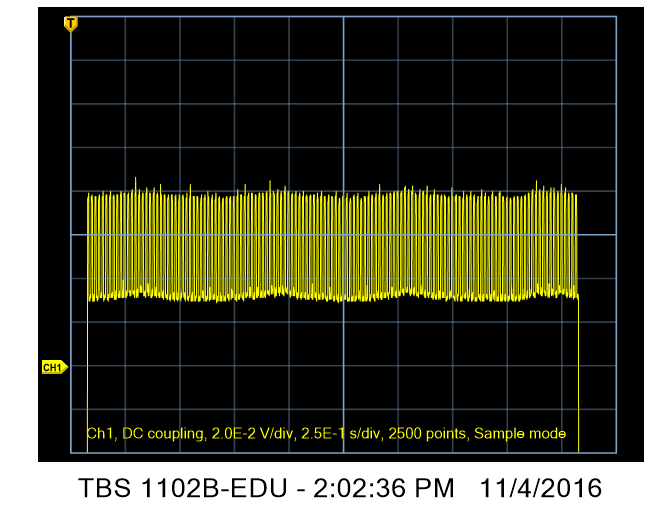 What about IBIS power consumption when the camera is static? Here's what you see when you half depress the shutter button, with IBIS on and IBIS off, but don't move the camera:
IBIS on: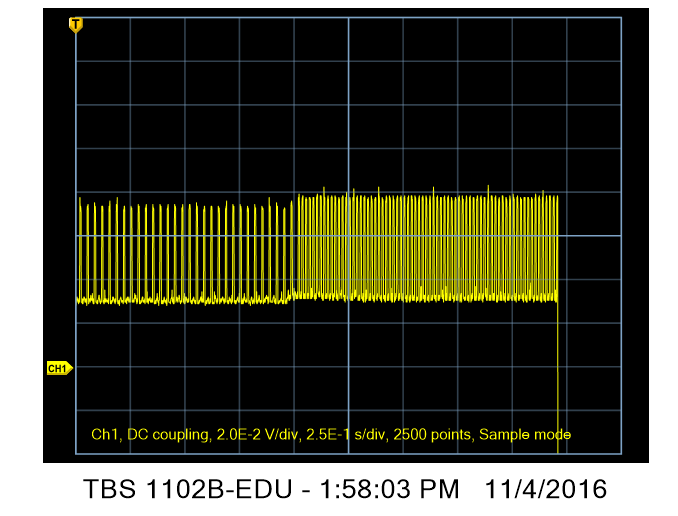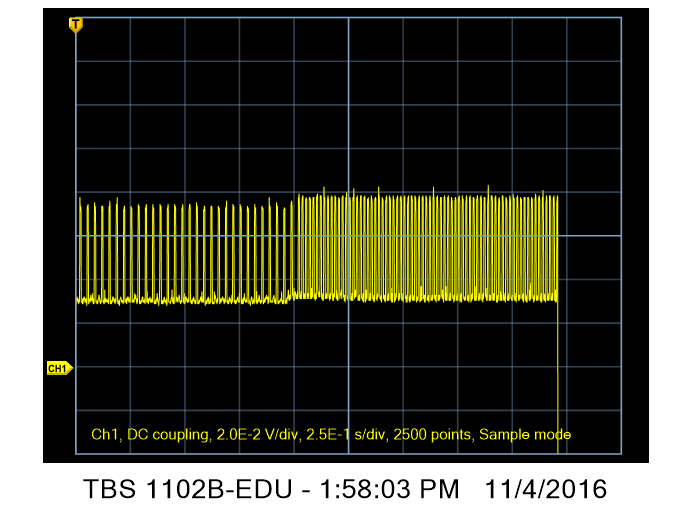 IBIS off: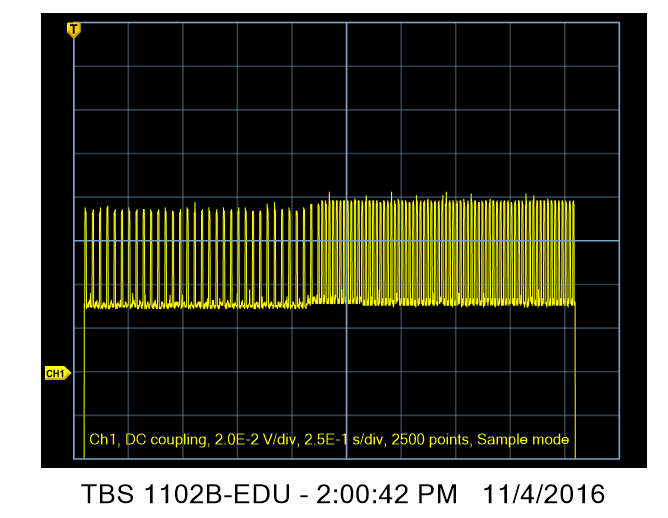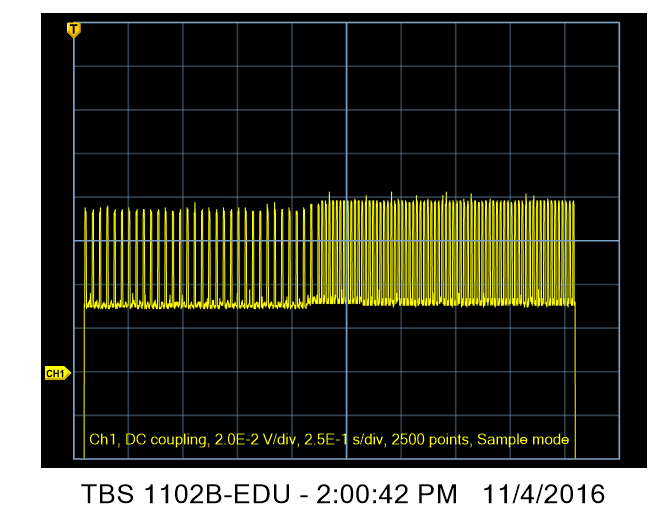 If there's a difference in current, it's very hard to see, and definitely immaterial.