[Warning: the data presented in this post is highly misleading because of he way that Lightroom sharpens during raw development, For a truer picture, read the next post.]
There have been discussions on the 'net recently about the proposition — considered proven by some — that the resolution of the Nikon D810 is superior to that of the alpha 7R (a7R), even though the pixel count of the two cameras is the same, and neither of them have anti-aliasing (AA, pronounced A-squared) filters.
My own thinking has been that any resolution deficiencies of the a7R probably related to shutter shock, since the a7R offers neither a delay between winding and tripping the shutter, nor electronic first curtain shutter (EFCS).
But it is an interesting proposition, and one that I attempted to test in a way that removes shutter shock from the equation.
I set up a D810 in landscape orientation using a RRS L-bracket on an Arca Swiss C1 cube head attached to a set of RRS TVC-43 legs. I mounted a Zeiss 55mm f/1.4 Otus.
The lighting: a single Paul Buff Einstein 640 watt-second smart strobe. The room was darkened otherwise, except for focusing, which was done with a Fotodiox LED light of the same color temperature as the strobe.
ISO set to 100, f-stop set to f/1.4.
Focusing manually at f/1/4, using the magnifier. The focus point is a Siemens star on an Imatest slanted-edge target.
Shutter delay set to 3 seconds
EFCS on, dial to Mup
Strobe to 10 ws, shutter to 1/320 second, make 16 exposures, turn the strobe up a stop, make 16 exposures… until you get to f/11 and 640 watt-seconds.
Mount the lens on an a7R.
Set the camera for rear-curtain synch, and the shutter speed to 1/30 second, to let the first-curtain vibrations die down.
Repeat exposure sequence.
Develop in Lightroom 5.7.1 with standard settings.
Crop, export as TIFFs, analyze for horizontal edge and vertical edge MTF50 in Imatest.
Export the results to Excel, crunch the stats, and graph.
Here are the results for the vertical edge: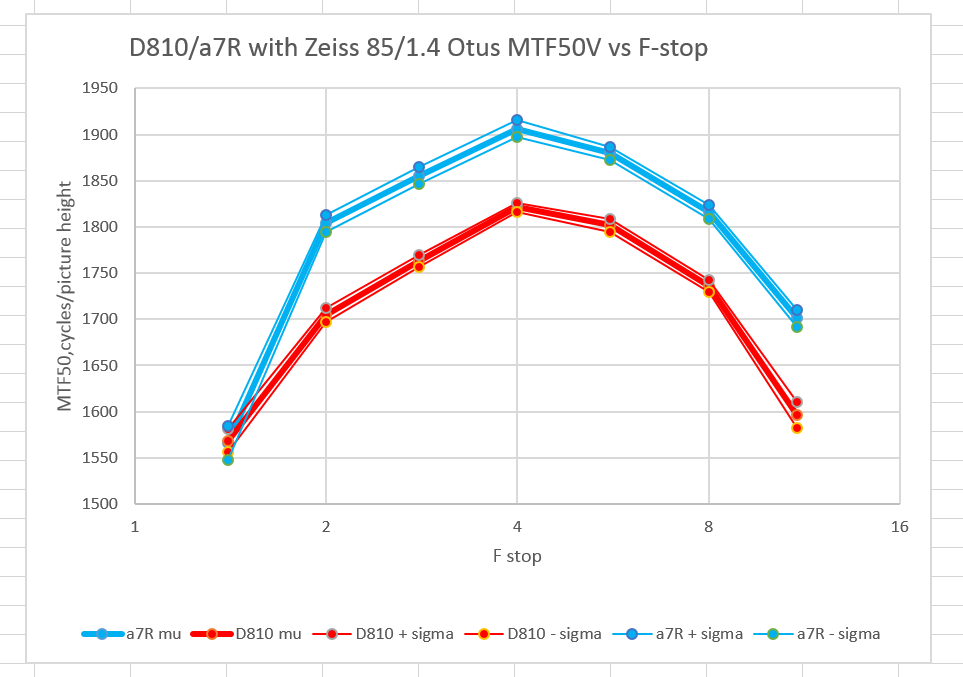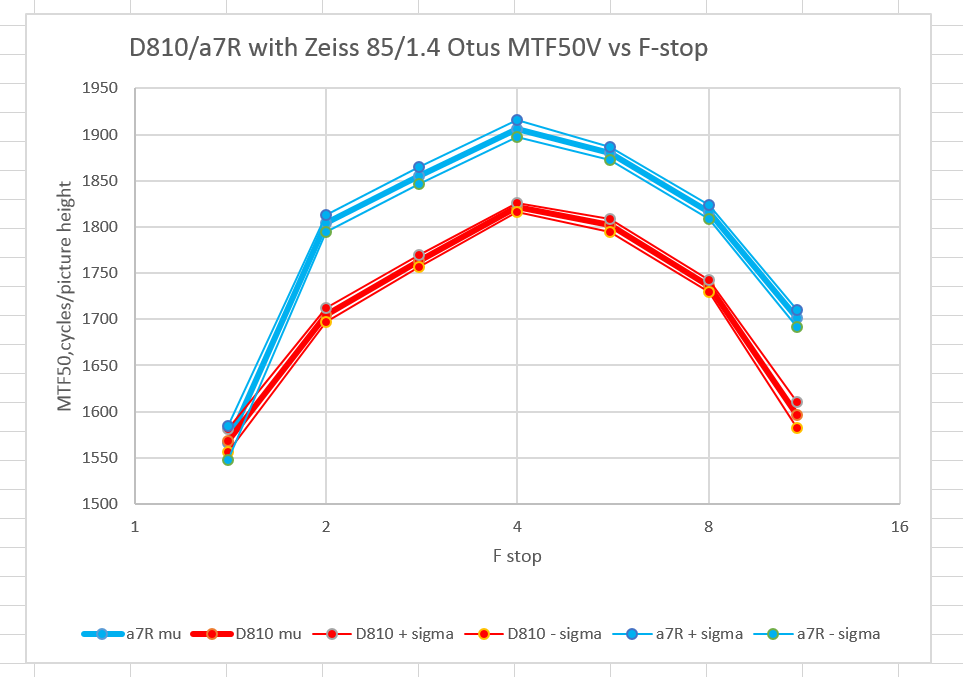 The solid lines are the average of the MTF50 values for the 16 exposures, measures in cycles per picture height. The light lines are the averages plus and minus one standard deviation. The spread is very tight.
I expected the curves to be pretty much the same, but the D810 curve is actually worse than the a7R curve. Not by much, but certainly enough to be undeniably statistically significant. It doesn't look like a focusing error — which is easy to make with such a fine, fast, lens — since the f/1.4 points are essentially the same.
Here are the curves for the horizontal edges: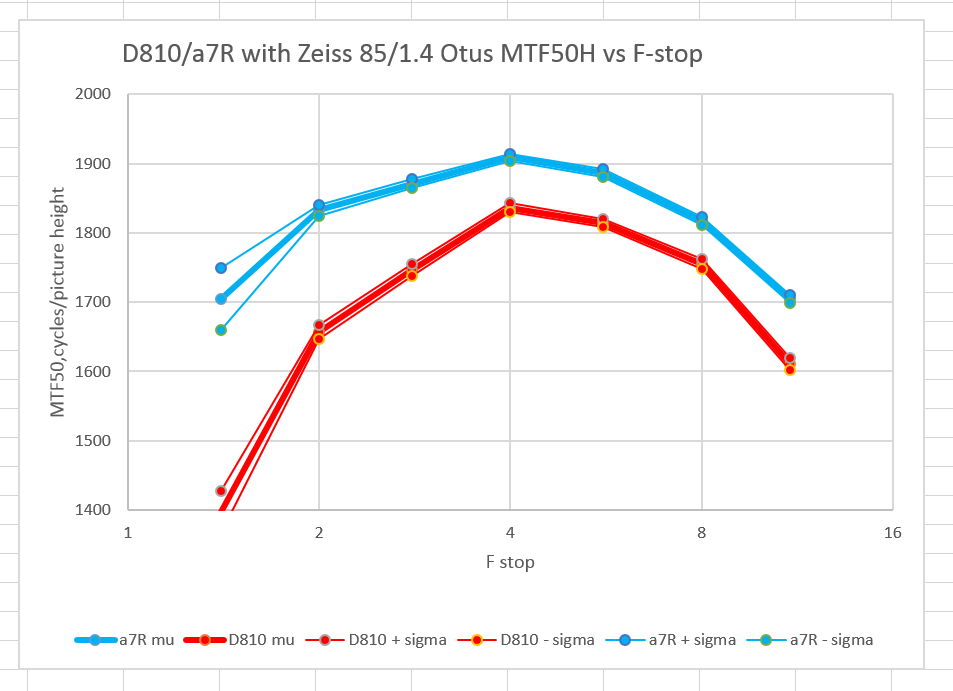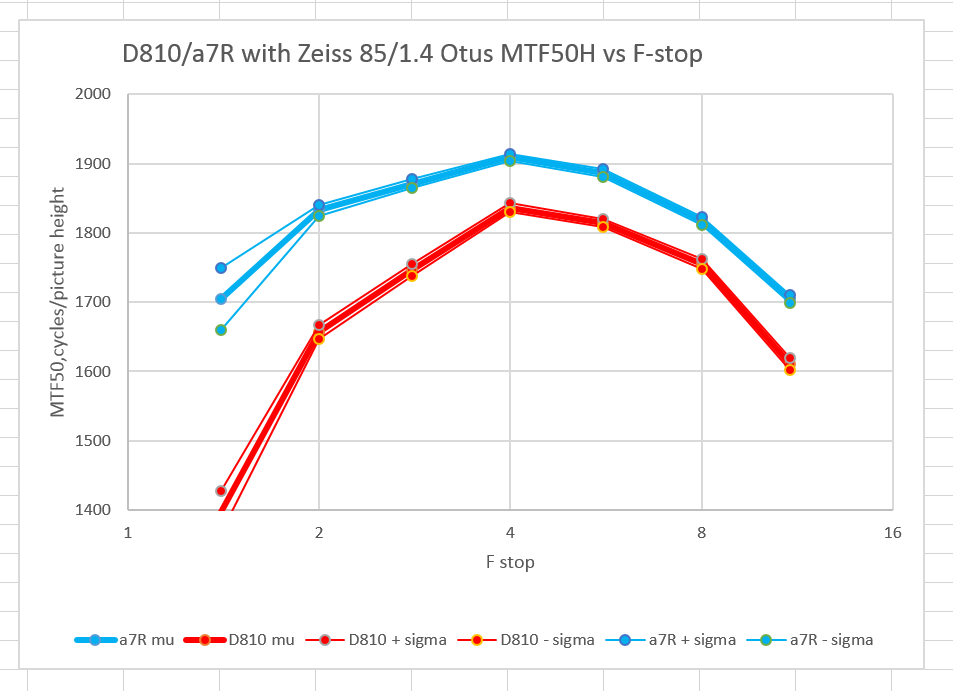 The a7R curve at f/1.4 is substantially better than for vertical edges. The D810 curve is worse at f/1.4. Otherwise, they're pretty much the same.
[Added: Lr does some funny things without informing the user. One of them is to apply sharpening based on the camera and the lens. This fun-loving program will do that even if you turn sharpening off. When I mounted the Otus on the D810, the camera passed the lens data and the f-stop to the metadata, and Lr apparently looked at that metadata and was gentle with the sharpening. When I mounted the Otus on the a7R with an adapter, Lr had no idea what lens was on the camera, or what f-stop it was set to. So it applied some kind of generic sharpening, which, as it turns out, was pretty aggressive.]